Deema Al Assadi Styles a Tutu Skirt in 6 ways
Which look is your favorite?
Hanane Tabet
17-April-2020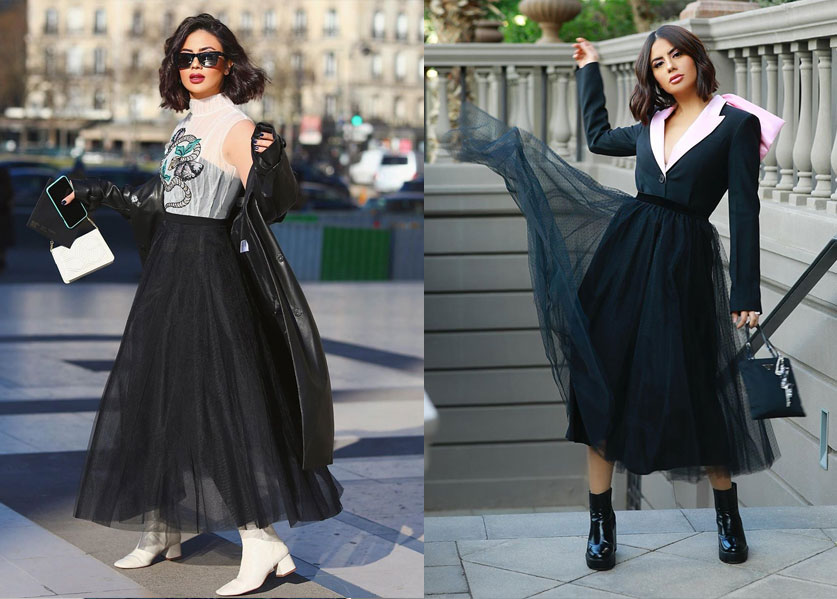 Who does not like skirts? Whether short, midi, long, puffed, or tiered, there's a hundred ways you can make the most out of it. Actually, it is Iraqi's fashionista Deema Al Assadi's favorite wardrobe piece. Therefore, she showed us to style a maxi puffed skirt in different looks to suit every event.
Deema Al-Assadi recently shared her skirt-styling video on Instagram and said: "Tutu skirt is my favorite wardrobe piece. I chose it long and black. It can be worn in the evening or during the day, depending on which item you pair it with."
1st Look
Deema paired the skirt with a short-sleeved T-shirt, with Converse sneakers, for a casual look. Then, she added a denim jacket over the T-shirt and accessorized it with Jacquemus handbag to give the look a modern twist.
2nd Look
This time, Deema Al-Asadi ditched the denim jacket for a leopard-print blazer and topped it with a belt to define her waist elegantly. For the last touch, Deema opted for pointed pumps and a Lady Dior bag
3rd Look
Deema made a fashionista statement with a chunky-knit turtle-neck sweater paired with tutu skirt. As for the shoes, she chose a pair of flat ballerinas. For accessories, Deema tied back her hair to enhance those fringe long earrings.
4th Look
For a more formal look, the fashionista styled a black blouse with puffed sleeves placed under the skirt, topped it with a wide Dior belt with its matching saddle. As for the shoes, she opted for a pair of casual sneakers.
5th Look
Deema has created another look with T-shirt long skirt combination, but this time, she gave it a motorcycle chic look with leather jacket and platform boots.
6th Look
A blazer can be worn with a skirt in many ways, and Deema came to prove that with a red blazer which she left open with a t-shirt, pumps and a geometric shape bag.
Which look did you like the most?