Izzat Traboulsi: a Hugo Boss man
He was born for entrepreneurship.
Janine Ayoub
11-July-2016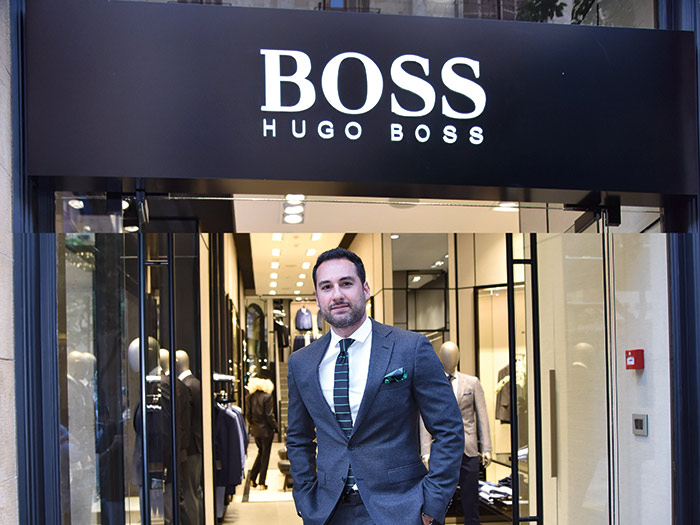 He built his personality in entrepreneurship at a very young age. At only 28, the tireless hard worker became the youngest CEO of the Fashion Trading Company (Hugo Boss) and founded his own retail company for Hugo Boss in Lebanon and Egypt a few years later. The secret behind his success? His motivation, his instinct and especially his guts.
What was your background before joining FTC? Has working in the fashion industry always been your plan?
I was born with FTC 36 years ago, so I have it in my blood. Mt father had 4 kids: Hugo Boss and the three of us. So working in that field came naturally.
I started to work with my father during the summer times when I was very young. When I graduated from university I quickly took control of the entire sales in the Middle East at an early age, then moved to business development before I was officially appointed Managing Director of FTC 10 years ago. I was the youngest MD at Hugo Boss.
Three years ago, I founded my own company T2 TRADING to operate all the Hugo Boss stores in Lebanon and Egypt. So I became a client of FTC, which was my dream.
How can we have an entrepreneur's vision in a brand such as Hugo Boss?
Since I was the youngest MD at Hugo Boss, I was meeting with great people in Germany and I learned a lot from them. I was dealing with the CEO, members of the board, MD from different area of the world and that contributed a lot to my vision.
Since I took command of my father's company, I had one goal: to apply all their strategies, logistics, structure… although we were in the Middle East and to enhance it if I could. We have to be aligned and to see eye to eye. I was ameliorating their system sometimes to prove myself too. Today Hugo Boss is in a much better shape (image, service, product offering…), the turnover grew by more then 50% in a regressing country, and we took the lead by far to be the leaders in men's premium and luxury fashion.
The man of Hugo Boss is a smart, confident man. Do you think that you fit this image? Who is Hugo Boss meant for?
Hugo Boss is a leader in men's ready-to-wear with a huge selection in the world of clothing. Each style is developed in a very unique and special way to meet all needs. Our customers have a sense of sophistication and quality. Our silhouette approach is made in a way that fits each client's taste.
Boss offers a wide range of suits, ties and shirts, but it's also a brand that offers chic trendy sporty styles. This pioneering brand offers a luxurious range with a higher level in terms of equipment, accessories and finishing.
Hugo is meant for the contemporary and avant-garde man. It's a sophisticated and very fashionable brand.
What personally motivates you?
The result of my work and achievements motivates me a lot. When i see my team around me happy, satisfied and appreciating what we are doing, it gives me a boost as well. Finally, setting-up big goals and dreaming bigger is important as well.