Milk rice pudding with orange cream
Samar Maatouk
4-November-2020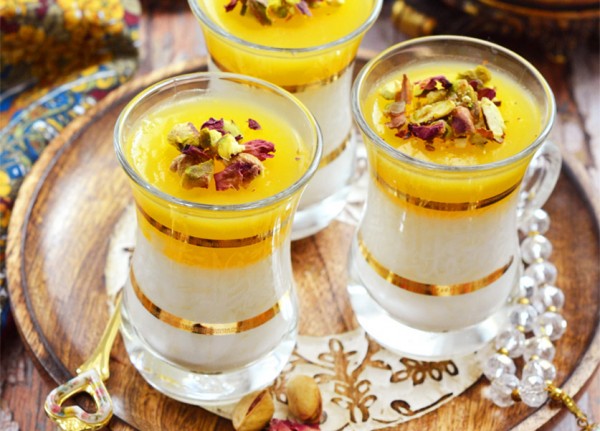 Photo: Sawsan Abu Farha
Ingredients
Rice with milk
1 and a half liter of milk
3/4 cup of rice
1/2 cup of water
1/2 cup of sugar
5 pieces of mastic
1 tablespoon of orange blossom water
1 teaspoon of vanilla
Orange cream
5 cups of orange juice
7 tablespoons of cornstarch
3/4 cup of sugar
How to prepare
To prepare rice with milk, bring the milk to a boil. Add the rice and water over low heat and stir constantly until the rice is soft and the milk thickens.
Add sugar, mastic, orange blossom water and vanilla and continue stirring until the sugar dissolves. Remove the mixture from the heat and spread over the serving dishes. Leave the dishes aside until the rice with milk cools.
To prepare orange cream, pour 4 cups of orange juice into a bowl and place it on a stove. In the remaining cup, dissolve the cornstarch, then add it to the bowl and stir constantly until it boils. Leave it on low heat for 5 minutes, then add sugar until it dissolves.
Pour the cream over the rice with milk, then put the mixture in the refrigerator after it cools.
The dish can be decorated with pistachios before serving.