5 Fall 2021 Colors We're Seeing Everywhere
Christina Jaber
21-October-2021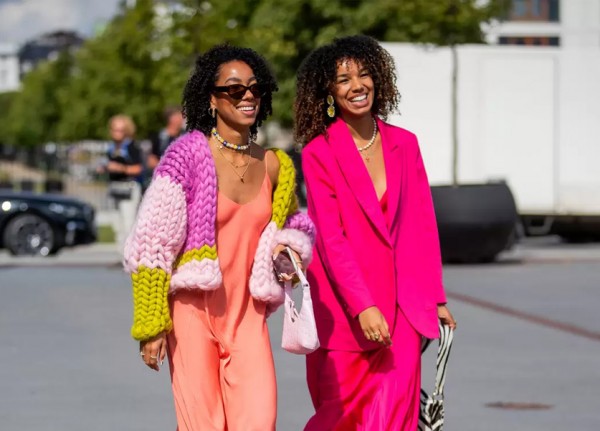 Fall 2021 is definitely full of colors and creative looks, as lockdowns seem to be (hopefully) behind us. And both designers and influencers are taking the fashion game to a new level.
Not only they are going for trendy cuts and details, they also went for a large color palette, so you will much more than the usual grey and black shades in your fall 2021 wardrobe.
From warm brown to bright blue, on to some fun with hot pink and chic vibes with purple and lilac, you are about to discover the 5 Fall 2021 colors we are seeing everywhere.
True Blue
Lebanese-Saudi fashion influencer and designer Alanoud Bader aka Fozaza captured the warmth of this lovely color: blue. She opted for a bright blue suit and styled it with green knit blouse. Mastering the color-blocking game as usual.
Playful Fuchsia
Influencers and fashion gurus chose the hottest shade of pink, fuschia, to style for their Fall 2021 looks and we couldn't be more thankful. German fashion blogger and model Caroline Daur showed us how to style this bright shade in a casual and simple way: she opted for a playful hot pink coat with black pants and white sneakers.
Warm brown
No we're still not out of the wood-y colors yet. Browns and beige are still it-shades this fall, sending a message of warmth and coziness to the world.
Warm brown gives the cozy vibe but is definitely listed under the most elegant colors.
German street style queen and fashion girl Leonie Hanne wore latex warm brown pants with a cut-out blazer in beige, giving us a lesson on how to put this very chic shade in a trendy and chic look.
Purple chic
You can't really call it a true fall season without stepping into some purple outfits, that's for sure. We have been spotting the chicest purple shade ever and we can't wait to style it ourselves. Moroccan entrepreneur with a namesake jewelry brand, Mimia Leblanc wore purple pants with black top and a matching purple handbag.
Sweet lilac
There's nothing we don't love about this shade because it's at the same time playful, sexy and yet extremely chic when you need it to be. The Danish queen of colors Emili Sindlev is definitely fearless in her looks, that's why we were not surprised when she picked statement over chic as she styled her lilac skirt suit with pop green tights and sandals.