Meet The Comfiest Winter Outfit
Courtesy of Selena Gomez
Christina Jaber
24-November-2021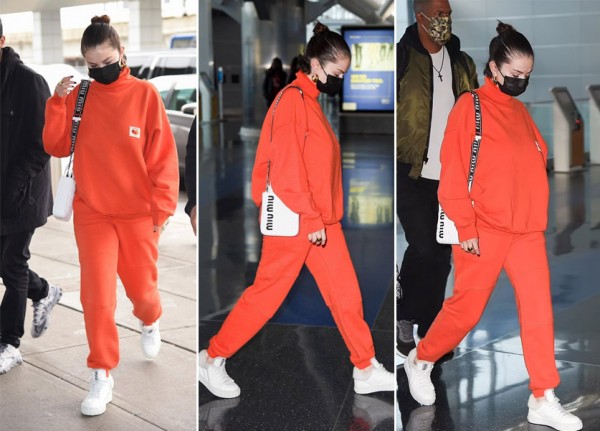 Comfort is key. You might be wanting to go all chic after so many months of lockdown and loungewear, but frankly I can't stop wearing those comfortable sweatpants and large cozy sweatshirts that make life easy and give a much needed fuzzy feeling. I believe that winter looks are all about being comfortable but in style, so we are giving you the perfect outfit, and Selena Gomez agrees!
Colored sweats are about to make it to your wardrobe, because this duo won't just be your day-to-night outfit on a rainy day, but will also be the airport outfit, the shopping outfit and everything in between.
American singer Selena Gomez arrived at the JFK airport in New York, dressed up in her cozy colored sweats with a few accessories to spice-up the look a bit. We bet Selena was planning to fall asleep the first minute the plane takes off, but still she found a way to look much out-together at the airport.
The Rare Beauty founder did not just grab her usual grey sweatpants and sweatshirt, she chose a bright orange polo-neck sweater and matching joggers from "La maison", as the sweater reads. So is La Maison Selena's own label? We don't know a thing yet!
Comfort is key and accessories are too, so she paired a cross-body bag from Miu Miu that we fell in love with, and white Miu Miu sneakers as well.
Now that you're pretty sure comfy looks can be the win-win of all time in winter, it's time you invest in some and style them your way!