Abeer Nehme: Women are hope!
Interview: Nicolas Azar Translation: Samar Maatouk
16-March-2022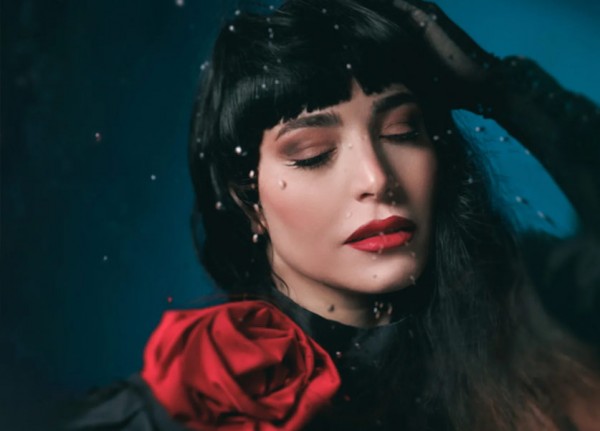 With a highly emotional and nostalgia-tinged voice, Abeer Nehme is a singer like no other, enjoying a prominent reputation among singing artists throughout the Arab world. Following the great success of her latest released music video entitled "Bala Ma Nhess", we recently met the acclaimed Lebanese singer who talked about this achievement, highlighting her relationships with the singing community, and much more, in an exclusive interview.
You recently released the new "Bala Ma Nhess" music video (written and composed by Nabil Khoury, arranged and mixed by Suleiman Damian) with Universal Music MENA. The song became a top trend within a few hours of its release. What makes this song different?
The song touches the heart with its smooth and easy melody, and the same goes for the sincere lyrics that conveys today's reality lived by a large number of people. As for the arrangement, it carries the same smoothness providing the song with a sophisticated touch. All these elements helped achieve an integrated work, not to forget my collaboration with director Nadim Hobeika, who presented me with a simple and distinctive image at the same time, in keeping with the spirit of the song.
 Is it true that this song was initially written to be performed by a male singer?
True! But after Rania Hamadeh, the Vice President of Marketing at Universal Music MENA listened to it, she really liked it and asked me to listen to it. Then, the words were modified so I can perform it.
The new song is a

bout unrequited love

. Why do you think love is sometimes from one side?
True love requires mutual feelings. If it is one-sided and the other person is not responding, then it is better to leave or else feelings will transform into suffering, misery and pain.
Nabil Khoury declared that "Bala Ma Nhess" is the best song he had ever worked on. What do you think about that?
 I love everything Nabil creates, as he is a sensitive artist with many stories to tell. This song in particular is different and has a beautiful "pop" style, and I am very happy with what Nabil said about this song, knowing that I have always believed that success is not achieved by an individual effort, but rather through the creative ability of an integrated teamwork.
You live in your own world. Did you ever feel the need to move away from classic songs for a change?
I have never felt myself limited to a classical frame or to a specific frame, so to speak. On the contrary, I have always considered myself involved in different musical styles. Music is a wind that transports me to new, unfamiliar places. This may differ a bit with an album release, as it represents a continuity of the artist's famous style but in a renewed spirit, while maintaining sophistication and respect for the audience.
Your songs reflect your personality. But who is Abeer Nehme on social media?
I love social media platforms as they are a great way to communicate with fans and followers, and I recently created an account on Tik Tok, the essential current platform to every artist. However, I prefer not to share my private daily life, especially that I am not a social media person. However, I am working with my business management on a new strategy to ensure my continuous presence on these platforms through special and unique content.
You released about a month ago the video clip for "Addaysh Bhebak" song, written and composed by Marwan Khoury. How did it resonate with the audience?
I really appreciate my cooperation with Marwan Khoury. We have previously collaborated through the song "Waynak", and I am looking forward for more. "Addaysh Bhebak" is a pure classic song from my second album "Byeb'a Nass". It was shot as a video clip with Universal Music MENA under the direction of Lebanese director Elie Fahd, and with the participation of Lebanese actor Rodrigue Suleiman, whom I previously collaborated with in "Waynak".
Being one of the most professional singers with a beautiful voice, do you feel satisfied after going against the flow with a different style of singing?
Every day carries a new dream, new plans and new ideas. This is why I never felt like I've had enough! People have talents and talents distinguish people, thus making each person unique and different! And what's coming is surely better!
A few months ago, you released and recorded the song "I lift my eyes" in Hollywood with the collaboration of American composer Christopher Tin. To whom is this song dedicated?
"I lift my eyes" or "Psalm 121" is my first joint work with Christopher Tin, the two-time Grammy-winning composer, who is also affiliated with Universal Music. In fact, this collaboration was brought about by Mohawk Games who chose the song as the main theme song for the game Old World, set in the time of the old Arab kingdoms. It is more than a simple international music video; it is a message of hope despite all the contradictions and conflicts we live in the Middle East. The video clip was directed by American Tayo Amos, with the wonderful participation of Angel City Chorale, the Golden buzzer winner on America's Got Talent, who excelled in performing in Arabic. This work was a message of love bringing together people of different nationalities and races, under one slogan: Hope.
Do you have any relationships with the singing community?
I have a good relationship with everyone. Some relationships may be stronger than others, such as my relationship with the great Magida El Roumi, for whom I have huge love and respect. There is also a close relationship with the renowned artist Asala, as well as with Marcel Khalife, Marwan Khoury and others.
Aside from work, what are your interests in life?
My family, my husband, my daughter, and my close friends. I also love walking, reading, watching movies, traveling and exploring new places. Sometimes, I enjoy staying home as well.
What does fame mean to you?
Fame means popularity and continuity in providing beautiful content. I hope to reach every single person in the world; however, I will never allow it to affect my private life. It will always be a part of my career only.
On International Women's Day, what is your message to every woman?
Women's rights are human rights. She is the hope of humanity having large-scale contributions in all fields. I believe women and men must join hands to change the stereotypical image of Arab women in particular, as a woman is always able to overcome all barriers.