How To Wear the Silk Scarf, Inspired By Dorra Zarrouk
Samar Maatouk
13-October-2021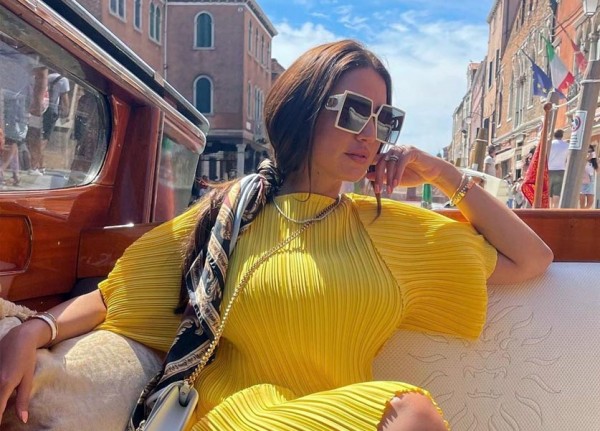 With an undeniable elegance and a unique sense of style, the Tunisian star Dora Razzouk keeps stealing the spotlight creating a sensation with each of her - casual and formal - appearances.
A real source of style inspiration, Dorra Zarrouk has been shining in the world of acting for many years becoming one of the most elegant Arab stars. With her exclusive blend of elegance, class and sophistication, she was also chosen to become the ambassador of renowned international jeweller and watchmaker Chopard.
With all that in mind, who can be better than Dorra Zarrouk to give us some style lessons when it comes to coordinating the most trending fashion items of the moment? She was recently spotted rocking the silk scarf trend like no other developing a signature style of her own. Now take a look to find the scarf inspiration you've been looking for!
Headscarf
Dorra Zarrouk's looks are full of elegance and simplicity, managing to grab the attention of everyone wherever she goes. The beautiful Tunisian actress recently stunned in a simple wide leg jeans and a trendy long blue waistcoat topping off the look with a classic yellow blue headscarf and retro oversized sunglasses which added a touch of sophistication to this vacation outfit. You can copy her look by simply wrapping your loose hair with a headscarf, coordinating it with your favorite jeans, white tee and sneakers outfit or just going for an all-white look with a beautiful colored headscarf.
Hair tie
Dora Zarrouk never ceases to dazzle her fans with her natural features, fine beauty and elegance. She was lately visiting Italy and was seen stunning in a cute lilac midi dress with perforated embroidery and flat sandals. Her hair was simply tied with a silk scarf around her low messy ponytail, making the whole style so much more polished. In another Italian post, she coordinated the same scarf with a yellow pleated dress and white oversized vintage sunglasses. You can also wear your scarf by braiding it into your hair and combining it with a romantic lace midi dress, or wrapping it around a high messy bun (to survive bad hair days) with a casual off-duty outfit.