This is How Celebrities Style the Birkenstock
Sabrina Pons – Madame Figaro
28-August-2023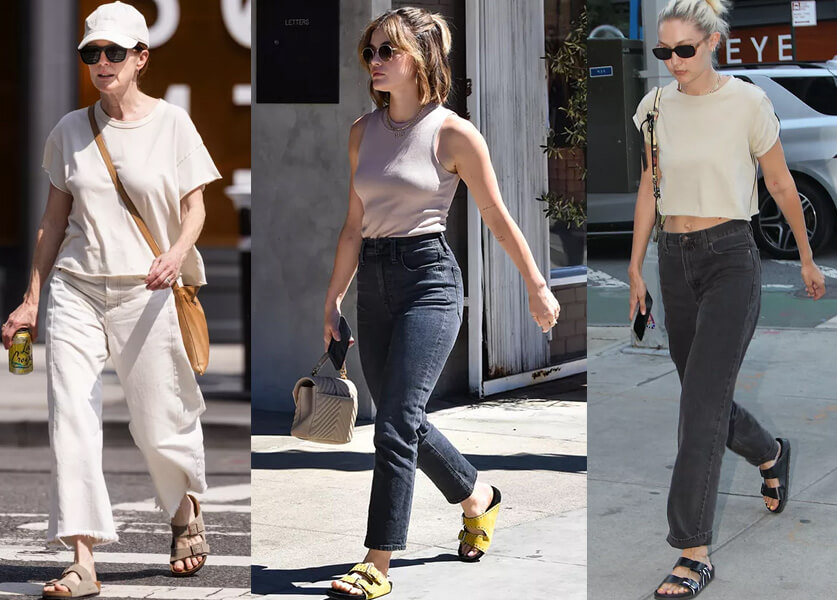 This summer, the "Birk" has become the essential summer sandal. Even celebrities now swear by the shoe that started as a German orthopedic shoe.
It's certain that the German orthopedic shoe doesn't deny its fundamentals, which are comfort and a style not exactly designed for high fashion. But it's been a long time since the cork sandal has been exclusive to "German tourists." The "Birk," particularly the Arizona model (with two buckles), is among the most coveted shoes. Over twenty million pairs are sold each year, with its success accelerating since 2021, the year the family business came under the umbrella of LVMH. In short, the world is at its feet, and celebrities are no exception.
One of the first to have turned it into a fashion case study was Kate Moss. It's 1989, she's 16 years old. Photographer Corinne Day immortalizes the one who will become "the Twig" in a black and white series. Her look: white rolled-up jeans, a lace crop top, and a pair of white Birkenstock sandals.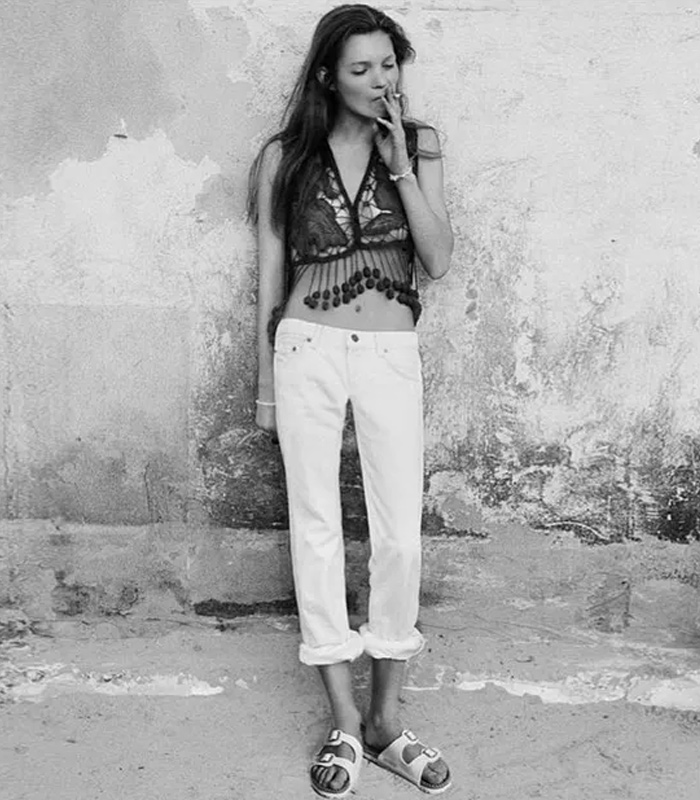 It didn't take much more for designers to get involved. On the runways, it is now ubiquitous. Its introduction began with Marc Jacobs in the 1990s, followed by Phoebe Philo in 2013. She was the creative director of Celine at the time and didn't hesitate to dress her models in furry models. Subsequently, well-chosen collaborations with Valentino, Rick Owens, Manolo Blahnik, Proenza Schouler, and more recently Dior Homme followed, propelling the resurgence of the "curé" shoe (a nickname for the Birkenstock).
It even became a case study at Central Saint Martins: in 2020, students from the prestigious English fashion school were invited to reinterpret the iconic models. Today, the enthusiasm remains strong, as evidenced by the presence of the strapped "tatanes" (a French term for sandals) in the successful movie Barbie. The famous doll portrayed by Margot Robbie swaps her high heels for a pair of brown leather Birkenstock sandals. This publicity move had an impact in China: consumers rushed to get their hands on the famous sandal.