Tunisian tagine recipe with couscous and green sauce
Samar Maatouk
6-November-2020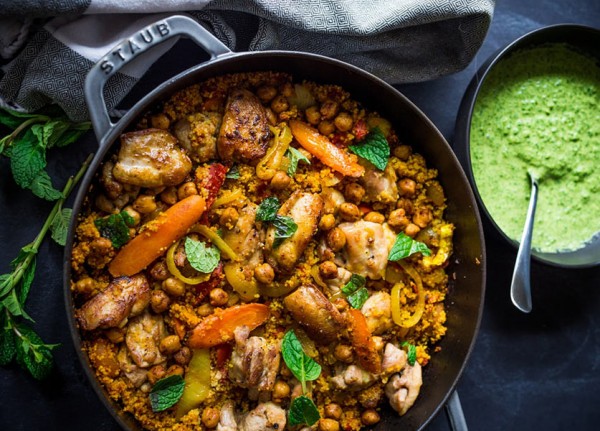 Ingredients
500 g chicken thighs (boneless)
2 tablespoons of vegetable oil
Salt and pepper to taste
3 carrots
1 large onion
1 tablespoon of fresh ginger
5 cloves of garlic, crushed
1 teaspoon of cumin
1/2 teaspoon turmeric
4/3 teaspoon cinnamon
1 teaspoon of sugar
1 can of chopped tomatoes
1/4 cup chopped dried apricots
1 and a half cups of water
1 and a half cup of couscous
Green chutney
1/2 cup chopped parsley
2 cloves of garlic
1 cup of yogurt
1/2 cup of paprika
1 teaspoon of cumin
Salt and pepper to taste
How to prepare
In a large pot over a fire, cook shredded chicken with salt and pepper in oil until golden.
To prepare the vegetables, cut the carrots into circles, the onions into slices, crush the garlic with ginger, and then chop the dried apricots.
Put the vegetable mixture on the fire and cook for 5 minutes, until the vegetables are tender. Add the rest of the spices, then the sugar, tomatoes, apricots and water. When the mixture boils, add the couscous, then add the chicken and place it in the preheated oven for 15 minutes.
To prepare the sauce, put the parsley and garlic in an electric mixer. Add the mixture to the yogurt with the spices and mix well.
Garnish the chicken with chopped mint or parsley leaves and serve with the green sauce.