The Touching Messages Of Lebanese Creatives After One Year of the Beirut Blast
Hanane Tabet
5-August-2021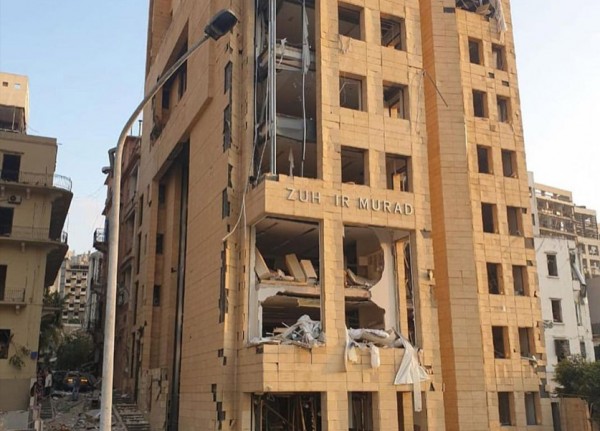 August 4, 2020 at 6:07 P.M. A terrible explosion shattered the Lebanese capital, caused by the negligence and the corruption of the Lebanese ruling class. The Beirut Blast that occurred at the port destroyed lives and souls, killing 219 people, leaving 6000 injured, 300000 homeless and millions traumatized. Almost all sectors from local businesses to healthcare centers, private and public educational institutions, as well as residential units were severely damaged. And after exactly one year, we recall this tragedy with great pain and anger, as a stalled investigation is yet to give us answers and justice. Yet we have to keep on fighting to rise again stronger than ever. Read on to discover out 3 of the most touching messages from amazing Lebanese talents.
Maison Rabih Kayrouz
On August 4, 2020, Rabih Kayrouz was badly injured and the Maison's entire atelier (and the designer's home) was severely damaged in the blast. Exactly a year after the blast, the Lebanese designer shared a particularly strong and evocative message, in French, with his followers.
"On this beautiful summer day, I would have liked to get up early and go out for a walk in the empty streets, listening to the inhabitants waking up one by one, just as I would have loved to see the sun approaching the Beirut Corniche to hear the music of the fishermen. I would have liked to see the carelessness that we were promised, I would have loved to meet some friends and hang out on a terrace for a breakfast. But this morning I wake up away from my country, my heart is heavy, my eyes are full of tears. I dream of a city that does not exist, I think of my Beirut.

Beirut has shut up to let people who do not know its language speak. Beirut silently disappears, leaving behind the dust of a time that we believed was wonderful.

Let us silence these fake talkers who in the name of the heavens make us believe in heaven.

Let's kill these frauds whose humanity is ashamed of.

Beirut will come back, let's prepare a clean ground for it.

Beirut will dance, let's get the music ready."
Zuhair Murad
The headquarters and atelier of internationally renowned Lebanese designer Zuhair Murad were destroyed by the explosion, along with 80% of his archives and all his work for the ready-to-wear and couture collections that were to be showcased. A year after the tragedy, the Lebanese designer posted a touching message on his personal Instagram account, expressing his emotions and his pain.
"Still shaken. Still confused. Still traumatized. Still wounded. Still outraged. I recall it, as if it was just yesterday. No amount of time can heal the cut I feel so deeply in my soul. In the blink of an eye, I watched, the fall of the city I call home, the demolition of a dream I gave my all for. Today, my heart aches for the souls we lost and for the families that were torn apart. My thoughts are forever with you.

I can only pray and hope for better days, for a brighter tomorrow, for a fairer future because after all this time, I remain: still shaken. Still confused. Still traumatized. Still wounded. Still outraged."
Zuhair Murad's words are the heartfelt expression of the pain still felt by millions of Lebanese people.
Bokja
The Beirut-based design and craft studio that produces handmade furniture and accessories with patchwork upholstery composed of vintage and new textile remnants sourced in the Middle East, witnessed great damage in their atelier and showroom. From the cushions and furniture to the wearables and accessories, nearly every item was damaged. Days later after the blast, the dedicated team of artisans and workers joined hands to repair the atelier and make a new start.
Bokja also took a humanitarian initiative to fix damaged upholstery sofas and chairs as a means of helping people impacted by the blast. Every item was repaired with much love and care.
A year after the blast, Bokja marks August 4th with a special tribute to Lebanon and its people. Recently, the brand has shared on its official Instagram page the country's map wrapped in printed and colorful fabrics. One map featured the revolutionary spirit of the citizens, while the other showcased a colorful design reflecting a vibrant country. This is Bokja's vision of Lebanon:
a country that will revive again and again, no matter how harsh the circumstances are.