8-Year-Old Gabriella of Monaco in Louboutin Heels for National Day
Augustin Bougro - Madame Figaro
20-November-2023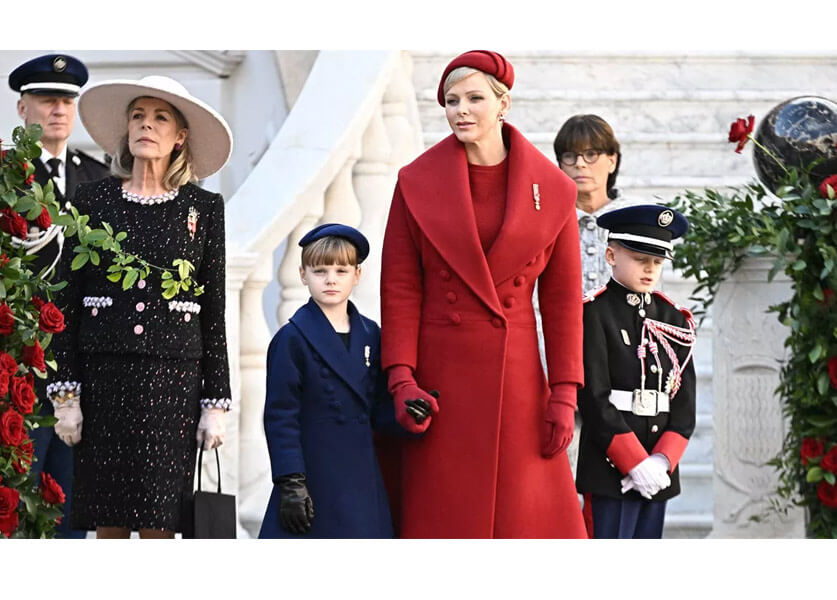 Albert and Charlene of Monaco's daughter wore her first high heels on November 19th. The shoes were patent calf leather models, signed by Louboutin.
The National Day of Monaco is celebrated every year on November 19th, a date that corresponds to the celebration of Blessed Rainier of Arezzo and the anniversary of the reigning prince's accession to the throne. This day is also known as the 'Prince's Day'. On Sunday, the entire royal family attended the event, including Princesses Caroline and Stephanie of Monaco and Charlotte Casiraghi, ambassador of the Chanel house. For the occasion, Princess Charlene of Monaco chose a red ensemble consisting of a beret, a long-buttoned coat in the style of the 1950s, and high, pleated stiletto boots. To her right, 8-and-a-half-year-old Gabriella of Monaco was dressed in the same outfit, in a navy-blue version, and wore a pair of Louboutin heeled mary janes.
First Pair of Louboutins
On the Christian Louboutin retail website, the Betsina ballet flats worn by Gabriella of Monaco are on sale for 445 euros. They are characterized by black patent calf leather with the brand's signature red lining, a strap over the instep with a rounded snap button, and a 40-millimeter square polymer heel. Described as an 'ideal model for ceremonies,' these shoes were paired by the daughter of Prince Albert of Monaco with opaque tights.
This is the first time the heiress has been seen in heels, as she will celebrate her 9th birthday on December 10th. During the 2022 edition of this Monegasque celebration, Gabriella of Monaco wore black leather boots, while two years prior, she opted for beige ballet flats.