Saudi pizza with meat
Samar Maatouk
5-November-2020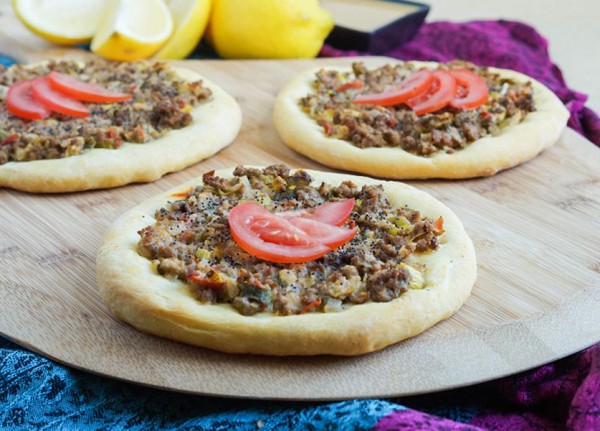 Ingredients
The dough
4 cups of flour
1/3 cup of melted butter
2 eggs
2 teaspoons of instant yeast
4/3 cup of warm water
1 teaspoon of salt
1 and a half teaspoon of caraway
Olive oil to spread the dough
The filling
300 g minced veal
1 cup of chopped onion
2 tablespoons of oil
Spice and salt to taste
1 chopped tomato
The sauce
3 tablespoons of tahini
1 tablespoon of lemon juice
1/2 cup of water
2 garlic cloves, crushed
Spice and salt to taste
How to prepare
Mix the ingredients of the dough well and knead by hand, then cover and leave aside for two hours of time until it doubles in size.
Spread the dough on a floured surface and make circular discs, then place each piece on a pizza tray. Brush with olive oil and cook in a preheated oven for 25 minutes.
To prepare the filling, cook the onions in oil until golden, then add the meat, spices and salt. Leave the mixture on the stove for 10 minutes.
The filling is placed on the pizza, then garnished with tomatoes. Mix the sauce ingredients well and serve with pizza