GucciFest: The Brand's First Virtual Fashion Film Festival
Christina Jaber
11-November-2020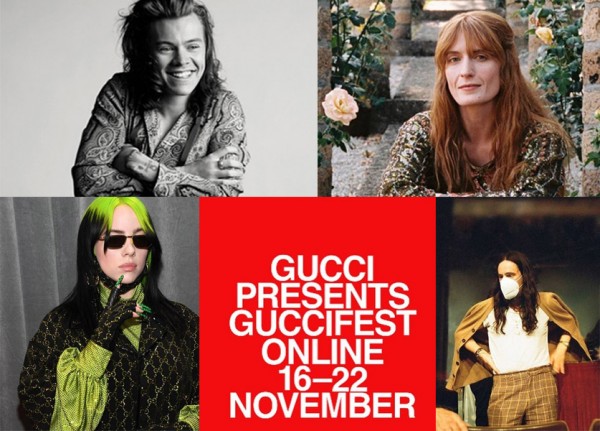 Please mark us busy starting the 16th of this month on to 22nd, because we will be definitely catching up with the Gucci Film and Fashion Festival. Yes, you heard this right, the Italian label announced a virtual Fashion Film Festival that will be streamed on YouTube, Weibo and GucciFest.com, and we honestly just can't wait for it, especially that VIP Brand ambassadors including Billie Eilish, Florence Welch, Jeremy Harris, Harry Styles and more will make appearances through the 7-days festival.
In the details, the festival will be focusing much on Alessandro Michele's and Gus Van Sant's debut of the "Overture of something that never ended", a mini-series which they co-directed, and which will present a collection in the heart of the Eternal city.
In details, the seven-part series is centered around actress, artist and performer Silvia Calderoni, who is engaged in a surreal daily routine in different scenarios of the city, while meeting a series of international talents, brand ambassadors and friends of the maison, including: Billie Eilish, Jeremy Harris, Florence Welch and more.
In support of emerging designers, the digital and innovative festival of fashion and cinema will stream films from these designers, among whom Gui Rosa, Bianca Sanders and more, all of them picked by the creative director of the house, Alessandro Michele, because of their strong and standing out points of view.
Since the mini-series is divided into 7 parts, an episode will be released daily throughout GucciFest.com.
Mark your calendars and do not miss the astonishing creations Alessandro Michele has been preparing.