Emily in Paris Season 2: The French Girl Beauty Look of Lily Collins
Victoria Hidoussi - Madame Figaro
8-December-2021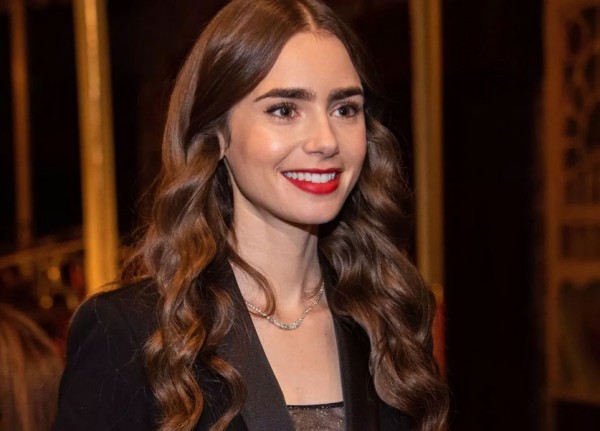 Emily Cooper gets a makeover in the second season of the Netflix series. The actress's makeup artist decodes Lily Collins's new on-screen beauty looks, inspired by that Parisian "je ne sais quoi".
To keep fans waiting in style until Emily in Paris new season's release on December 22, new revelations continue to fuel our fascination around the look of the most American of Parisians. Lily Collins's beauty looks will be a lot "different" from what viewers have seen so far if we are to believe Aurélie Payen, the actress's French makeup artist on set.
In the first season, the "colorful" character of Emily Cooper sported sophisticated makeup, with highly pigmented lipstick shades and shapely eyebrows. And as her adventures continue in the French capital, the main actress will adopt a more natural and minimalist look, inspired by the French girl beauty.
"I wanted to stay focused on Emily's personality, but add a little bit of French makeup and French style to her character," Aurélie Payen says in an interview with Us Weekly magazine. And to declare a "subtle transition to a more natural glamour" which reflects the star's "French inspiration" and "Parisian influence".
In the new episodes, Emily would have "a little more time" to immerse herself in French culture, which would explain her tenfold attraction to the Frenchie touch: "She loves French people, the French landscapes, she is becoming a bit more French. That means she will possibly swap her lipstick for something more natural".
A Glowing skin, lip balm and a "pop of color"
The change is detectable from the very first scene, with a detail that is not left to chance: "Instead of using a matte lipstick, I used a moisturizing balm, like a French girl. It's those little things".
Even with the makeup artist's desire to reproduce this "effortless" chic so often attributed to the French girl, Emily will remain faithful to her style. Her distinctive 1970s-inspired pop colors will be combined with lighter, glowy skin tone products. To achieve this, Aurélie Payen reveals having used the "Emily in Paris" makeup collection launched by Lancôme in exclusive collaboration with the series.
The decision is not solely beauty-related, as the makeup is revealed to be very important in storytelling and the character development: "Emily uses makeup to reflect her personality. She came from the United States with bold lipsticks… She's a verbal character, someone who says things, and who is not afraid to say them", continues Aurélie Payen. Now, all you have to do is wait for the result on screen and be inspired for your holiday looks.