The Hermès Kelly Bag Is Every Fashion Girl's Obsession Right Now
Samar Maatouk
15-December-2021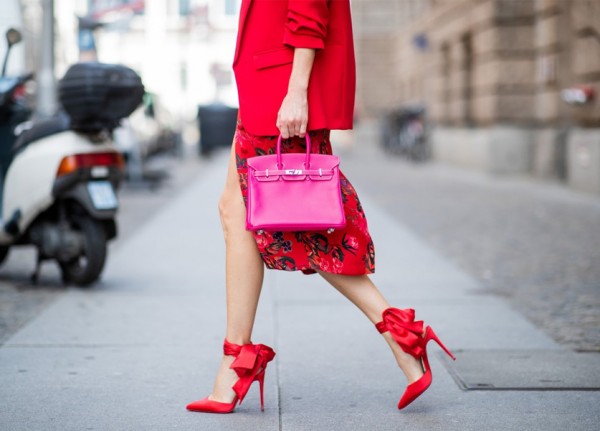 With its clean lines and timeless style, Hermès' iconic Kelly bag is today one of the most coveted fashion pieces in the world. The bag owes its name to Grace Kelly, Hollywood star turned princess, when in 1956 she appeared in a photo published in Life Magazine with her Hermès bag on her belly aiming to hide the early stages of her pregnancy. Since then, this symbolic lady's bag has become the bag of choice of every fashion diva around the world.
A true fashion staple, the Kelly bag is timelessly elegant and will accompany you in all your occasions. Check out how the world's fashion girls are wearing their iconic Kelly bag down below, and get some real style inspiration for your next outing.

Autumn colors
Danish stylist Pernille Teisbaek combined her black Kelly bag with jeans, a grey sweater, and a long camel coat. She completed the look with high-heeled matching grey boots. Similarly, you can pair your favorite Kelly bag with warm autumn colors or alternatively style it with wide leg pants and a black leather jacket for a go-to weekend look.
Feminine lilac
Another equally gorgeous combination is lilac shades with flowing wide leg grey trousers. Choose to elevate any casual outfit with a black Kelly bag or opt for a maxi leopard-print skirt with an oversized black boxy blazer and a greyish pink Kelly bag. Vintage black sunglasses will perfectly complete the look.
Timeless black
Copy the look of the leading influencer Camille Charrière by pairing your black bag with a matching top and coat. We just loved how she incorporated the baseball cap into her look. Or, wear your Uggs with a pair of jeans and a cozy sweater during the holiday season. You may also want to wrap your Kelly bag's handles with a Hermes twilly to give the whole outfit a modern yet classic touch.
Mini Kelly
A loose denim, a soft cozy sweater and white sneakers look would perfectly pair with a mini colored Kelly bag. You can match it as well with an all-neutral-shades outfit and a comfy beige puffer jacket when you need a super cool out-of-the-office style. Stay warm, comfortable and most of all, fashionable this season!
Party look
You can never go wrong with black, the all-time classic color worn with ease to almost any kind of occasion. Throw a furry jacket over a black jumpsuit and accessorize with your favorite mini Kelly bag to join a party with the girls, or combine bold leather pants with a voluminous top and chandelier earrings to attend a more formal business evening. Or just opt for a simple black little dress and you're all set!