Our Favorite Outfits To Hit The Slopes In Style This Winter
Agnès Poulle - Madame Figaro
21-January-2022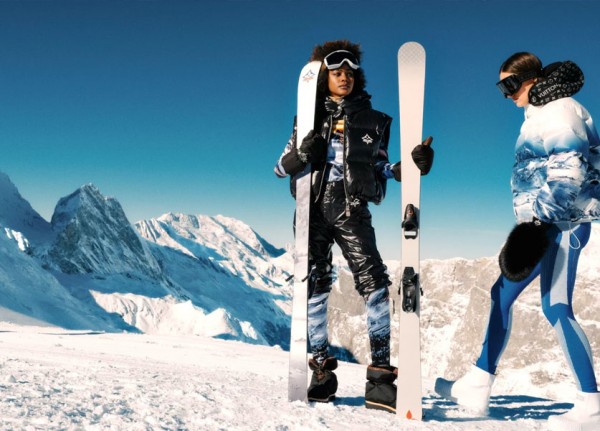 Ski season is here, and we just can't wait - just like you - to immerse ourselves in snow-covered landscapes escaping the city noise and surrounded by luxury resorts around the world.
But before you head off on your long-awaited vacation, take a look at our amazing selection of ski wear from the world's best designers to keep you warm and stylish while practicing your favorite snow sports.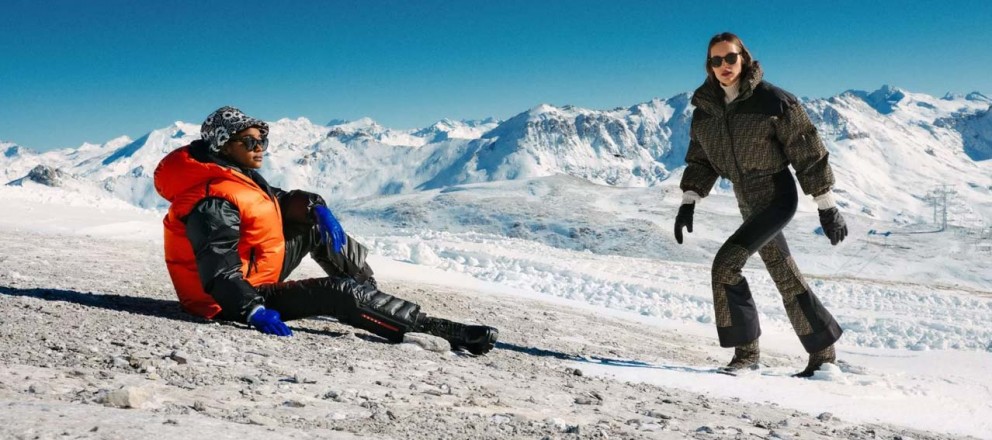 Elegance on the slopes
Step out in style on the slopes with a look that is both classic and practical. Left: YS Army puffer jacket, Lacoste sweater, Billabong jumpsuit, YSL sunglasses, Louis Vuitton earrings and Fusalp gloves. Right: Balmain black and white ski suit, Rossignol snow goggles, Haglöfs gloves and Stuart Weitzman boots.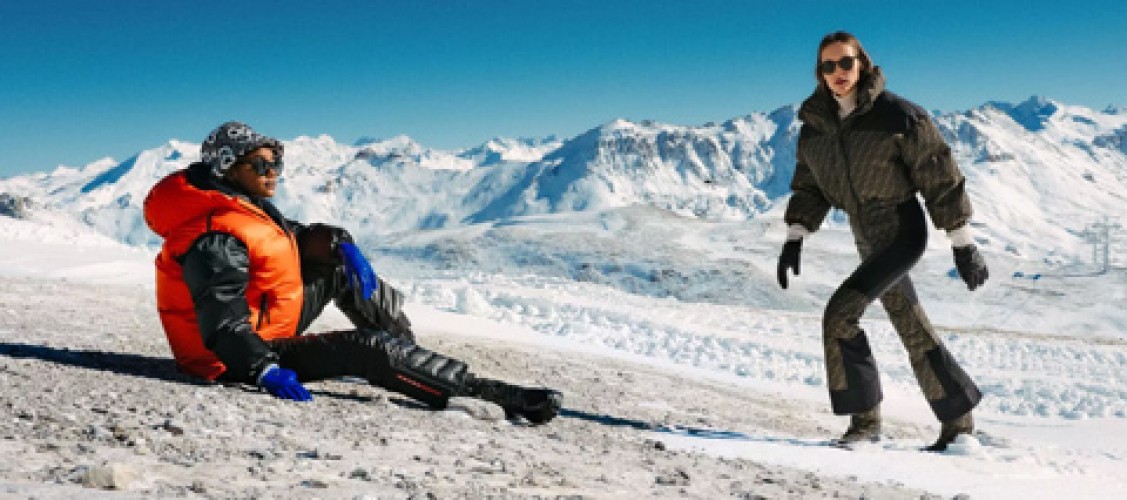 Free ride
Add a pop of color with this bright orange sleeveless puffer vest worn over a black ski suit and a matching jacket, paired with deep blue gloves and a trendy bob hat. All from Prada. Or, go for a more discreet Fendi look by choosing this jacket and jumpsuit with a white wool sweater and matching boots. Persol Sunglasses and Rossignol gloves.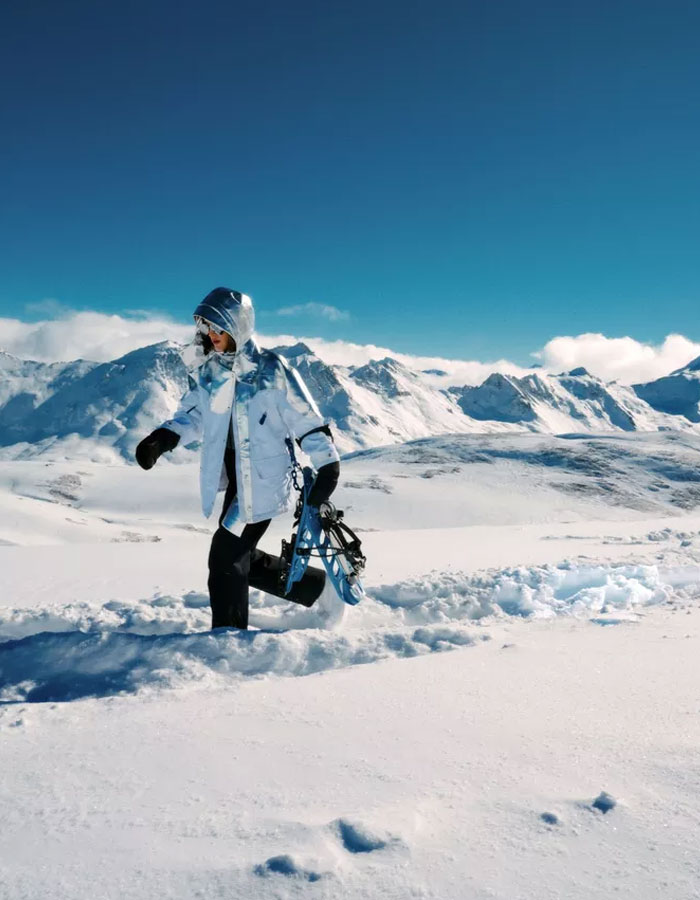 Dazzling walk
Stay glamorous and elegant with this look signed by the prestigious house Louis Vuitton. Add some stark contrast to simple black ski pants by pairing them with a silver glitter jacket and mirrored sunglasses also by Louis Vuitton.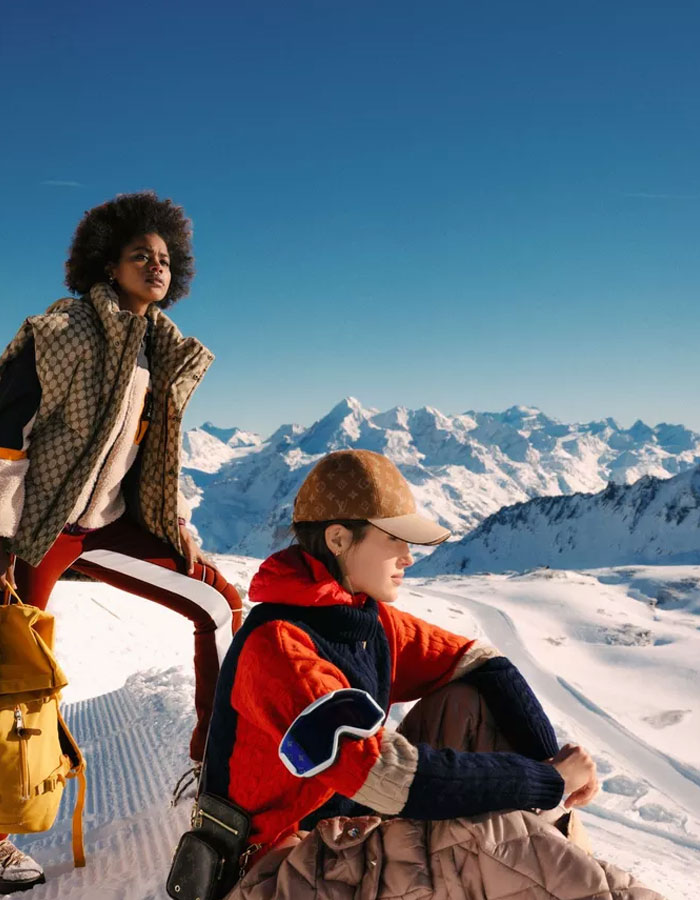 Daring mix
Adopt a bold style on the snow with a mix of colors and materials! Left: Fusalp x Chloé ski pants, Fila polar fleece sweater, Balenciaga sleeveless puffy vest, Louis Vuitton earrings and Barts bag. You can also team this unique hat by Chloé with an Eric Bombard pullover, a Haglöfs jacket and We11done pants. Utility Bag and Louis Vuitton snow goggles and boots.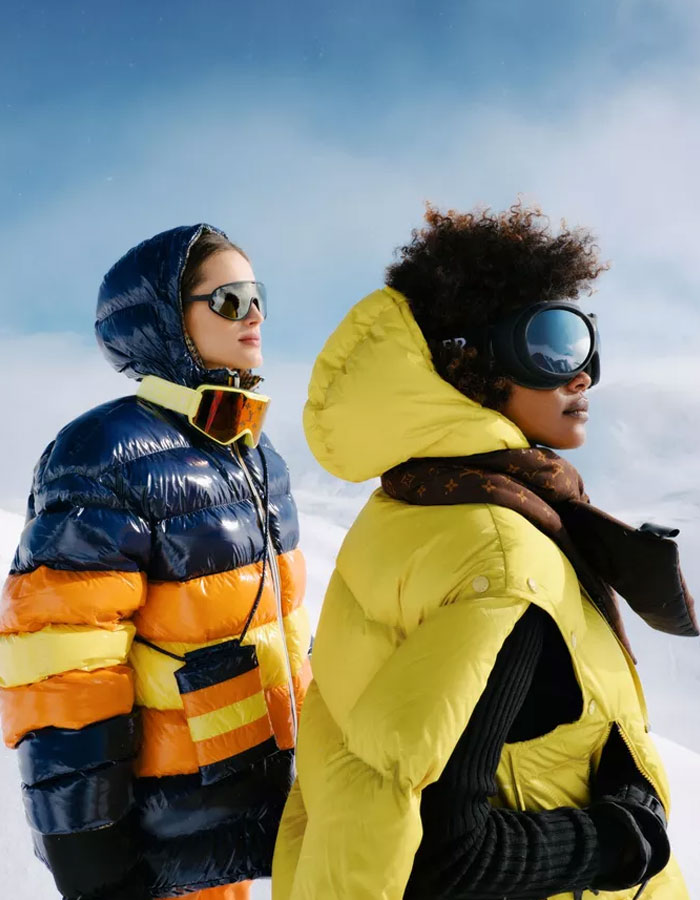 Solar duo
Embrace the sun with this colorful puffer jacket and matching bag from R&D collection, K-Way. IZIPIZI Sunglasses, Louis Vuitton snow goggles and gloves. Right: Moncler puffer vest, pullover and goggles, Louis Vuitton scarf and gloves.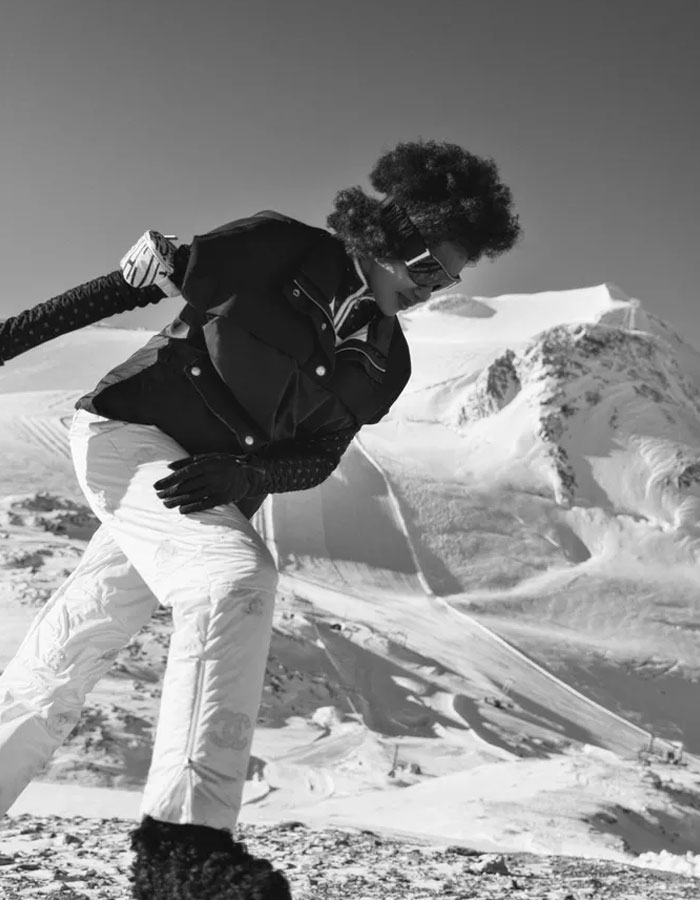 Black & White
Contrasting elegance in two classic colors. Ski Suit, jacket, snow goggles, mini bag, all from Chanel Coco Neige collection. Boots, Chanel.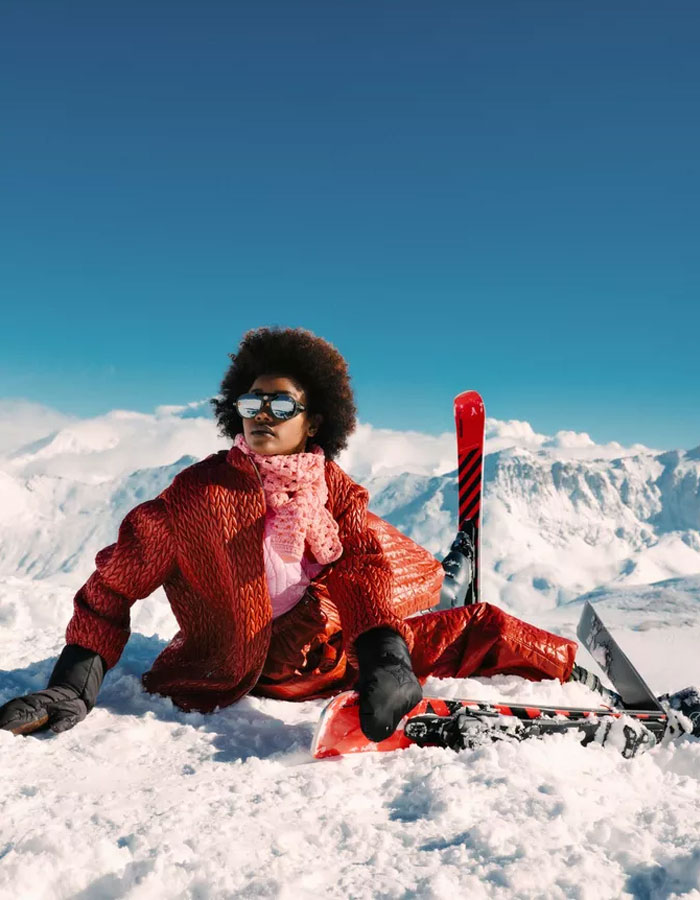 Pop of color
Shine on the mountain slopes with this orange color look by Miu Miu. IZIPIZI sunglasses, Louis Vuitton gloves, Elan folding ski and snow boots.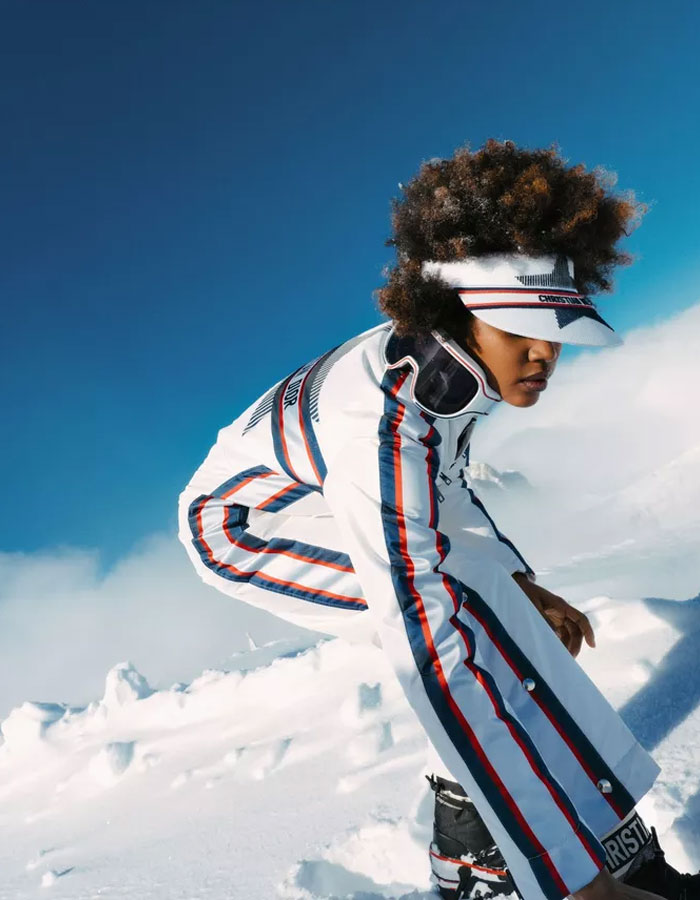 Sporty look
If you love sporty outfits, this look from Dior is for you! Dior Star Ski suit, DiorAlps visière hat, snow goggles and boots.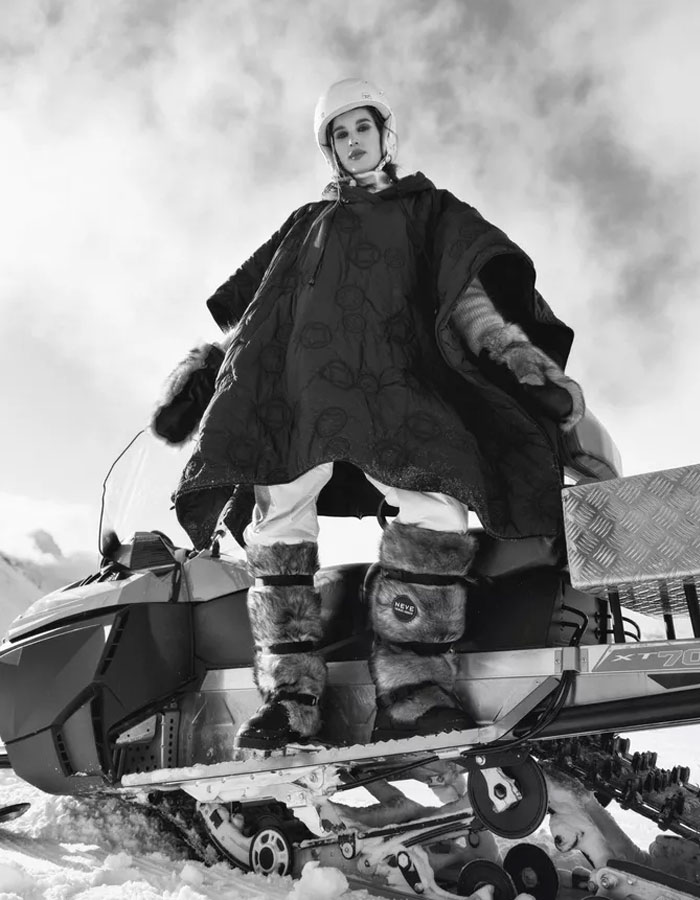 Chic and cozy
Stay stylish and warm with this all-over look from Giorgio Armani Neve. Ski helmet from Rossignol.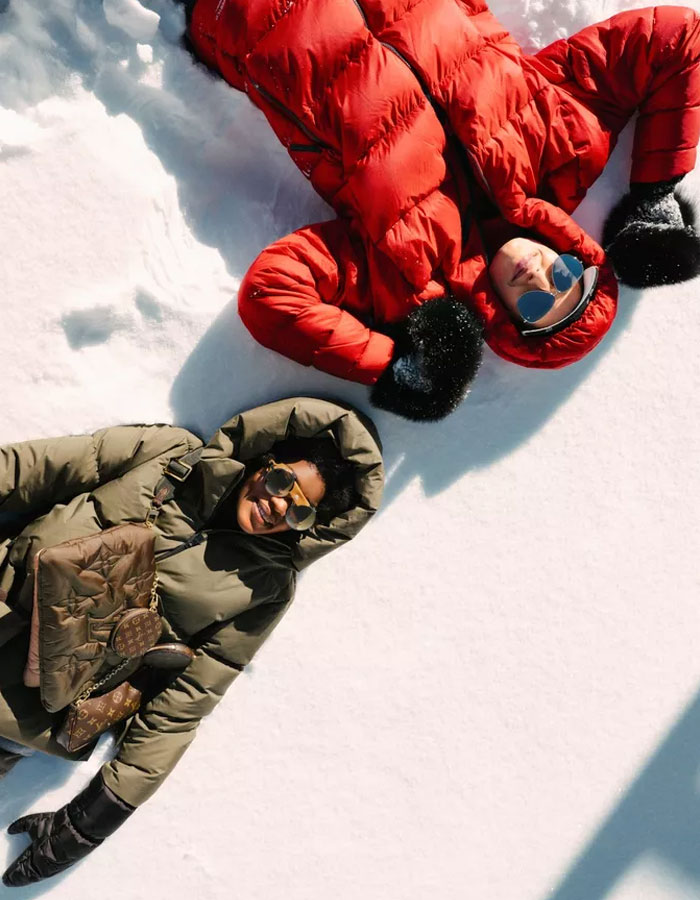 Casual winter
Embrace the cold weather wherever you go with a warm and modern look. Right: Pyrenex puffer jacket, Billabong pants. Horizon Light Up sunglasses and gloves by Louis Vuitton. Courrèges hat. Left: Gore-Tex Infinium Windstopper puffer jacket by Herno, Julbo sunglasses, Maxi Multi Pochettes and Multi Pochette bags, accessories and gloves, Louis Vuitton.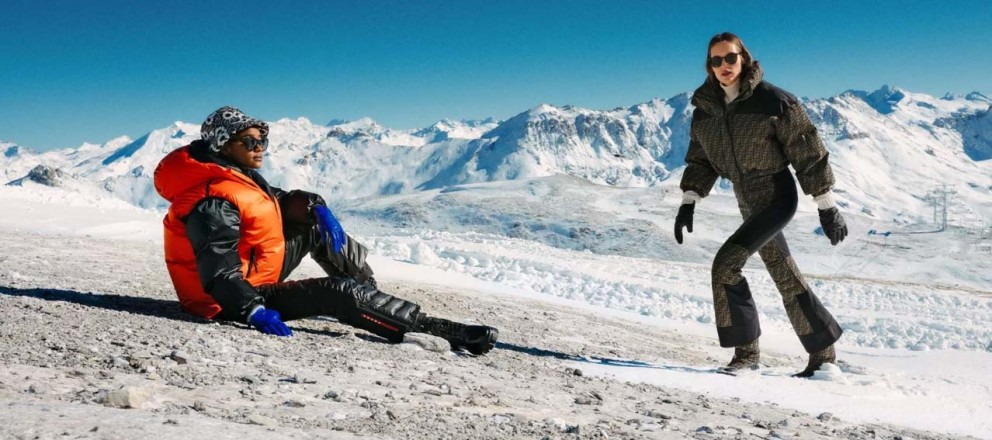 Artistic shades
Make an artistic impression on the snow! Left: Puffer jacket and nylon pants, snow goggles, gloves, Tambour Street Diver watch, boots and skis, all by Louis Vuitton. Right: puffy jacket, leggings, snow goggles, chapka and gloves, Louis Vuitton.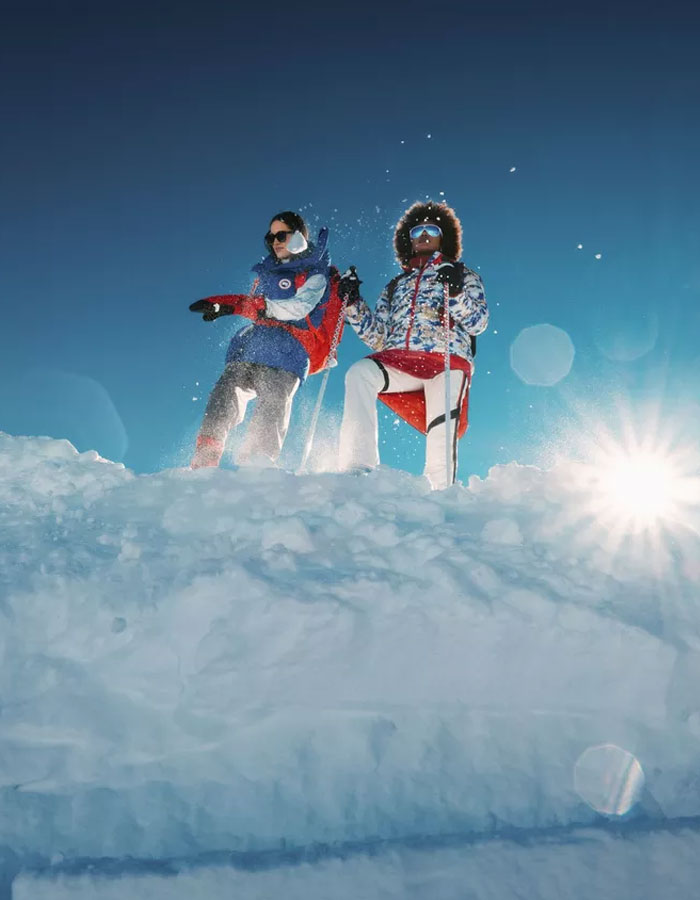 Cool peak
Combine red and blue for a cool contrasting look. Left: Angel Chen for Canada Goose sleeveless jacket, Ellesse vest, and Brunello Cucinelli cashmere pants. Ralph Lauren sunglasses, Canada Goose gloves, The North Face backpack and Kenzo boots. Right: Colmar A.G.E. by Morteza Vaseghi puffer jacket and skirt, Notshy cashmere sweater, Monoprix ski pants. Afflelou goggles, Louis Vuitton earrings, Eider backpack and gloves, Louboutin shoes, and Black Crows ski poles.