Fall-Winter 2022/23 Ready-to-Wear Show: Chanel Pays Homage to Its Iconic Tweed
Sabrina Pons - Madame Figaro
18-March-2022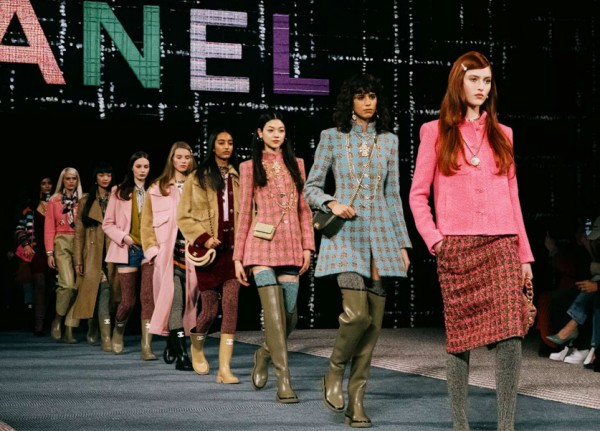 On Tuesday, March 8, in the heart of the temporary Grand Palais, the prestigious French house celebrated its favorite fabric, with its Fall-Winter 2022-2023 collection, with a masculine touch and a rural flair.
Tweed all over
A presence rarely seen around the temporary Grand Palais venue for the CHANEL fashion shows while waiting for the three-year renovation of the real Grand Palais to be completed. Looking at the stars in the front row, we couldn't but see the special appearance of Jennie Ruby Jane, the face of Chanel's Coco Neige campaign, and member of the South Korean girl band Black pink claiming hue success all over the world (not to mention the tens of millions of subscribers on social networks).
Stunning elements of luxury, calm and seduction prevailed on the show and the podium was flooded with a sober décor in black tweed that heralded a dazzling show entirely dedicated to this luxurious fabric, the eternal symbol of the French House.
Long pink coat mottled with blue and purple, wide waistcoats, thigh-high rain boots, thick wool tights, a burgundy suit with a delicate gold shimmer… "We followed the footsteps of Gabrielle Chanel along the River Tweed, to imagine tweeds in the colors of this landscape," said Virginie Viard, Artistic Director of CHANEL. The result? An outburst of '60s-inspired color, suits with masculine touches that recall Gabrielle Chanel's history with the Duke of Westminster, and the jackets she borrowed from him. "There's nothing sexier than wearing the clothes of the person you love", Virginie Viard continues.