Prix Beauté Stars Madame Figaro 2022 Best Anti-Aging Products of 2022
Writing - Madame Figaro
14-April-2022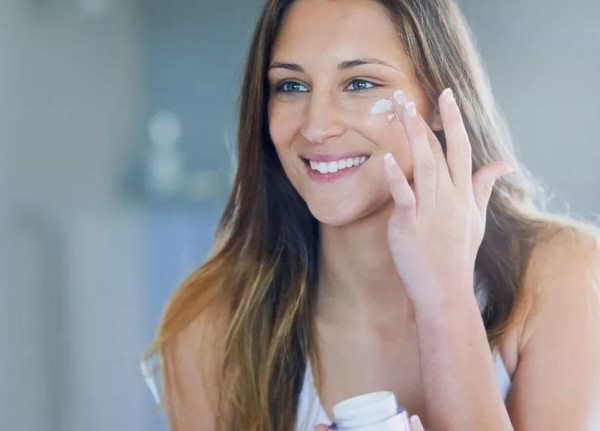 The Madame Figaro Beauty Stars jury has elected its favorite products of the year. As every year, personalities and stars forming part of the jury vote for their favorite cosmetics. Looking for the best anti-wrinkle cream or the best anti-aging serum? This is your guide to find what suits you the best while discovering the chosen selection of cosmetics to slow down the signs of skin aging.
In 2021, brands have innovated once again to develop ever more effective formulas for firmer and smoother skin. Cream, serum, oil or eye contour… all these beauty products contain the best ingredients that can slow down the appearance of skin aging's signs such as wrinkles, sagging, dullness and brown spots.
What anti-aging beauty products should you use at the age of 30, 40 or 50?
The natural production of collagen and elastin in the skin begins to diminish from the age of 25. Hence, the skin starts to face a progressive loss of bounce and firmness. It is therefore necessary to adapt your beauty routine to each age period.
From the late 20s to the early 30s: it is recommended by dermatologists to use antioxidant-based creams that fight free radicals, which accelerates skin aging, such as the Vitamin C. It is also essential to apply an eye care product, since this is the most sensitive area of the face and the first to show aging signs.

After 40: you can opt for an anti-aging serum or an anti-aging cream, to be applied morning and night.

After 50: along with the anti-aging and anti-wrinkle skin care, it is necessary to use a depigmenting serum that fight against brown spots.
The best anti-aging creams of Madame Figaro's Beauty Stars 2022 Award
In the "Face Care" category:

Huile-en-Eau Jeunesse Abeille Royale, Guerlain

One of this product is sold every 26 seconds worldwide. Guerlain's Abeille Royale line has proven its restorative effect on the signs of aging. In addition to honey from black bee of Ouessant, this new version welcomes three other honeys from Corsica, Finland and Greece. Its texture is as rich as oil and as light as water, and contains active microbeads that merge with the skin leaving the skin to breathe. As for the results, they're nine times faster than before; the skin restores itself in order to look younger and more radiant.
In the "Readers" Choice Award" category: NCEF-Shot by Filorga
NCEF is distinguished by its texture and its Filorga's exclusive ingredients. It combines amino acids, vitamins, co-enzymes, mineral, anti-oxidants and hyaluronic acid. Its texture boosts cell regeneration while working on masking aging signs. In one dose, the skin receives the equivalent of a meso-injection. After 10 days of applying this product, this treatment promises intensely regenerated skin. It is the ideal product for each change of season or when the skin is stressed and tired.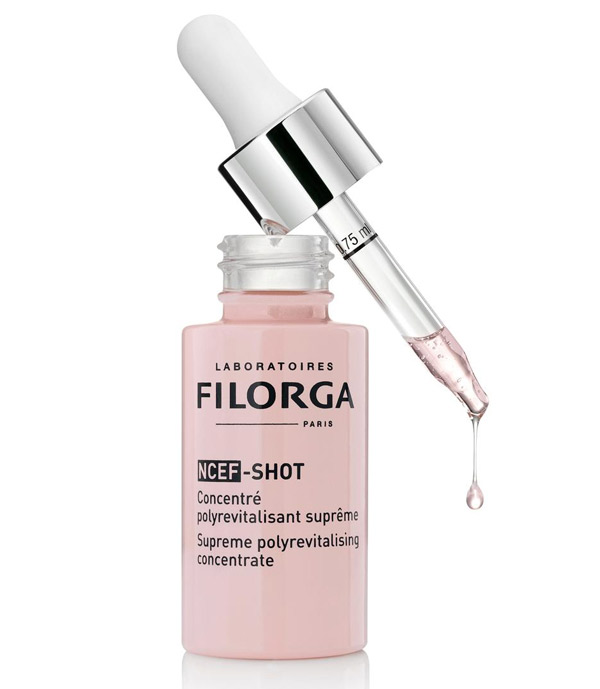 In the "Body Care" category: Émulsion Exquise à la Rose Noire,

Sisley
This body lotion contains aqueous and oily extracts of roses grown in the south of France. Combined with camelina oil, very rich in essential fatty acids, padina pavonica algae (the brand's flagship active ingredient) and white ginger, these flower hearts moisturize, smooth, nourish and tone. Not only does this product make the skin softer, more comfortable and more elastic, but as soon as it is applied, it leaves a satiny touch and a discreet scent of natural rose, which soothes the body and the mind.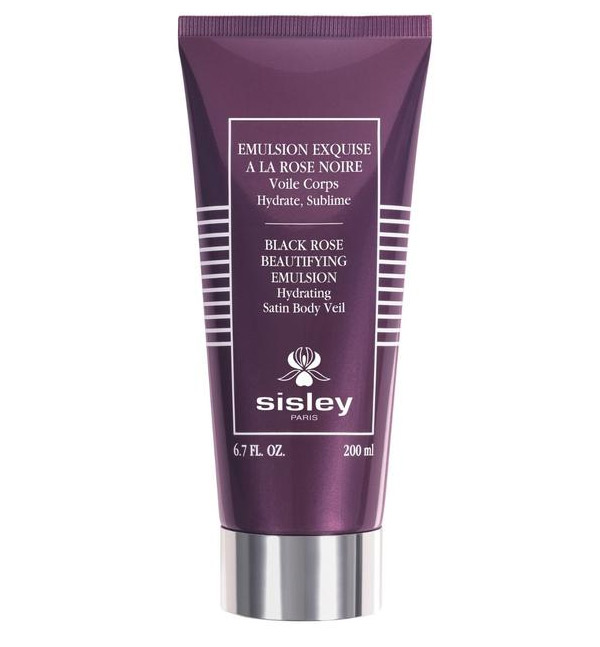 In the "Cult Product" category: Double Serum by Clarins
This is the eighth generation of this star serum. In 1985, it was intended to be the best product in the world by bringing together the most powerful anti-aging ingredients. Since not all of them were compatible, Clarins laboratories had the idea of creating a two-compartment bottle, with the mixture being made upon application. 36 years later, it has followed the evolution of science, combining the 20 organic plant ingredients. It acts on the five vital functions of the skin: regeneration, oxygenation, nutrition, hydration and protection. This serum is designed to fight aging signs and wrinkles, unify skin tone and enhance its radiance within seven days at most.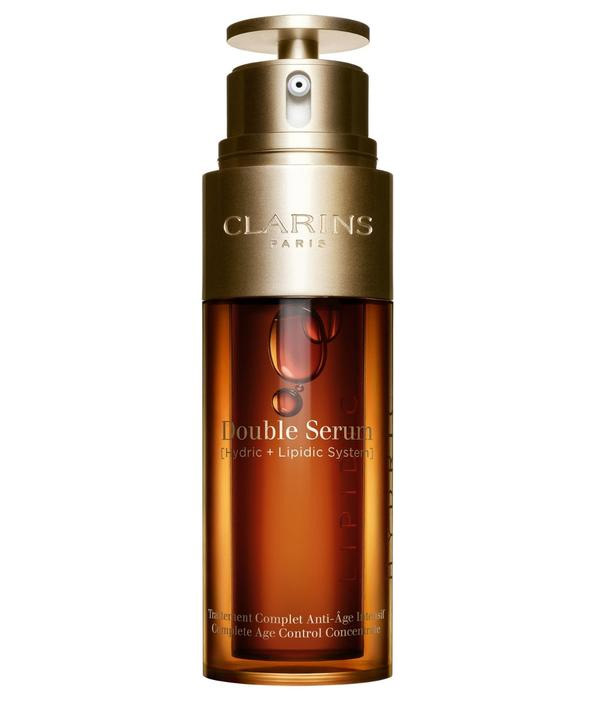 In "Eye Contour" category: Advanced Génifique Yeux by Lancôme
Lancôme has discovered that the eye contour area is sensitive and has its own treatment for aging signs and fine wrinkles. Thanks to prebiotics and probiotic fractions, combined with hyaluronic acid and a vitamin C derivative, this treatment strengthens the skin barrier and fights against brown spots and dark circles. It also softens the eye contour area and moisturize it instantaneously.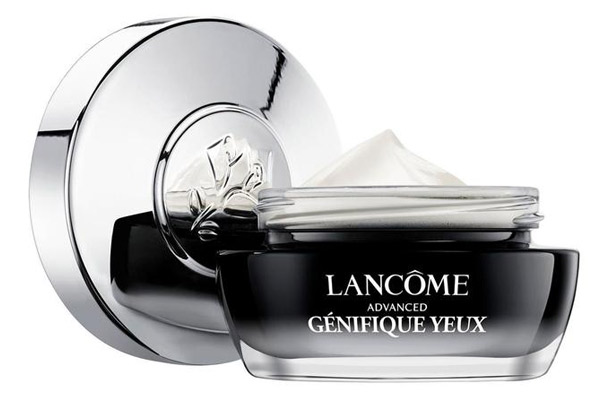 Which anti-wrinkle cream to choose?
In order to fight aging signs and have a younger skin, you should choose a cream which texture contains the following ingredients:
Hyaluronic acid: This is the star ingredient in anti-aging cosmetics. This molecule retains moisture in the skin, restores suppleness and comfort, while smoothing the features.

Peptides: These amino acids support the skin's structure and prevent skin slackening. They have a lasting effect on firmness, plumpness and elasticity.

Retinol: his vitamin A derivative accelerates cell renewal. It refines skin texture and restores radiance, while boosting the production of collagen and natural hyaluronic acid.
Which anti-aging skin care should I choose according to my skin type?
The anti-aging serum and the day cream are complementary, one does not replace the other. Applied daily or as a treatment, the serum should be used before the anti-aging cream in order to increase its effectiveness tenfold.
For dry skin: you can opt for a thick texture that comforts and soothes it throughout the day. A night cream with an oily texture can also complete the routine.

For oily skin: you can apply a moisturizing fluid or a light cream after the serum.

For combination skin: the best choice is a serum followed by a light-texture cream.
What are the benefits of an anti-wrinkle night cream?
In addition to a daytime anti-aging cream, beauty experts recommend applying a more concentrated skin product at night. It is during the night that the skin regenerates and starts its repair process, which helps in reducing fine lines and aging signs like wrinkles and dark spots.