Dior Reshapes Historical Lines in its Latest Collection
Clara Dufour – Madame Figaro
28-September-2022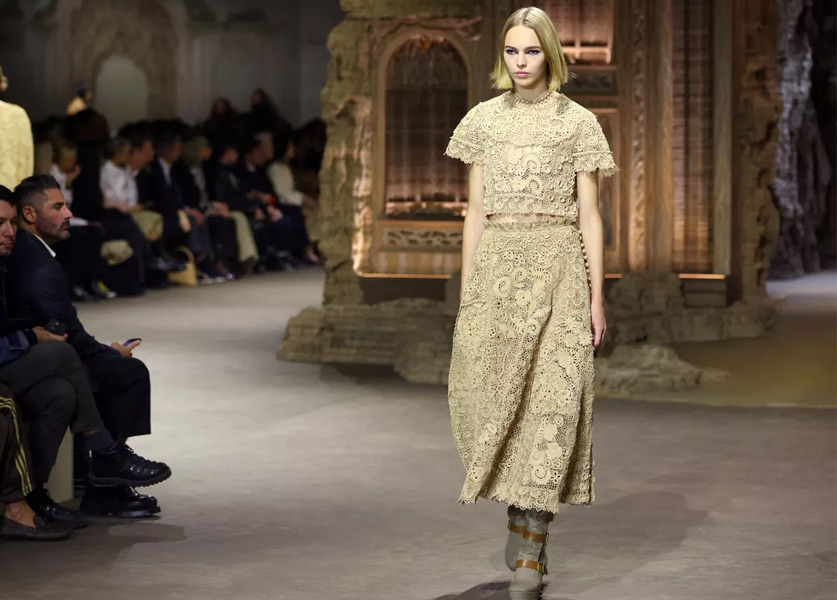 In a Tuileries garden bathed in royal inspiration, Dior Creative Director Maria Grazia Chiuri unveiled a majestic spring-summer 2023 in tribute to Catherine de Medici.
On the outside, the structure of the Dior show, a large rectangle in the middle of the Tuileries garden, stands imposing and immaculate. Inside, by contrast, the atmosphere is intimate. Dimmed lights reveal baroque grotto, a masterful cardboard sculpture created by artist Eva Jospin. This contrast symbolizes much of the spirit of the spring-summer 2023 collection designed by Maria Grazia Chiuri: the visible and the hidden, the public and the intimate, the real and the imaginary, the past and the present of the story of a woman, or more accurately of women.
Catherine de Medici, a Dior woman
One personality particularly inspires the artistic director of Dior women's lines: Catherine de Medici. This 16th century political figure never ceases to fascinate. A series has just been dedicated to her, The Serpent Queen, adapted from a book published in 2006. With this fashion show, Maria Grazia Chiuri wanted to highlight the power of this woman of power, and to recall her influence on the pomp. The Italian, who arrived at the French court in 1533, is known for having initiated many fashions including the corset and popularized high heels.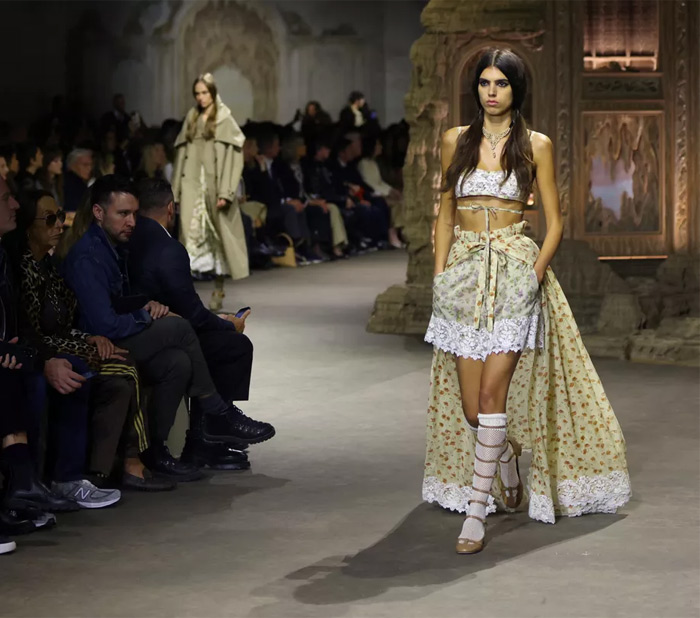 The Dior collection revisits the Medici silhouette in an ultra-contemporary way with a modern regency core look. Mini dresses with crinolines, taffeta petticoats open over lace shorts, pantsuits worn with shirts with puffed sleeves, laced shoes with sexy kitten heels... It is Catherine de Medici at the jump of the bed. The woman before she takes on the costume of the regent. It emanates an assumed femininity, powerful, but radically soft because nothing is constraining in this wardrobe.
For this collection, Maria Grazia Chiuri also drew on her own background by merging references to the cultural heritage of France and Italy, the two countries that are now her own. The image of a map of Paris from the archives of the house Dior can be found on a black and white leather trench coat. The allure of the Parisian woman has also been revisited in a beige trench coat and sleek couture jeans.