Georges Chakra Proves his Love for Silk Gazar in Latest Collection
Rita Khoueiry
31-January-2023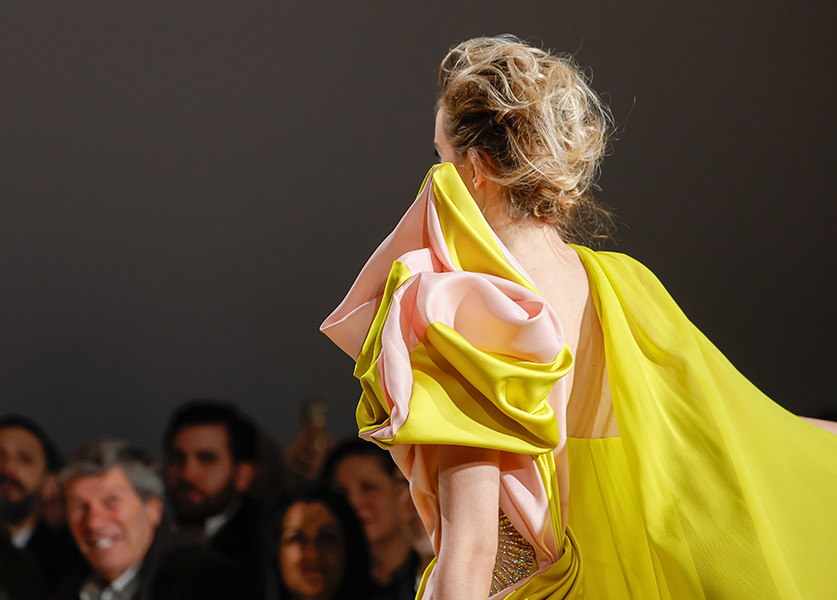 For his Haute Couture Spring/Summer 2023, Lebanese designer Georges Chakra opted for a youthful interpretation of extravagance, an exploration of opulent volumes in sumptuously striking colors, capturing a mood of expressive femininity and dramatic decadence. Imbued with a sense of freshness, this season's palette is reflective and audacious.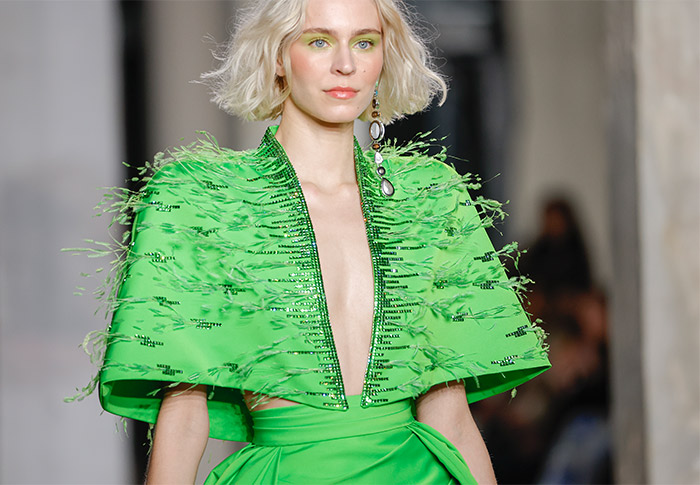 Neon yellow, vibrant coral, flame rose, emerald hues, lime and bright mint are bursts of electric energy. Chartreuse, rose pale, vanilla and ice blue give way to a vivid white. Crystals, sequins and stones are embellished onto the garments, creating reflective subtlety. Metallics, holographics, and printed paillettes are intricately woven into shimmering mosaics. Georges's love of silk gazar is a constant throughout the collection, highlighting flawless construction and workmanship. Exaggerated volumes and sleek shapes work in symbiosis. Bustiers are molded, accentuating the body, while sculptural silks create crushed couture gowns with sinuous trains. Each look is singularly statuesque, with collars playing a pivotal role as this season's muse.
A story of pleats unfolds with graceful ease, illustrating the savoir-faire of the Georges Chakra Couture atelier. Techniques of micro-pleating, effervescent Fortuny pleats, and a mélange of sun and flat pleats evoke subtle strength and supple dimensions. A nod to classicism, the structured silhouettes are the quintessence of symmetry and linear form. Accessories are bold this season: cascades of oversized pearls adorn bare torsos, cuff bracelets ring wrists. A single shoulder length drop earring in tiered facetted multi-colored stones. The satin mules in champagne and silver with delicate neon heels, have been revived and reinterpreted from the house archives.
In a dramatic finale, the bridal gown emerges on the runway. A first for the Maison, this exceptional dress is executed in striped blue and rose pastel-printed silk Mikado, hand painted in broad strokes of bright metallic silver. A traditional ball gown, the train is a whirl of dramatic movement with volumes of printed soft gazar and ice blue tulle pleated and shaped into wave-like fans forming a cascade on the voluminous train.