Leather, embroidery, Colorful Effervescence... Bottega Veneta's Elegant Carnival in Milan
Sabrina Pons - Madame Figaro
27-February-2023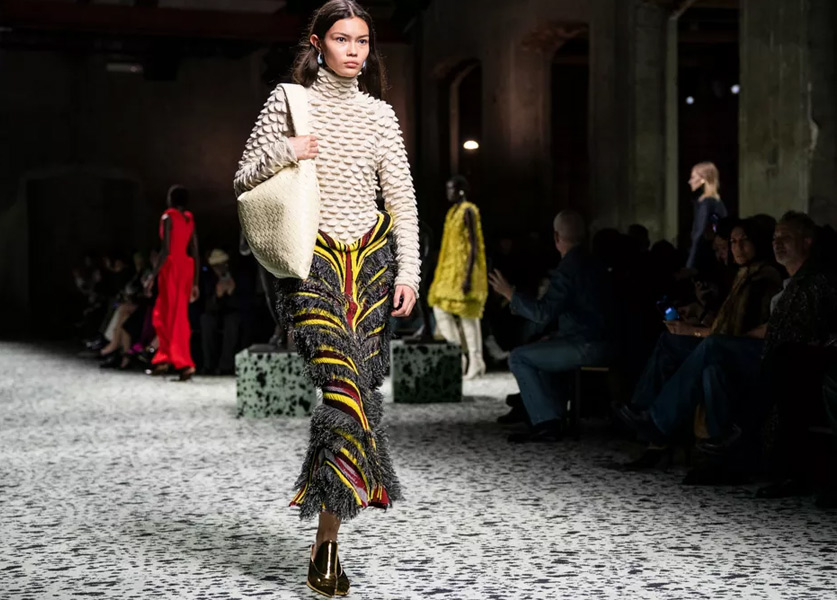 At Milan Fashion Week, Matthieu Blazy showcased latest Fall/Winter 2023-2024 ready-to-wear collection that magnifies materials and craftsmanship.
Matthieu Blazy is the new strong man of the Bottega Veneta brand. That's what the first two collections of the artistic director of the Italian label of the Kering group whispered, leaving observers spellbound. On Saturday night in Milan, the French designer continued his rise to power by basing his proposal on the strategy of color, architecture and detail that holds the attention. Held in a disused hangar, the show took place in a raw setting marked by a mottled, water-mint colored carpet and three bronzes loaned for the show: a work by Italian Umberto Boccioni, usually exhibited at the National Gallery of Cosenza, and two sculptures dating from the first century BC from the National Archaeological Museum of Naples.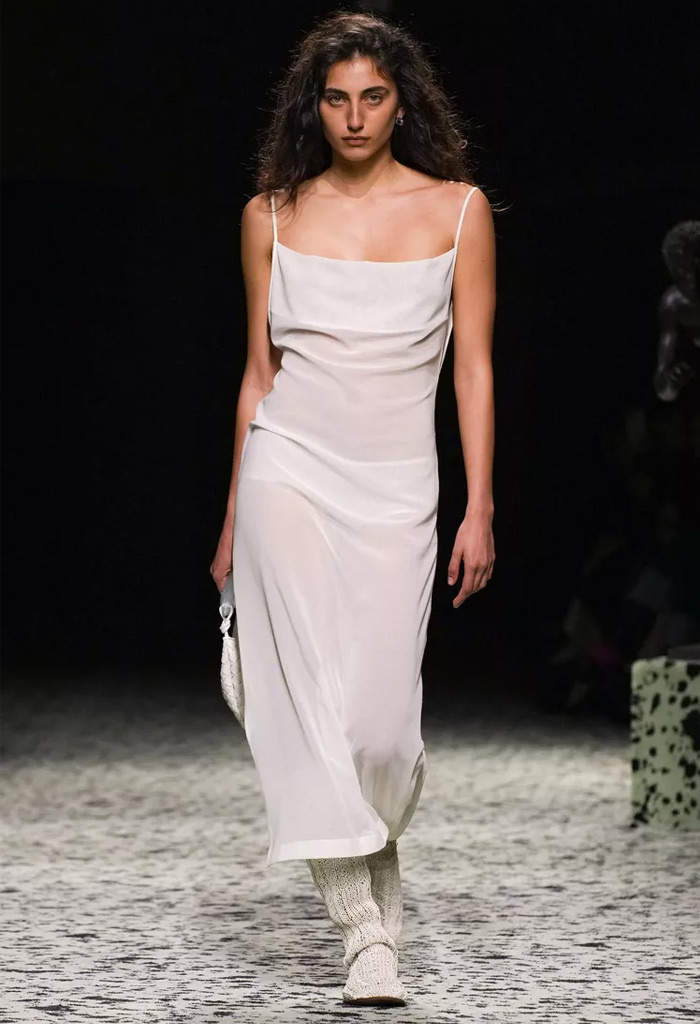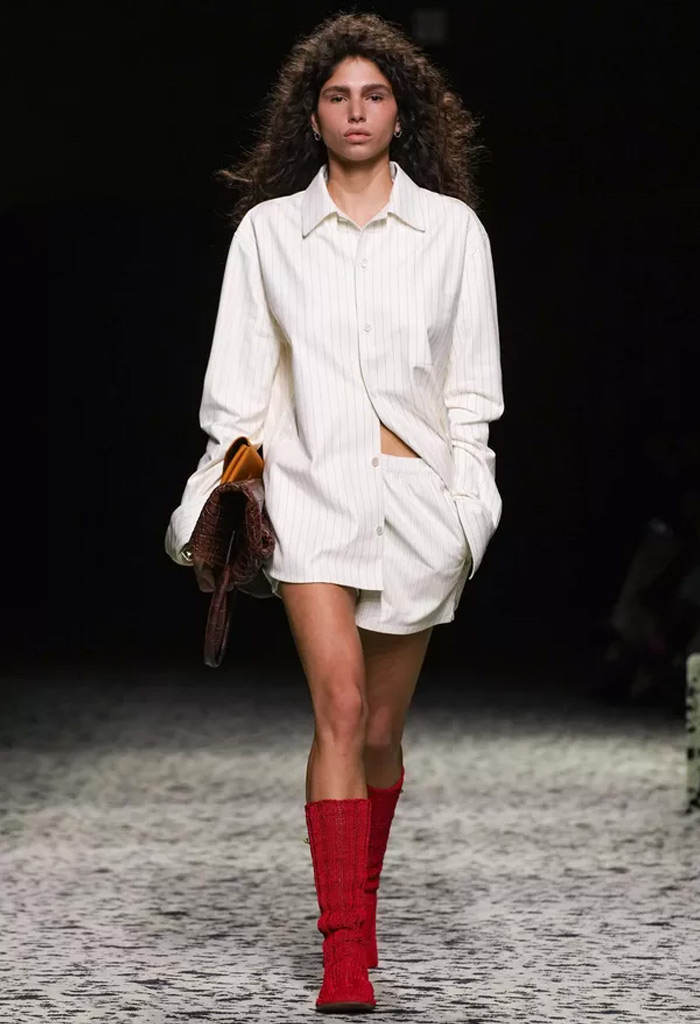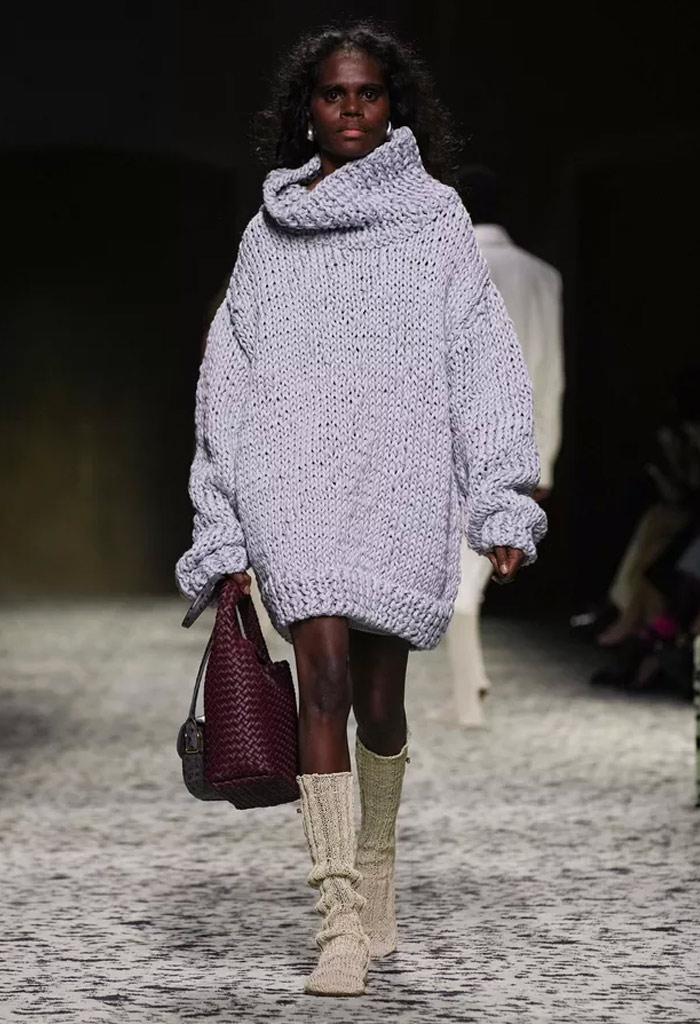 "A strange carnival"
The show was as much in the room as on the runway where the models, women and men, paraded. In the front row were François-Henri Pinault, his wife Salma Hayek, and their 15-year-old daughter Valentina, Ilona Staller aka "La Cicciolina," Maïwenn Le Besco, rapper Dave, and the singer RM from the K-Pop group BTS, who caused a riot when he arrived. The collection, very rich (about 80 silhouettes), infused throughout its presentation a particular attention given to the work of leather. The garments thus take on a different configuration, such as overcoats, shirts, ties, a khaki green dress designed to fit the waist and offer a supple "basket" effect, or another canary yellow color that deploys a whole game of volume and technique. The notion of work is very present, as is that of timelessness. "I loved the idea of the parade in Italy; a procession, a strange carnival, a crowd of people from all over the place and yet they all go in the same direction. I wanted to examine what drives people to gather in a place without hierarchy, where everyone is invited," explains Matthieu Blazy in his note of intent.
The deceptively classic suits mixed surprisingly well with knitted leather socks, as well as very sophisticated dresses, tops and coats (with a flurry of embroidery, shaggy thread jacquard and translucent materials). This mix ends with a basic silhouette that now has its place at every show of the Italian label since the arrival of Matthieu Blazy: a white tank top paired with wide jeans. As a final point to this joyful and refined procession.