Iman of Jordan, Absolute Princess in her Dior Wedding Dress
15-March-2023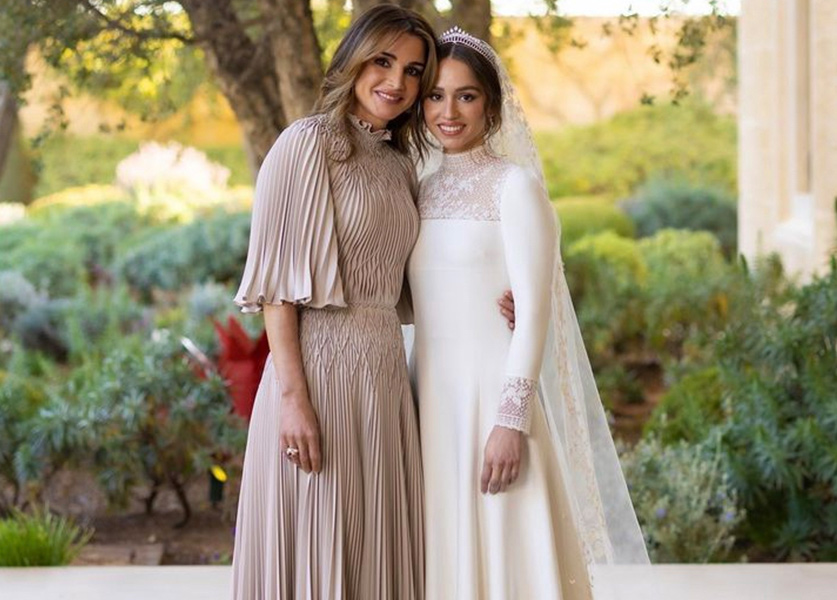 Designed by Maria Grazia Chiuri, the bridal outfit honored the ultra-long veil at the princess' wedding in Beit Al Urdun, a private residence of her father, King Abdullah II.
On Sunday March 12, at sunset, the eyes of the guests were raised to Princess Iman of Jordan. On the arm of her older brother, the twenty-six year old joined her fiancé, Jameel Alexander Thermiotis, dressed in an off-white Dior Haute Couture gown with lace neckline and cuffs, matched with a tiara and a long veil. Her mother, Dior Haute Couture, also chose to wear a Dior dress for her daughter's wedding. A pleated model of ecru color, with flared sleeves and high collar, sliding to the ground.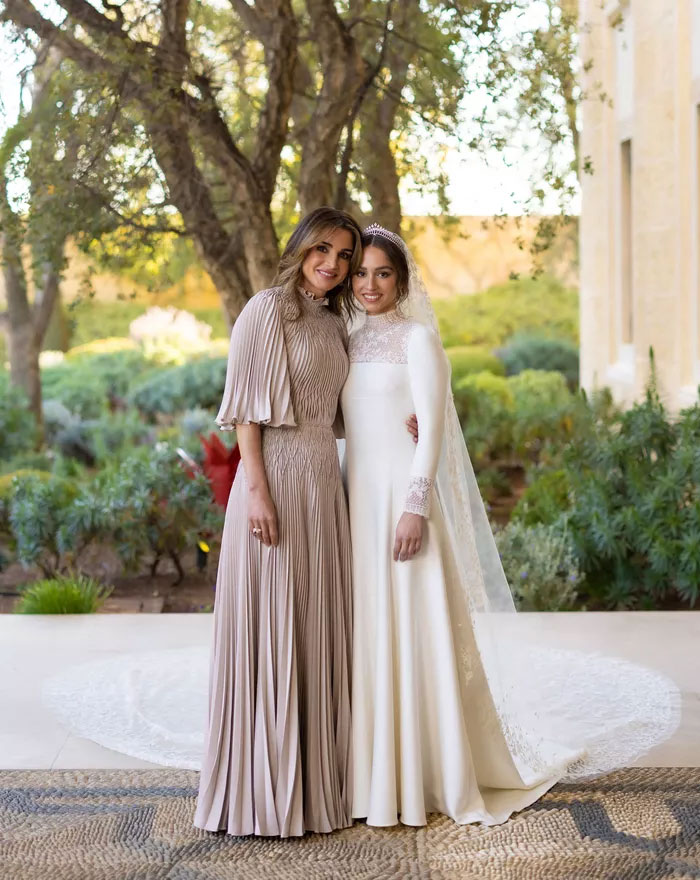 Among the guests were also present the brothers and sisters of the princess. Her youngest daughter, Salma, 22, wore a pink dress with light shoulder pads and a green jewel belt, with silver pointed ballerinas. Her sister-in-law, the crown prince's fiancée, wore a yellow dress that draped her right arm. She will soon be in Princess Iman's shoes, as their wedding is scheduled for early June. A festive year, marked by elegant dresses.
Maria Grazia Chiuri's Dior Wedding Dress
The princess isn't the only one who has chosen Dior for her big day. The house's artistic director, Maria Grazia Chiuri, has fashioned several celebrities' wedding dresses since she joined Dior. Following the example of Miranda Kerr's, who in 2017 married the Snapchat creator in a custom-made dress. But perhaps the most famous of Maria Grazia Chiuri's wedding dresses is the ultra-modular triptych she created for Italian influencer Chiara Ferragni, featuring a dress for each moment of the day: the ceremony, the reception and the after party. The designer thus shows a know-how made according to the expectations of her famous brides.