Italian Meatballs Soup
Samar Maatouk
3-February-2021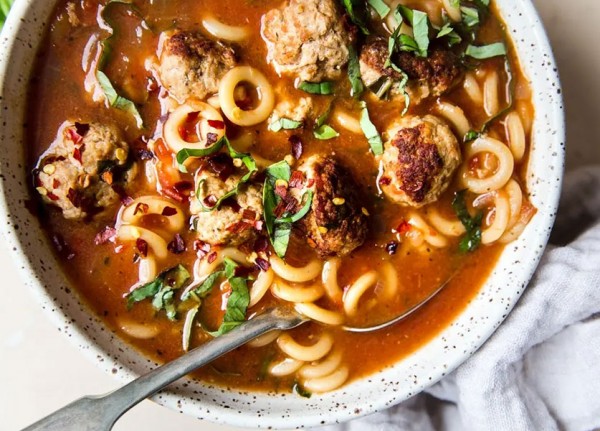 Ingredients
1 tablespoon of olive oil
1 small onion, chopped
4 garlic cloves, crushed
5 cups of meat broth
3 cups of water
Salt and pepper to taste
1 tablespoon of Italian seasoning
1 can of mashed tomatoes
400 g pasta (seashell, butterfly ...)
Meat pellets
1 kilogram of minced veal
1 egg, beaten
1/2 cup bread crumbs
3 tablespoons of chopped basil
Salt and pepper to taste
1 tablespoon of Italian seasoning
How to prepare
In a medium bowl, mix the amounts of meat pellets well and form small pellets. Cook in a pot over the fire in olive oil until browned on all sides. Set aside.
Cook the onions in the oil until golden, then add the garlic and stir for two minutes. Add broth, water, salt, spices, Italian spices, tomatoes and meat pellets. Leave the mixture to a boil.
Add the pasta and leave it on low heat for 20 minutes until the pasta is soft.
Serve the soup with chopped basil.