Chicken Normandy French recipe
Samar Maatouk
28-October-2020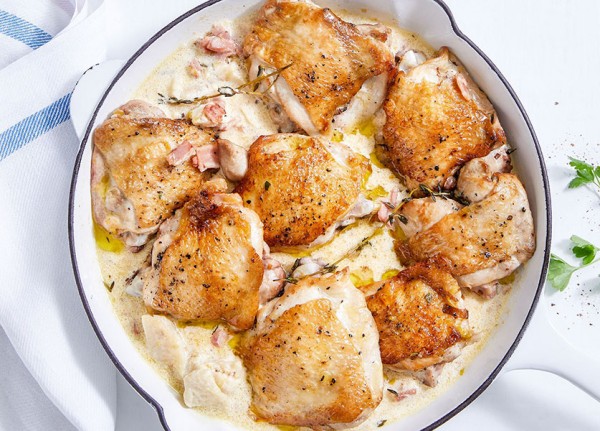 Ingredients
8 chicken thigh slices, skinned
Salt and pepper to taste
1 shallot, chopped
2 green apples, peeled and sliced
1/2 cup apple cider vinegar or apple juice
1/2 cup of chicken stock
6 sprigs of fresh mint
200 ml of fresh cream
2 teaspoons of mustard
How to prepare
Cook the chicken with salt and pepper in a skillet over a fire until golden.
In the same pan, cook the shallots for 4 minutes. Add apples, then vinegar or juice and leave it on a low heat for 3 minutes, then add the broth and mint.
Pour the mixture over the chicken in a tray and put it in the oven for 40 minutes.
Transfer the chicken to a bowl and add the cream and mustard. Put the mixture on the fire for 10 minutes, until the sauce thickens, then serve hot, garnished with chopped parsley.