The Floral Dresses You Need This Spring
Inspired By Kendall Jenner, Jessica Alba and More Celebs
Christina Jaber
6-April-2021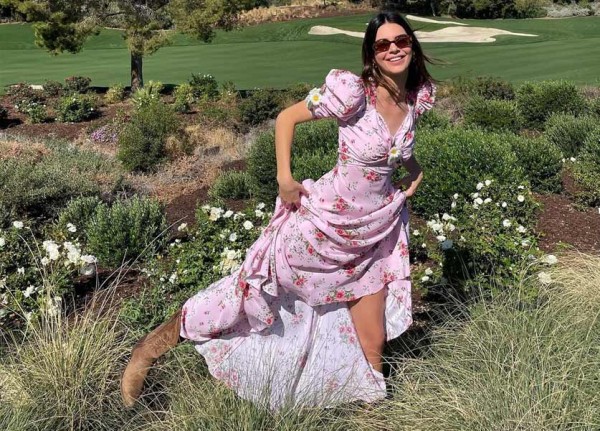 Yes, florals remain the print that makes your outfit standout no matter the season, but a floral dress is definitely a spring matter.
Bringing the spring vibe in your wardrobes isn't the easiest, but you can start with the basics: flowy dresses, spring prints, rainbows, lilac staples and more… But you can never be done with preparing for a spring/summer wardrobe without a floral dress, it's an essential. Apparently, celebrities, among the ones who set the trends, are labeling the floral dress as a big SS21 must-have.
From supermodel Kendall Jenner, to American actress Jessica Alba, on to fashionista Maria Alia and Lebanese singer and actress Dalilda Khalil, they all embraced the chance to look fabulous in outstanding floral dresses. Keep scrolling to check how they styled the champion staple recently.
Kendall Jenner
On Easter Sunday, supermodel Kendall Jenner shared on her Instagram account a post with 4 photos of her wearing a floral pink maxi dress, in a stylish and girl country look. She chose the Pink Daisy Printed Silk Dress from Rodarte and paired it with cowboy boots in beige which gave the look a boyish touch that is Kendall's signature.
The same dress with puff sleeves was worn by Selena Gomez during her recent music video De Una Vez, and yes we agree, it's festive, fun and timeless.
Jessica Alba
Jessica Alba went full-floral with her family for Easter. She wore a peach floral midi dress with a pair of beige sandals in a fresh look. Her daughters also hopped on the trend and looked super girly in their beautiful dresses. A family portrait full of flowers, and love!
Dalida Khalil
Lebanese actress and singer Dalida Khalil looked really fresh and glowing in a white maxi floral dress. We loved the flowers in fuchsia with the pop green leaves along with the ruffle details, a combination of fun and fresh that we're looking up for this spring.
Maria Alia
Palestinian and Puerto Rican model, creative consultant, and digital strategist Maria Alia Al-Sadek opted for a little fantasy in a voluminous maxi dress from Dior. She styled a floral hijab and a camel corset with the dress to add luxury and chic to the look. If you're a hijabi, then this modest yet trendy floral look is perfect for you this spring.