Diorshow 2022
Dress Your Eyes in Dior
Rita Khoueiry
12-May-2022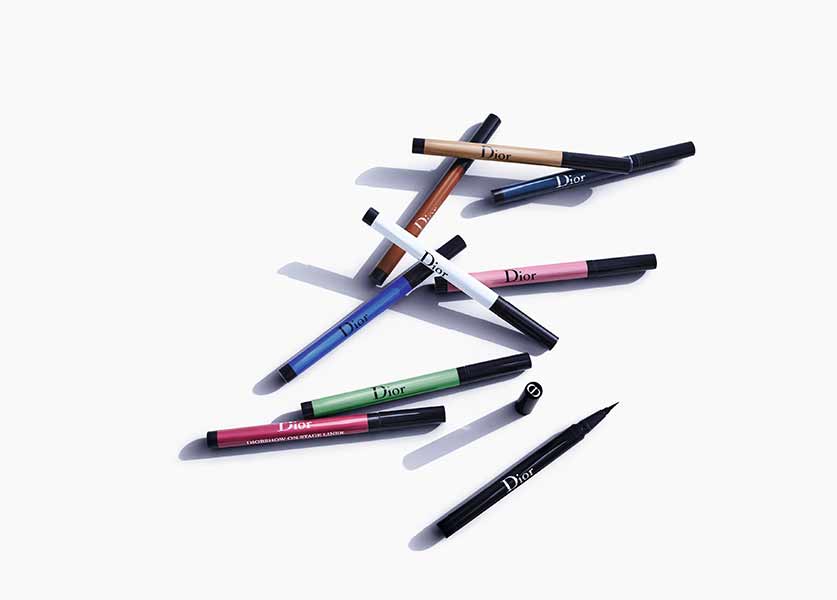 Iconic Diorshow has never failed to impress us with its outstanding beauty products. Created with unique and well-researched formulas, the products of this collection know how to reflect the beauty of women's eyes for a superb look. This year Diorshow collection is prevailed by floral power: Creative and Image Director Peter Philips has created new formulas that are more natural. Eventually, a new signature ingredient has been added to the products of the collection: the blue flower, mirroring powerful and confident. This special ingredient helps in soothing your skin with a radiant touch. Not to forget the exceptional packaging of the Dior eye makeup essentials that mirrors couture more than ever.
Thanks to their high-performance formulas made mostly from natural ingredients, Diorshow and Diorshow Pump 'N' Volume mascaras will give a magical volume to your eyelashes for 24 hours. You can also choose the new release of the brand's signature 5 Couleurs Couture palette for velvety eyelids. Finally, to complete your eye makeup, you can use the Diorshow On Stage Liner and On Set brow. A complete range of eye makeup essentials that will elevate your look.
Various Selection of Volume Mascaras
Dior beauty has updated its masacara formulas to gift you the perfect volume. With Diorshow mascaras,your eyelashes will be defined lash by lash: Diorshow Pump 'N' Volume will provide you an XXL result for a sensational look, whereas Diorshow Iconic Overcurl will help you get the curl you've always dreamt about. Before applying a volume mascara, you can start by using the Diorshow Maximizer 3D lash primer for a better result. Diorshow will guarantee you a spectacular volume that lasts for 24 hours, along with a transfer-proof finish. Coat after coat, your eyes will be opened up and accentuated. Along with the black color, you can find brown and blue shades.
Not only new formulas have been created, but also new packaging: cases featuring Diormania ring, the brand's signature.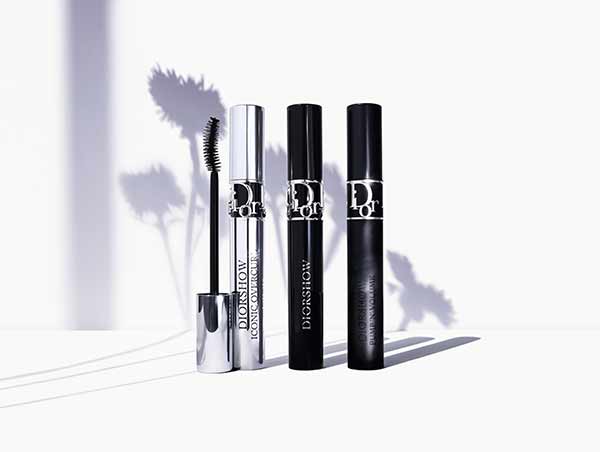 Velvet Edition of 5 Couleurs Couture Palette
Dior beauty created a new edition of its iconic eyeshadow palette by using velvety colors well-stored in a really soft and matte case. If you like creamy powder texture, this palette is for you: enriched with blue flower extract, the eyeshadows will give the softness you need with a weightless long wear. Peter Philips described that he created "5 palettes that are a feast for the eyes, easy-to-wear color combinations in exciting velvets."
Five new shade ranges, from the most matte to the most satiny:
• Blue Velvet celebrates the House's love story with velvet in shades of iconic blue, enhanced with a central lavender
• Red Tartan is an elegant and bold palette featuring strong reds, bricks and browns
• Coral Paisley is inspired by the traditional pattern that has been reinterpreted with warm golden, coral and bright white tones
• Rosa Mutabilis pays homage to the House of Dior's precious rose with subtle, fresh and pastel pink shades
• Nude Dentelle layers beige and natural tones delicately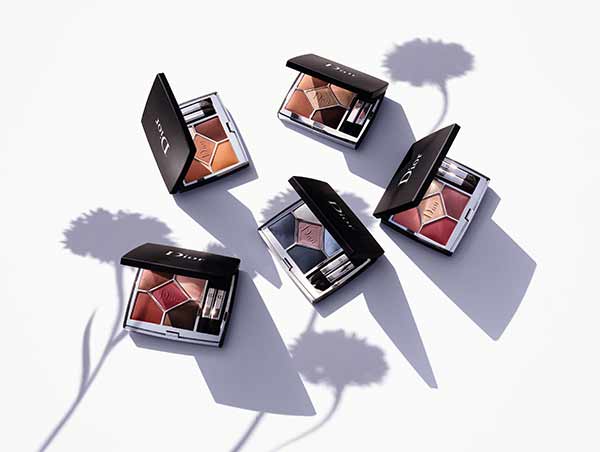 24 Hours of Intense Color Diorshow On Stage Liner
Leaving you a space of wild creativity, a wider range of 14 new colors and finishes have been recreated of the iconic eyeliner of Diorshow. These colors can be found in matte, satiny, and pearly finishes. Drawing a fine line on your eyelid can be sometimes irritating; therefore, Diorshow has designed a flexible tip to help you draw a precise line. With this innovative tip, you can draw thin or thick line, depending on the pressure exercised. On Stage Liner range of colors will highlight your eyes and give you a countless possibilities of looks.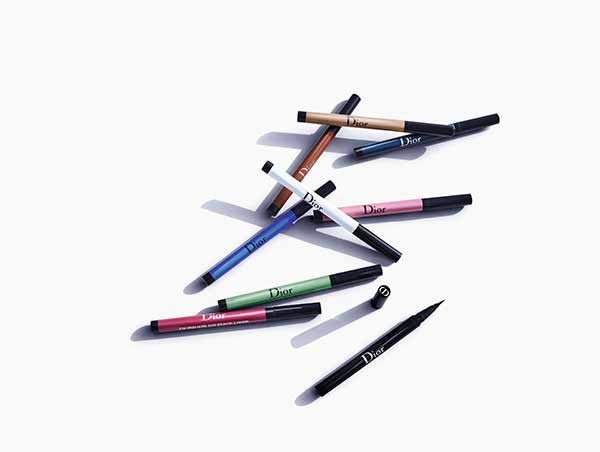 A 24-Hour Hold and Volume with Diorshow On Set Brow
Who doesn't like fuller lifted eyebrows? The new Diorshow On Set Brow will give you perfectly groomed lifted eyebrows, for more open eyes, with a gel texture. Available in different colored shades, this product has a waterproof formula that guarantee you a long wear, providing you volume and a 3D effect. To define your eyebrows in a precise way, the brush has been carefully designed. So make sure that your eyebrows won't look stiff. If you prefer a natural look, you can opt for the new universal clear shade for a silky and weightless finish. You can pair the On Set Brow with other Dior eyebrow products for the perfect look.