Bold Jewelry Is The Key Design Element For A Head-Turning Look
Christina Jaber
1-December-2021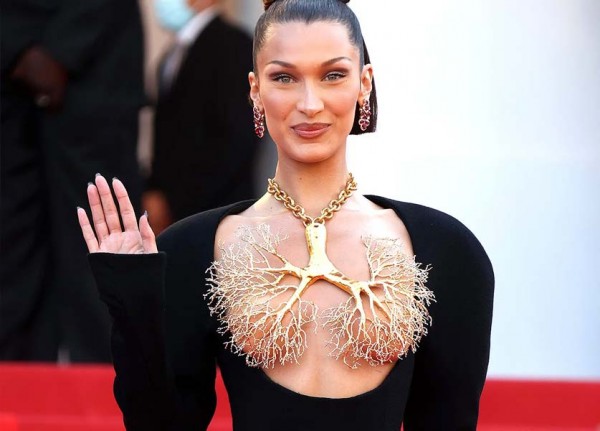 Dresses adorned by statement jewelry is the new trend; from Zendaya to Elle Fanning and Bella Hadid, it's "go big or go home!" on the red carpet.
While pendants and feminine jewelry could be the most beautiful addition to any night look, some of us are really into making a statement and pulling a bold and daring style that is as fearless as elegant, and the trendiest way of doing so goes far beyond a cut-out detail to bodies covered In huge jewelry pieces, according to our favorite celebrities.
The fashion world is presenting the new "making a statement" scenario and we are falling in love with the idea, especially that Bella Hadid, Zendaya and more celebrities are hopping on the trend.
Check out how your it-girls turned heads on th red carpets with XXL bold jewelry.
Zendaya
Zendaya stole the show two times with this trend. The Spider-Man actress attended the Ballon D'Or ceremony at the Theatre du Chatelet in Paris yesterday with her co-actor and boyfriend Tom Holland, in a stunning vintage Roberto Cavalli design from the 2000, reimagined by the house's creative director Fausto Puglisi.
The dress featured intricate gold detailing replicating a spinal cord on the back turning the ankle-length dress into a total hit. The look isn't over yet: Big gold hoops were a chic-must!
In October, and while in London to attend the photocall for her movie Dune, Zendaya pulled another eye-catching look as she wore a chainmail corseted harness as a top and paired it with an asymmetric orange checkered skirt. The backless statement top was from Vivienne Westwood's Spring 2020 collection.
Elle Fanning
Well, chains are in style, but Elle Fanning took them to a whole new level. The 23-year-old actress turned heads at the 2021 Instyle Awards walking the red carpet in a giant gold chain-link crop top from Balmain's spring/summer 2022 collection. The armor-like design featured dozens of dazzling jewels lining the front and wraps around the back with a much thinner gold chain.
Bella Hadid
Who can ever forget the glam Bella Hadid brought to the 74th annual Cannes Film Festival's red carpet with her black form-fitting dress and gold giant jewelry? No one ever. The Palestinian-American model wore an avant-garde gown from the Schiaparelli Haute Couture Fall-Winter 2021/22 collection: a black wool dress with a neckline under the chest, which was covered by a gold necklace in the shape of the bronchial tree passageways.