Meet New Photographers Generation at Art District
Rita Khoueiry
6-September-2022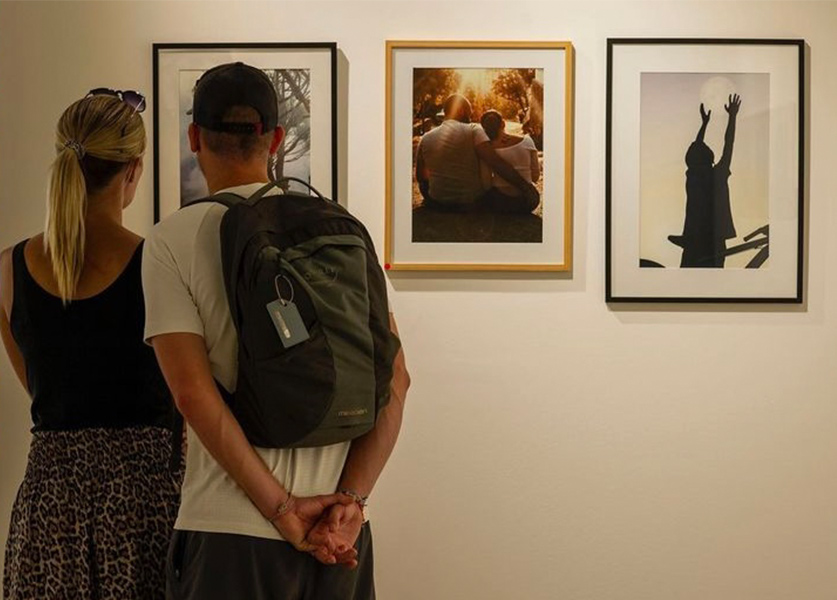 Lebanese skilled photographers were given the chance to showcase their passion for photography during the "UP-AND-COMING Talented Photographers" collective exhibition that has been taking place in the Art District Gallery, Gemmayzeh.
Highly renowned photographer Maher Attar has offered 10 Lebanese artists the opportunity to reflect their own vision of life through their lenses. Masterpieces of the talented emerging artists have been gathered under one roof. Maher Attar mentioned that the aim of this one-of-a-kind exhibition is to support the skills of the chosen photographers and let the society discover these hidden talents.
Each photographer followed a specific theme in their captures, letting the visitors enter their own worlds.
Self-taught photographer Asadour showcased pictures taken in Armenia capturing fleeting moments during strolls in the capital. "I mainly capture what I relate and react to," he explained.
Photography enthusiast Ghada Kallas opted for three photos that represent the water in its different aspects. She wanted to express her love for nature while framing her memories. "It's the story I can tell with a picture that count for me," she declared
After visiting Vietnam, talented Youmna wanted to freeze the unique moments and "show everyone those eyes that say so much." "I have to share all this, my own way of bringing people together - photography is the best way accomplish that," she said.
As a psychiatrist, Michel wanted to capture "the essence of human existence: emotions." His aim was to showcase people's moods in three unique pictures.

Through photography, Joanne brings out the extraordinary from the ordinary, combining composition with creativity. She always seeks to discover what the story behind the captured objects is.
With the aim to bring the extraordinary out of the ordinary, "authenticity, compassion, grit are three components" in the photography of skilled Joanna. "In everything you seek to build I truly believe that it should be from the eye of your heart," she mentioned.
Photography lover Cindy tries to "turn a once-in-a-lifetime moment into an everlasting memory.
" "Luckier are those who are able to deliver a message without using words.
For this is not just a photograph, this is evidence," she said.
Focusing his work on of self-processed black and white film taken through a collection of old and rusty cameras, photographer Elie try to capture fleeting moments, "there are moments in a day where a scene emerges, almost choreographed, and disappears as easily as it came."
To Elyssa, photography is her language. "It allows me to communicate my view of the world in ways words can't even come close to. In particular, it allows me to express my view of people's inner world, which is my area of continuous exploration," she declared.
Talented Tarek sees photography as a world of "unlimited stories". "My vision of photography is simply to take you to a next level of imagination where you can dive deep into your own sea of desires, fantasies and those "Censored & Untold Stories"," he explained.
Do not miss the opportunity to visit the Art District Gallery and take a look on the beautiful masterpieces before the exposition ends!