"Sticky Method": Trick to Camouflage Acne Pimples
Justine Feutry - Madame Figaro
21-September-2022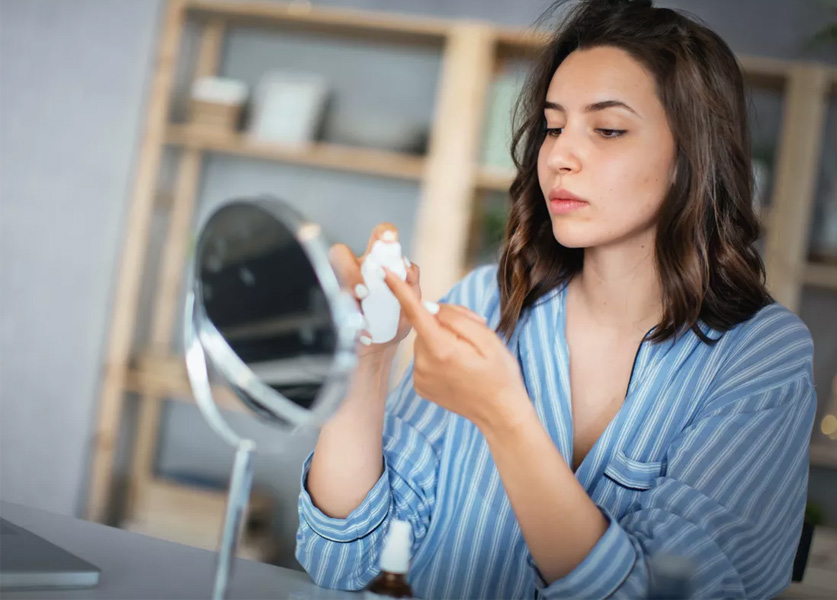 Make your imperfections disappear in two three brush strokes; a promise made by an American make-up artist promises in a video on TikTok that went viral.
Acne is synonymous with complexes among teenagers but also for many adults. Indeed, in 2019, Brigitte Dréno, head of the department of dermato-cancerology at the University Hospital of Nantes, reminded us that these pimples affected 20% of adult women and 5% of men. If the causes are numerous (hormones, lifestyle, stress, pollution ...), cosmetics poorly adapted or misused can amplify the phenomenon.
However, makeup can also be an ally in reducing imperfections and marks, if you know how to use it wisely. If we have to choose products adapted to acne-prone skin, the application also plays a strategic role. This is what the American make-up artist Mikayla Nogueira wanted to demonstrate in a video unveiled on TikTok and which went viral. The video generated nearly 3 million views in less than 24 hours.
Slightly sticky face
The makeup artist starts by applying a moisturizing serum. Indeed, all beauty professionals have been insisting for several years on the importance of care before makeup. To choose it, simply opt for any "serum that leaves the face slightly sticky". Then just let it dry for a few minutes before applying a base or primer that will allow the makeup to adhere well. "After that, the face is going to be really sticky and that's what we need because it's going to allow the concealer to adhere to the skin as if we put glue on."
Mikayla Nogueira chose a matte concealer and applied it with a dedicated brush, without spreading the material. The make-up artist then advised to let it dry for a few minutes, insisting on the importance of this drying time.
Finally she finished by applying her foundation with a sponge. Her method seems to have convinced the social network with more than 730,000 likes. Madi Prettyman, another beauty influencer, who also followed the advice of her colleague, prefered to opt for a brush. And less foundation with the key to a much more natural result.
In any case, the Sticky technique should only be used occasionally, as excess makeup is a real enemy of acne-prone skin. Indeed, by preventing them from breathing, the successive layers of material are likely to create new imperfections. That's why we prefer lighter products such as tinted moisturizers or less suffocating CC creams. Without forgetting a thorough and meticulous make-up removal with adapted products.