Chanel Leans into Comfortable Silhouettes for RTW SS 2023
Freedom of Movement and Expression
Ségolène Wacrenier - Madame Figaro
6-October-2022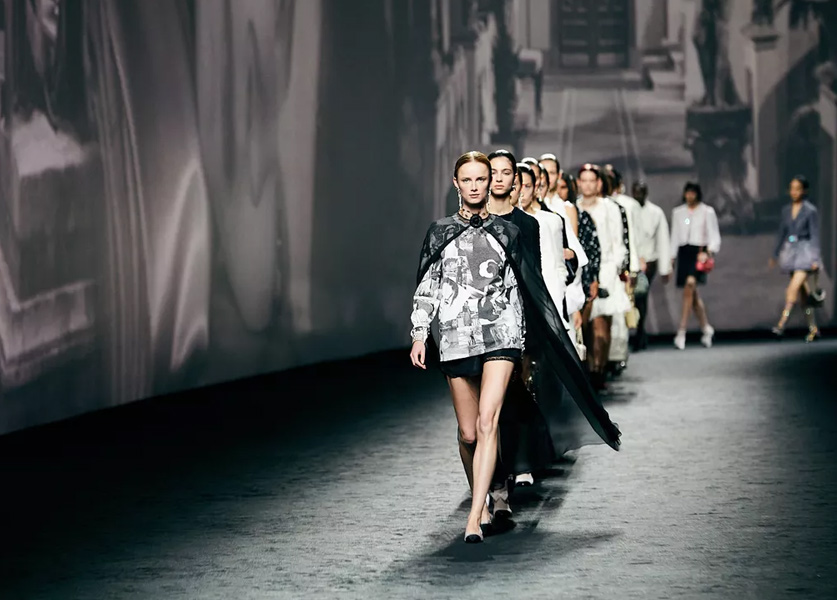 For the spring-summer 2023 Ready-to-Wear Collection, Chanel Creative Director Virginie Viard decided to give colors to the black and white, putting the allure in the foreground at the close of Paris Fashion Week.
"Fashion goes out of fashion, the look is timeless," said Gabrielle Chanel. It is precisely this allure that we are talking about in this spring summer 2023 collection, embodied by Kristen Stewart. In a short video directed by the duo Inez & Vinoodh, the actress and Chanel ambassador exits the Champo, an iconic art house cinema in the capital, after a screening of the film "Last Year at Marienbad". "Whether it's her, or the other women I dress, I need to feel that they like the garment anyway. Howeer, of the people around me, she is the closest to Gabrielle Chanel, at least to my idea of her. She understands Chanel, her clothing. And with her, it becomes even more modern. This collection is also her," explained Virginie Viard.
If the inspiration is cinematographic, it is multiple, like a collage, it gathers images, memories printed durably, that the creator proposes here as a free wandering, offering variations on the theme of the allure in the Grand Palais Ephemera. A look in black and white where black is sometimes matte, sometimes shiny, treated as a color. The silhouette, in the image of Gabrielle Chanel, is that of a pioneer, an avant-garde woman, fulfilled, who assumes transparency, displays her body and legs, in a black leather camisole and shorty set with lace details, in white fishnet stockings or even naked under a shawl collar tuxedo jacket. We find the Chanel attitude, the so elegant look of Delphine Seyrig in the famous film of Alain Resnais "Last Year at Marienbad", restored in 2018 thanks to the house. But also the fashion of Karl Lagerfeld, and all the house signatures - bows, boas, rhinestone booties, jersey, sequins, destructured prints and pastel tweeds.