Salmon and Cream Cheese Maki
Madame Figaro
6-January-2023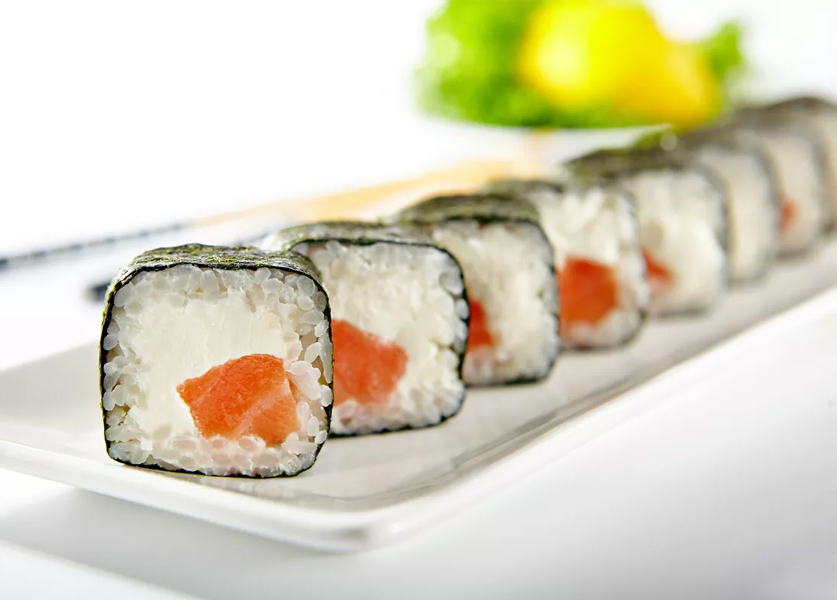 The recipe of the maki of salmon and fresh cheese to eat without moderation.
Type of dish: Starter
Preparation time: 20 minutes
Serving: 4 servings
Ingredients
75 g Parmesan cheese
6 thin slices of smoked salmon
250 g ricotta cheese
2 tablespoons chopped chives
3 sheets of nori (dried seaweed)
200 g of fish eggs
Pepper
Directions
Grate the Parmesan cheese into a bowl, add the ricotta and chives, season with salt and pepper and mix. Cut the nori sheets in half, widthwise.
On the bamboo mat, spread half a nori sheet, shiny side down, and cover with smoked salmon.
Top with cheese mixture, leaving a 1 cm wide border on the side, then roll up the whole, exerting slight pressure and using the mat. Lightly wet the opposite edge to keep the roll closed.
Repeat with two more half sheets of nori.
For the remaining three sheets, reverse by placing the salmon first, then the nori sheet on top; top as before.
With a sharp knife, cut each roll into quarters and place a small spoonful of fish.