Dior Swirls with Grace in the 1950s
Mitia Bernetel - Madame Figaro
3-March-2023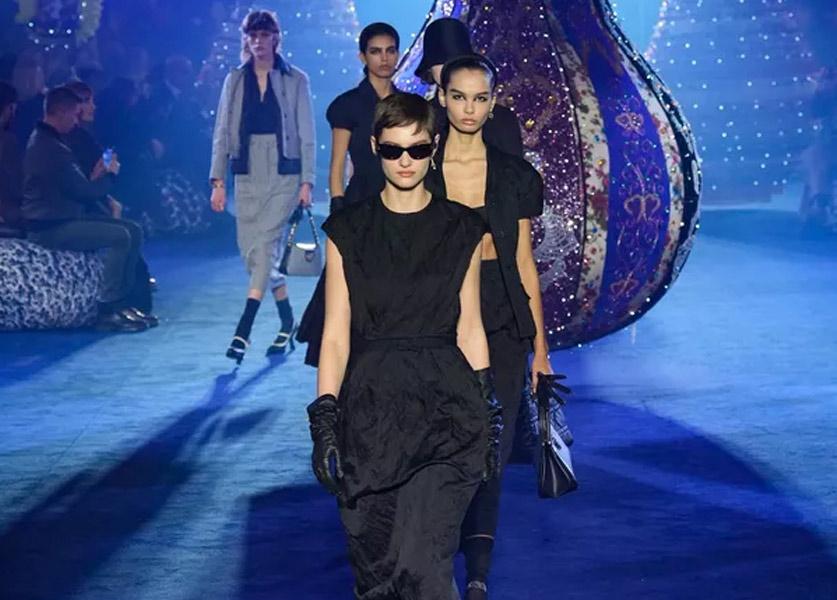 To the sound of Edith Piaf's voice, the Avenue Montaigne brand delivered a contemporary rewriting of 1950s glamour on February 28th.
Under the imposing installation of Portuguese contemporary artist Joana Vasconcelos, Dior set to music a score of measured chic and retro notes for the fall/winter 2023/2024. Installed as usual in the heart of the Tuileries Gardens, on this second day of Paris Fashion Week, the Parisian brand held up a contemporary mirror to the 1950s. The very same years that saw the heyday of Monsieur Dior, artisan of a form of reconquest of femininity. The one drawn with precise lines and old-fashioned details, including long gloves and knee-highs, that Maria Grazia Chiuri intends to revisit today.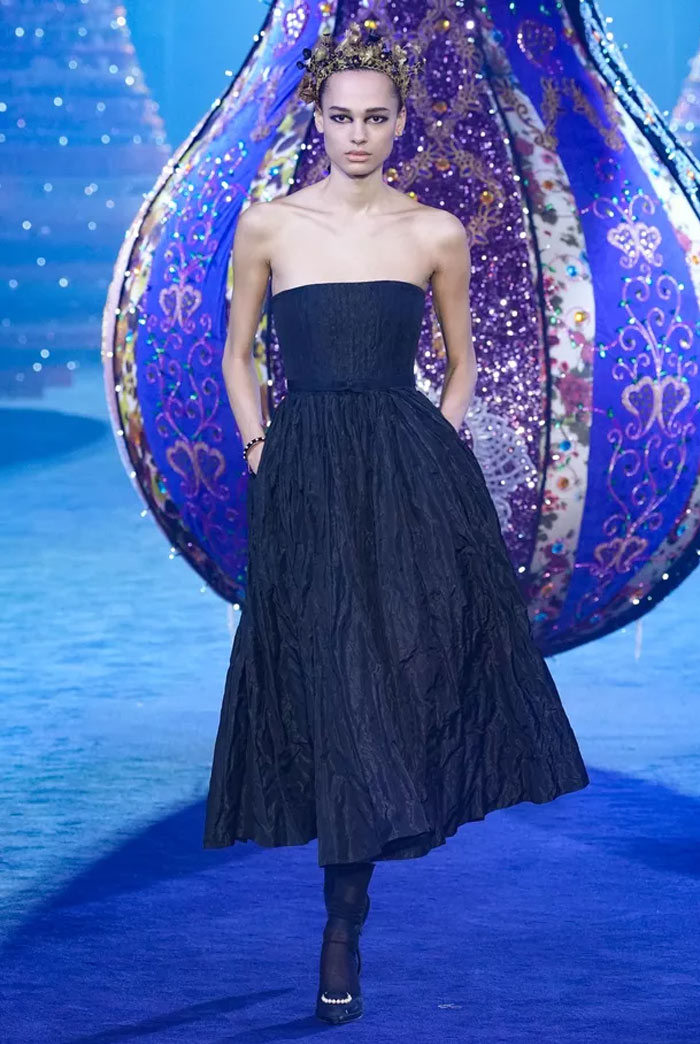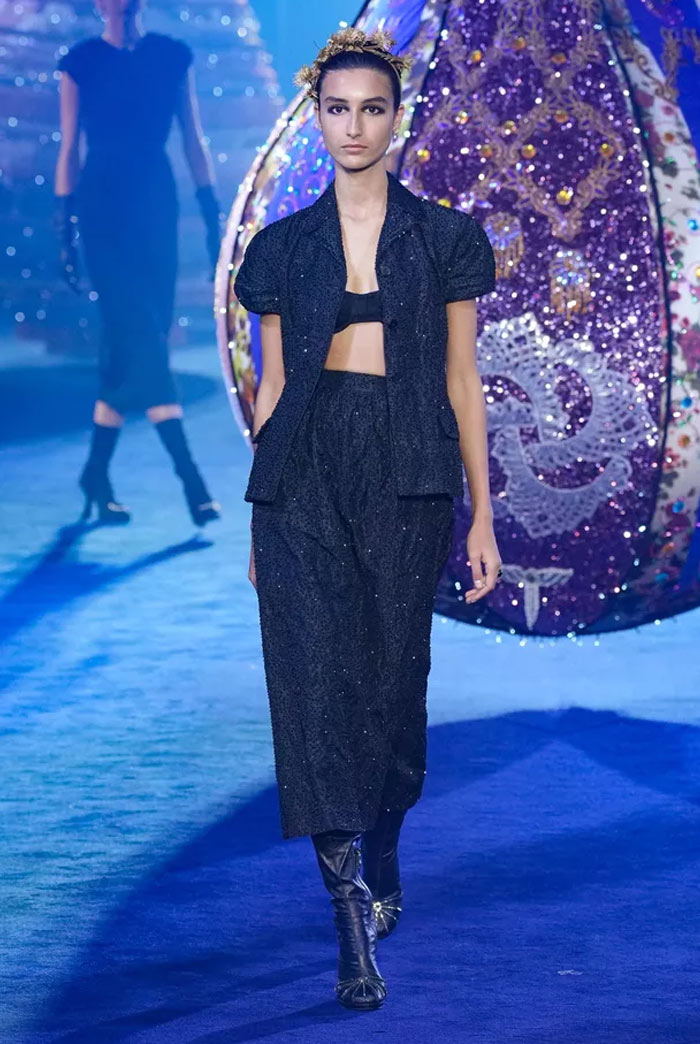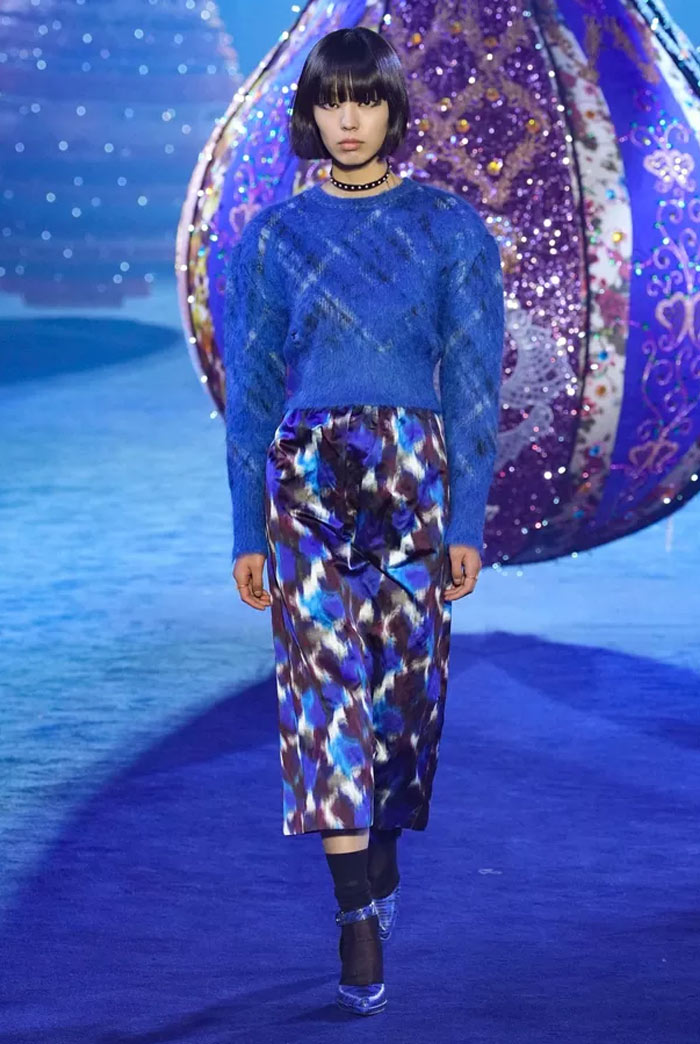 Ex-women of the 50's
This is the decade of Christian Dior. He who took off with his first successful fashion show in 1947, and who left his fashion house orphaned at his early death in 1957, will have been one of the great actors of this allure that laid the foundations of the conception of modern elegance. But it is also that of three women, under whose aegis Maria Grazia Chiuri has placed her new collection. There is Catherine Dior, the sister but above all the resistance fighter, deported in 1944 and liberated in 1945, who gave her name to the famous perfume Miss Dior. Juliette Gréco, whose career was born at the beginning of the decade. And finally Édith Piaf, whose monumental song Je ne regrette rien (I regret nothing) emotionally accompanies the steps of the models.
"With my memories, I lit the fire"
There's nothing like the tremolos of La Môme to move an audience. Especially the one of the Dior fashion show, composed of international celebrities like the K-Pop figure Jisoo or Charlize Theron. A soundtrack that envelops the flounces of the wide skirts, the belts that trace a thin line on the waist or the sleeves with three-quarter lengths, revealing with delicacy the birth of the wrists. An ode to the chic of this fantasized era, jostled by notes of audacity: a crumpled fabric, a contrasting floral pattern, a roaring leopard. In short, a wardrobe that, while not ignoring the past, looks at it with the eyes of the present.