Chanel Makeup Looks from Fall/Winter 2023/24 Ready-to-Wear Show
Step by step makeup
Rita Khoueiry
10-March-2023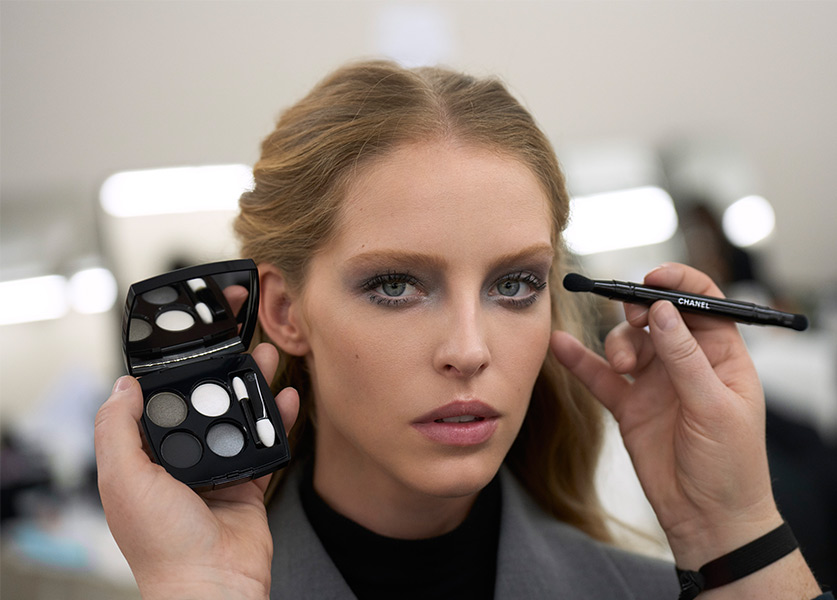 Get inspired by the latest makeup trends from Chanel makeup looks from the fall/winter 2023/2024 ready-to-wear fashion show.
Here are Chanel Beauty products that have been used on the models.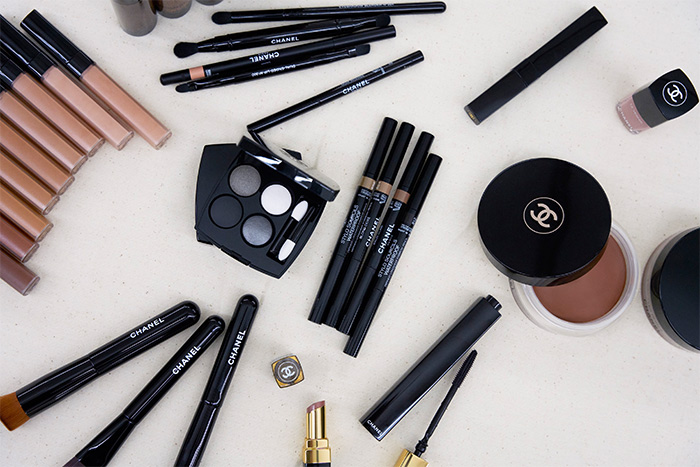 Tint
Apply LES BEIGES TOUCHE DE TEINT with the 2-IN-1 FOUNDATION BRUSH FLUID AND POWDER No. 101.
Correct facial imperfections using LE CORRECTEUR DE CHANEL with PINCEAU DUO CORRECTEUR RÉTRACTABLE N°105 where necessary.
Apply the POUDRE UNIVERSELLE LIBRE to the T-zone and cheeks.
Using the FOUNDATION BRUSH #100, apply the LES BEIGES CRÈME BELLE MINE ENSOLEILLÉE on the lower cheeks to structure the face.
Apply a touch of freshness to the top of the cheeks with the JOUES CONTRASTE 72 ROSE INITIAL using the BLUSH BRUSH No. 110.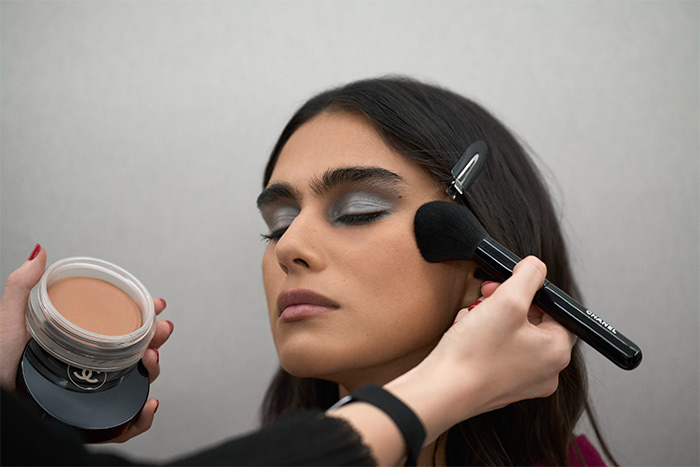 Eyebrows
Brush brows with PINCEAU DUO SOURCILS N°207.
Fill in brow with STYLO SOURCILS WATERPROOF in small, thin strokes.
Apply TRANSPARENT EYEBROW GEL to add depth to brows.
Eyes
Using the DUO BRUSH #200, blend the two gray colors of LES 4 OMBRES 334 MODERN GLAMOUR and apply to the entire eye, starting at the inner corner and blending outward. Blend around the brow bone.
Add a small touch to the center of the eyelid to reinforce the gray color.
Apply the STYLO YEUX WATERPROOF 88 NOIR INTENSE to the inside of the upper lid and the corner of the eye.
Line the lower eyelid margin with KHOL PENCIL 69 CLAIR.
Apply plenty of NOIR ALLURE 10 NOIR mascara to upper lashes and top of lashes.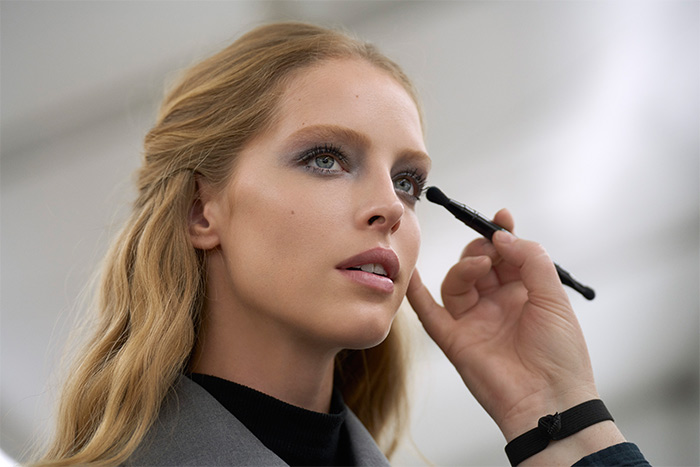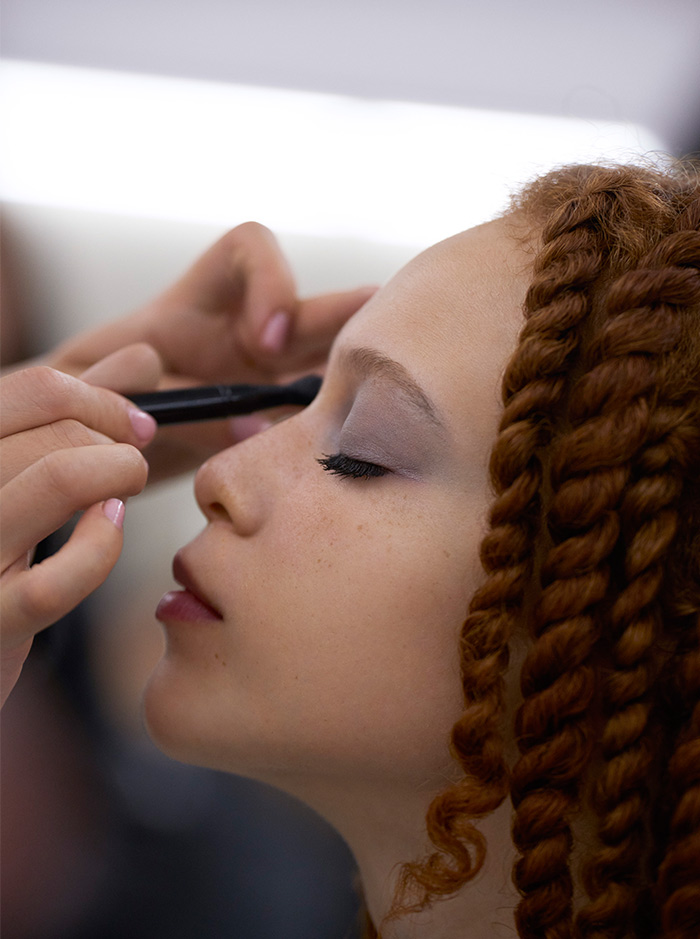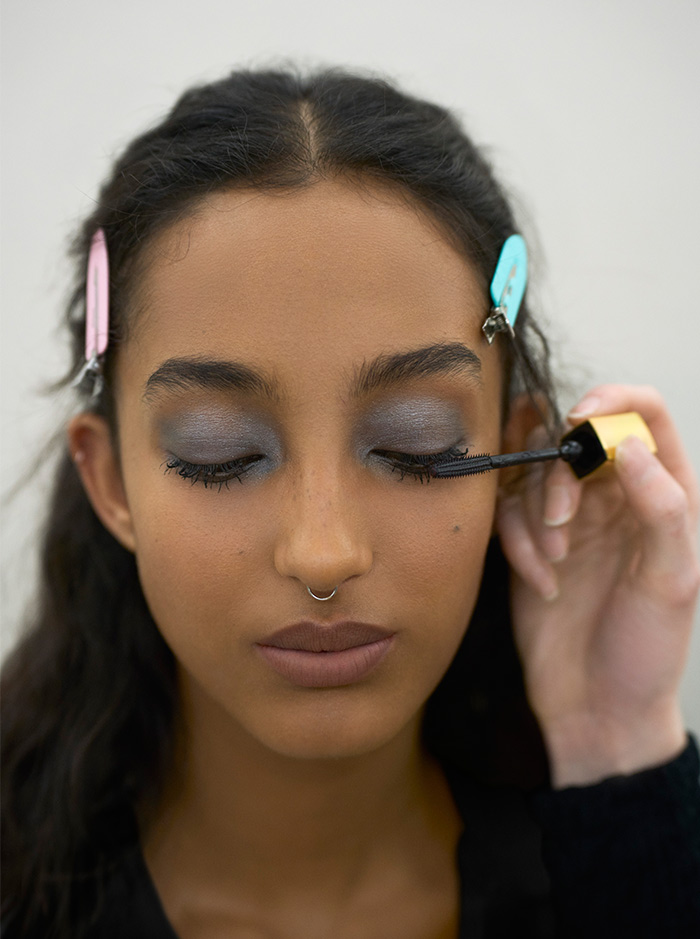 Lips
Apply ROUGE COCO FLASH 54 BOY all over the lips, using the DUO LIP BRUSH No. 300.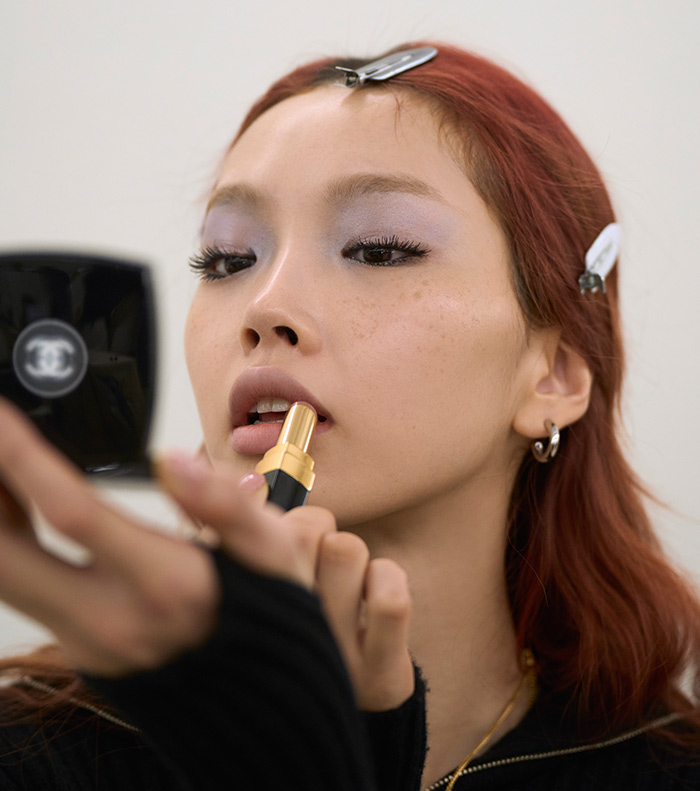 Nails
Prepare with one coat of LA BASE CAMÉLIA.
Apply LE VERNIS DE CHANEL 113 FAUSSAIRE (New).
Set and shine with GEL COAT.
Moisturize with LA CRÈME MAIN.