Happy New Year From The Obamas!
Alice Mascher – Madame Figaro
6-January-2022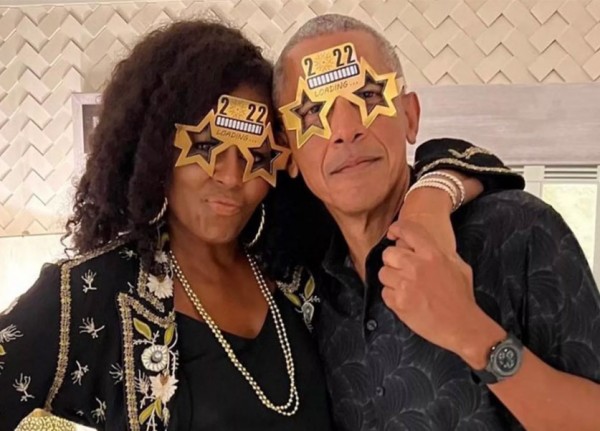 "Happy New Year from me and my boo! Wishing you all a year filled with happiness, love, and good health". With these words, Michelle Obama, the former first lady of the United States of America, greeted her followers on Instagram at the beginning of the new year by posting a photo of her and her husband, former President Barack Obama. The couple appeared extremely chic in casual outfits, which may indicate their celebration of the New Year privately with the family. Michelle looked stunning in a black jacket decorated with gold threads worn over a black top and shorts, and paired with black high-heeled sandals, while the former US president wore a patterned black shirt with simple matching pants and sneakers. The golden star-shaped eyewear chosen by the duo held the number 2022 representing the new year.
Similarly, Barack Obama sent his greeting via his Twitter account, writing: "I'm hopeful about 2022. This year will undoubtedly have its challenges, just like 2021 did. But we've made it this far—and I still believe we can build a brighter future together. Happy New Year!"
In Hawaii!!
The Obamas had spent the holidays in the former president's hometown of Hawaii, where Barack Obama swam in the Pacific while his daughters, Sasha, 20, and Malia, 23, were spotted enjoying the ocean relaxing on stand-up paddleboards.