Oprah Interview: Everything Meghan And Harry Talked About
No off-limits topics
Christina Jaber
8-March-2021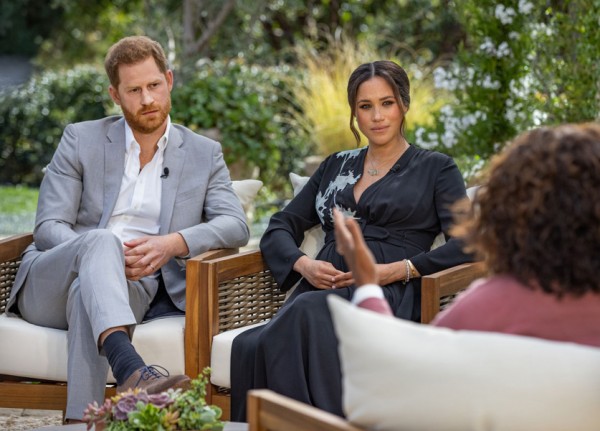 Meghan Markle and Prince Harry's interview with Oprah Winfrey aired on Sunday March 7 and we can genuinely say that the wait was worth every second!
The couple said it all, starting with the reason behind stepping back from royal duties and relationships with their fellow Royals, on to revealing the gender of their second baby. Here's everything you need to know about Oprah Winfrey's interview with the Duke and Duchess of Sussex.
When Meghan and the Queen first met
"She was one of the first people I met. There wasn't actually a huge formality the first time I met Her Majesty the Queen… I remember Harry and I were in the car. He was like 'My grandmother's here, so you're going to meet her' and I said 'Oh, great. I loved my grandmother. I used to take care of her".
Later in the interview, Meghan said of the queen: "She's always been warm and inviting and really welcoming," and revealed that she received a beautiful set of pearl earrings and a matching necklace from Harry's grandmother.
Who made who cry, Kate or Meghan?
Meghan did not make Kate cry, "The reverse happened, she said". She continued: "she was upset about something. She owned it and she apologized, and she brought me flowers and a note apologizing. She did what I would do if I knew I hurt someone. To just take accountability for it…I would've never wanted that to come out about her".
About Archie's skin color
"In those months when I was pregnant, there were concerns and conversations about how dark his skin might be when he was born," Meghan said. And she also added that the palace didn't want to make Archie a prince. On whether Archie being called a prince was important to her, she said "If it meant he was going to be safe, then of course. All the grandeur surrounding this stuff is an attachment I don't personally have."
Meghan considered suicide
The media wasn't really the best thing that ever happened to the couple, and Meghan clearly said that it harmed her. "I just didn't want to be alive anymore, and that was a very clear and real and frightening constant thought". And about Harry's thoughts to this, he said: "I wasn't prepared for that. I went to a very dark place as well. I wanted to be there for her". Harry did not get help from his family, and went for some of their close friends instead.
The relationship between Harry and his family
"I've spoken more to my grandmother in the last year than I have for many, many years." And about Prince William: "I love William to bits. He's my brother; we've been through hell together, and have a shared experience. But we are on different paths."
What would Princess Diana feel?
Harry addressed what his late mother might say about everything he's been through during the last few years. He said, "I think she would feel very angry with how this has panned out…but ultimately all she'd ever want is for us to be happy."
And It's a girl
The Duke and Duchess revealed they are expecting a girl.
Harry said: "Just grateful…to have a boy and then a girl, what more can you ask for? We've got our family." And the couple also revealed that the plan is to only have two children.
Even before the 2-hours interview came to an end, the topic was going viral, especially on twitter, and many celebrities took Meghan's side.
Suits co-star Patrick J. Adams
Abigail Spencer, another Suits star
Meghan McCain, The View Host