Georgina Rodriguez Stuns Everyone at the 2023 Venice Film Festival
Rita Khoueiry
11-September-2023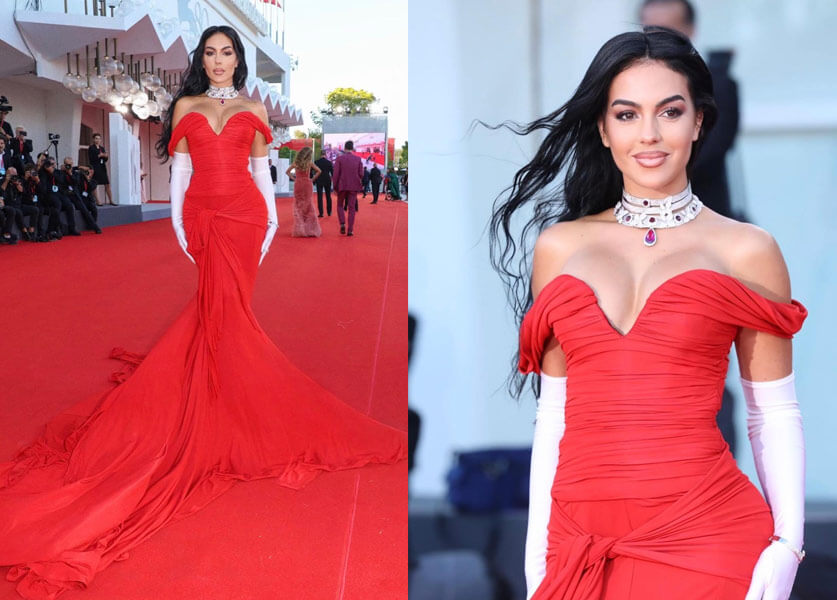 With her charm and elegance, Georgina Rodriguez, the girlfriend of football star Cristiano Ronaldo, shone on the red carpet at the 2023 Venice Film Festival. That night, Georgina proved herself as a star in the world of fashion and an icon of beauty.
This year, the 2023 Venice Film Festival witnessed a striking and breathtaking appearance by Georgina Rodriguez. For the premiere of the film "Enea," Georgina chose to dazzle in a captivating red dress designed by Vetements, highlighting her beauty and exuding confidence. This distinctive dress featured a splendid slim fit, as well as an elegant off-shoulder cut and chiffon fabric. To add a touch of timeless allure to her look, Georgina paired this dress with long, soft white gloves. She also chose an incredibly stunning diamond necklace, accentuating her femininity with its subtle sparkle. As for her hair, she opted for a simple and natural hairstyle.
Georgina Rodriguez's appearance at the 2023 Venice Film Festival perfectly combined elegance and allure, undoubtedly making her shine amidst the red carpet lights and becoming one of the standout fashion stars at this grand cinematic event. This serves as a reminder to everyone that elegance and refined taste are not limited to the big screen but can also be embodied in our daily looks.