Discover Astonishing Jewelry Designed with Gemfields
Responsibly Mined Emeralds and Opals
Rita Khoueiry
7-November-2023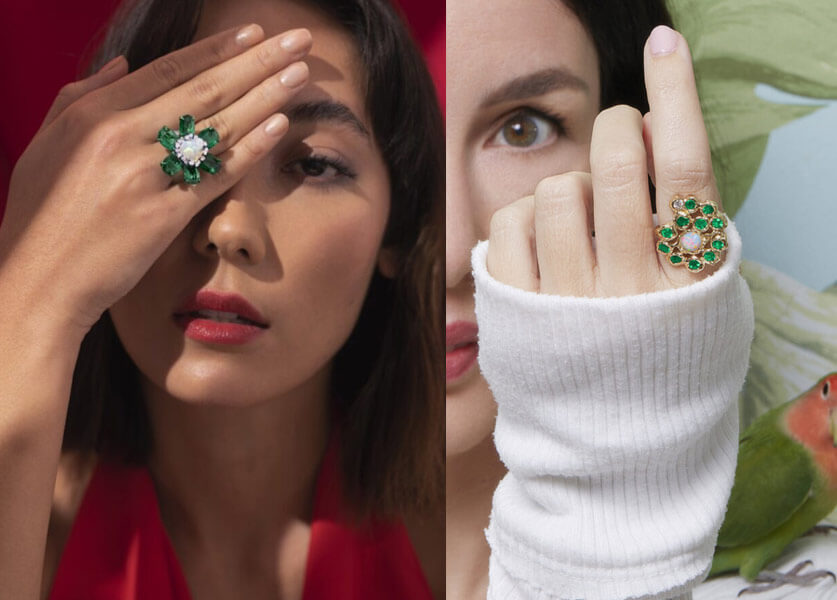 Explore a hint of shimmer with Gemfields showcasing ethically sourced Emerald and Opal embellished jewelry pieces from their celebrated collections throughout the years. Focusing on three prominent Gemfields partners—Bina Goenka, Donna Hourani, and Valani Atelier—we discover four exceptional pieces that demonstrate how opals beautifully complement Gemfields' Zambian emeralds.
BINA GOENKA X GEMFIELDS
Mumbai-based fine jeweller Bina Goenka has spent 25 years creating pieces for a discerning and loyal clientele from India and beyond. Sharing aligned views towards sustainable and ethical mining, the ring created is a small view into extensive work with Gemfields materials. The flower ring is made from pear-shaped Zambian emeralds and fire opal. Its shape was inspired by winter foliage and its colour intended to reflect the colours seen refracted through snow. The six emeralds are perfectly symmetrical, while the opal is asymmetric, in keeping with Bina's penchant for contrasting complementary shapes and colours.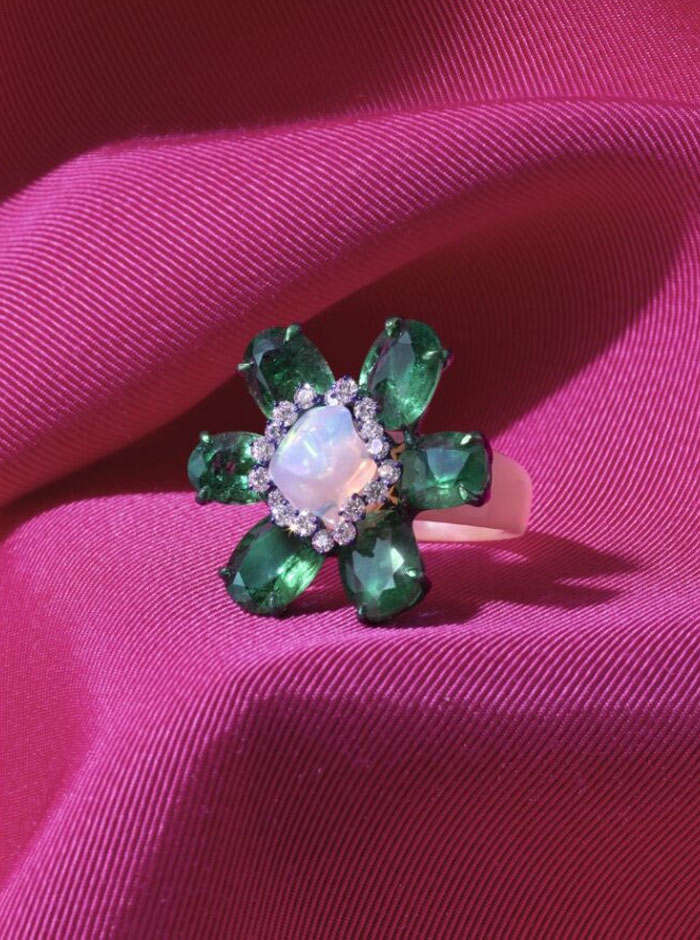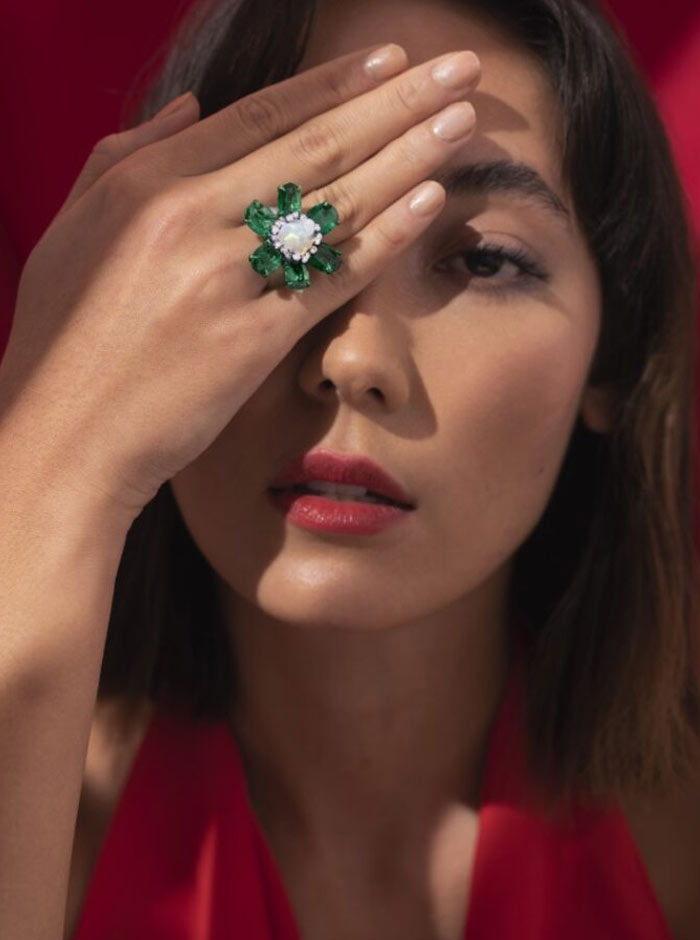 DONNA HOURANI X GEMFIELDS
The Donna Hourani x Gemfields 'The Bridge' collection is an exciting new collaboration designed to showcase the power and serenity of emeralds. Lebanese-born fine jewellery designer Hourani launched her eponymous label in Dubai in 2016, inspired by her lifelong fascination with emeralds, something she shares with others with discerning taste: from Cleopatra and Moses to the Indian Mughal emperors.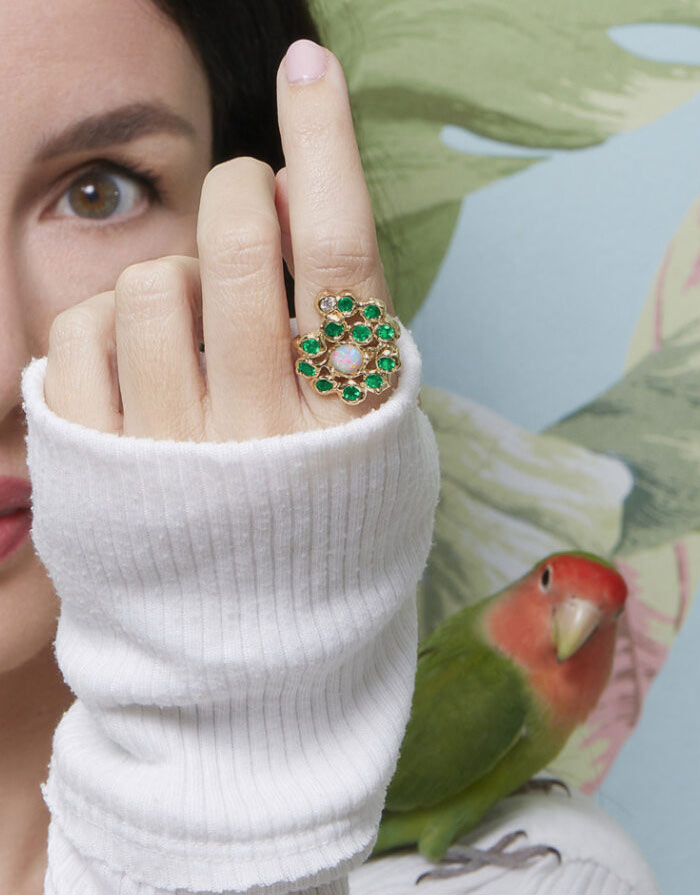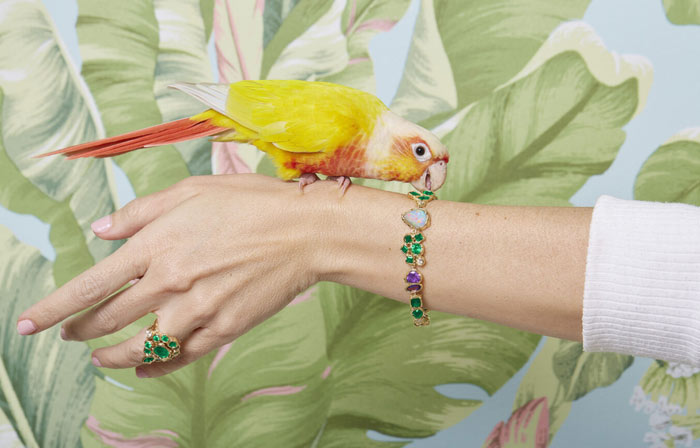 VALANI ATELIER X GEMFIELDS
An extensive collection designed by New York-based Valani Atelier for Walk for Giants showcases both the label's high and fine jewellery, while paying homage to the African habitat that the charitable initiative seeks to preserve. Valani has been working with Gemfields, as its supplier of responsibly sourced emeralds and rubies, and global artisans to forge a sustainable path in the jewellery industry.