Our favorite bags for Fall by Middle Eastern designers
Christina Jaber
16-October-2020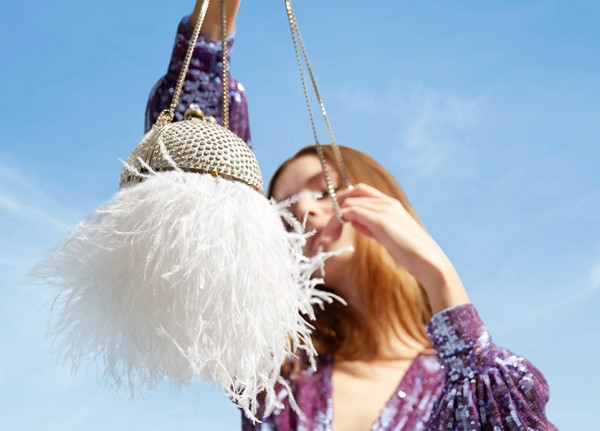 Your new fall wardrobe definitely needs new handbags. And this season we are opting for statement designs that combine chic and bold together. Middle Eastern designers proved one more time their passion for creativity, so if you're opting for an artistic and luxurious bag this season, we have gathered for you 7 of our top picks from Arab designers. You'll invest in every bag on the list!
The mini Orb bag by Marzook
Originally founded by Fahad al Marzook and Shouq Al Marzouk, The Kuwaiti label's luxurious designs are a mix between eastern and Western cultures.
This fall, all you need is Marzook's bronz Mini Sun Orb bag from the new Sunset collection: small and circular with 2000 Fire opal Swarovski crystals. This mini but definitely a statement bag will add uniqueness to you look. Just put on your little black dress with an oversized blazer and the mini orb bag will take it from there.
Zain crocodile bag by Ns By Noof
The label was created in 2009 by Bahraini designer Noof Al Shekar, who aimed to empower women through her designs.
We loved her latest Zain crocodile bag, made with grade A camel croco skin and accessorized with a gold plated silver spiral agate. This authentic and chic design best goes with your full denim looks and with the trendy brown shades this season is all about.
The Purple Belt Bag from Lina Brax
Lebanese designer, Lina Brax, captures the essence of both East and West in her designs. The purple belt bag in her latest collection is an everyday go-to, and a night out statement. The color is royal, powerful and eye-catching and one of our favorites for this fall. Style it with a high waist pants (You can check our it-pants for this season), and a beige sweater with a pair of combat boots to compliment the strong look.
Margaux from Nathalie Trad
Clutch architect Nathalie Trad is a Lebanese designer who's founded a label under her name in 2013.
From her latest collection, Margaux is our clutch pick. She used white, black, and shimmering silver tones with brass detailing. The magnetic closure will make your life a lot easier and the removable strap makes the clutch wearable with casuals and with classics.
The Classic Shield Rose from Sofia Al Asfour
Sofia al Asfour is a confident and goal-focused Bahraini woman. This brand is well-known by its iconic pyramids that make every bag unique in its own way.
Our pick is a rose beige bag that can be your daily companion, whether you are having work meeting, classes, shopping at the mall or out with your friends. Casual and perfectly simple, especially with the pyramid details.
The Feryel handbag by Okhtein
Egyptian design duo siblings Aya and Mounaz Abdelraouf launched Okhtein having a vision to redefine the idea of luxury.
Our favorite is the Feryel little bag in crocodile camel for its minimal yet outstanding design. What makes it our favorite are both its shape and color, and we can't wait to brighten our fall looks with it. It will be a perfect addition to every dark outfit you choose.
Kira bag from C by Cynthia
Cynthia Bouchakjian screams urban, modern and simple with her designs, celebrating the modern woman. Her secret lies within minimals, and our favorite minimal bag is Kira. Everyone will be asking your about your Kira. Just layer it casually over an oversized power suit and this micro bag will rock your outfit with its luxurious leather on one hand and creative feel on the other.