Princess Charlene Of Monaco shows new punk haircut
Chloe Friedmann – Madame Figaro
21-December-2020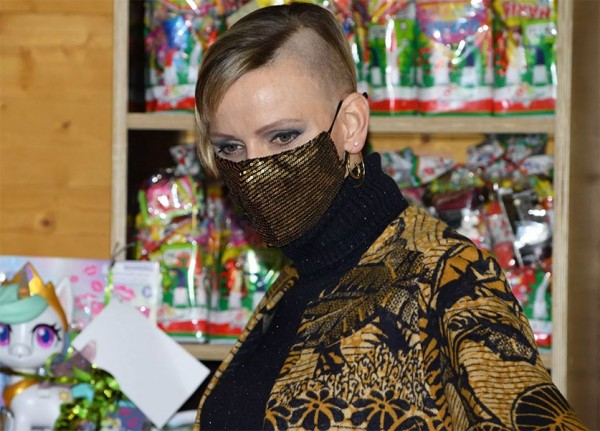 The wife of Prince Albert II opted for a punk haircut during a Christmas gift distribution, held at the Prince's Palace on Wednesday, December 16. An unexpected hairstyle choice for a princess who is usually seen with a short bob.
Tilda Swinton, Rihanna and Kristen Stewart opted for such a hairstyle for a while also. However, no one expected, to see Charlene of Monaco appear with a punk haircut, half-shaved head, during the event, in which she also sported side bangs and darker locks.
And to complete the look, the 42-year-old princess wore a sequined mask, blue eye shadow and eyeliner. Dressed in a black turtleneck and a beige jacket printed with leaf patterns, Charlene of Monaco, who is usually seen in a short bob and straight bangs, created a surprise with this new style, while she distributed the gifts alongside her husband and her 6-year-old son Jacques.
A week earlier, the princess had unveiled on Instagram strange birthday photos of the little boy and his sister Gabriella. For the occasion, the twins wore pajama suits, spotted Dalmatian style for Jacques and powder pink for the girl. This year, pandemic obliges, the children were surprised on their birthday with cake and neon lights in the evening, because as Prince Albert II told People magazine, their birthday fell on a school day. However, Princess Charlene planned a birthday party with their classmates later on Saturday, December 12, at their Roc Agel estate. "With a limited number of other children", insisted Prince Albert II.