Oscars 2021: 8 Major Red Carpet Looks
Christina Jaber
26-April-2021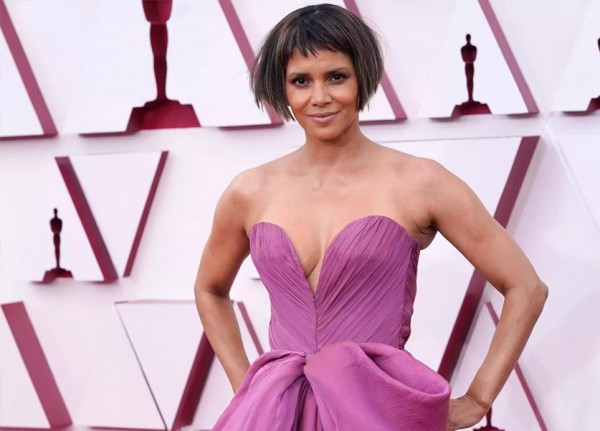 The 93rd Academy Awards ceremony took place last night in Los Angeles and you are about to explore some stunning and mesmerizing looks.
The biggest night in the entertainment calendar gave us some major fashion looks as celebrities attended in person and stepped flawlessly in their stunning looks.
On Sunday, 170 of Hollywood's finest gathered at Los Angeles' Union Station for a night of movies, and some amazing gowns. Have we noticed the masks though? No we haven't because there weren't any, at least when the guests were n camera.
So are you ready for some beauty and fashionable looks you'd die for?
Keep scrolling.
Did we mention we have a weak point for fresh and fierce style? Australian actress and producer Margot Robbie looked sexy yet extremely elegant in a floral Chanel gown. And guess what? She debuted bangs and they look SO GOOD! Decision taken. We are definitely getting some bangs for summer.
American actress, singer and producer Zendaya shined in a cutout neon yellow Valentino chiffon dress named «Force de Beauté», especially designed for her by Creative Director Pierpaolo Piccioli.
British Actress Carey Mulligan opted for a Haute Couture Maison Valentino dress and Cartier jewelry. The dress' color is unique and the fact that it's fully sequined made it glam and chic.
American film actress Halle Berry wore a Dolce & Gabbana magenta Haute Couture dress styled by the Chicago-born fashion stylist Lindsay Flores. The huge bow on the waist definitely stole the show. And we definitely loved her bangs!
American actress and director Regina King felt like a "statue" as she mentioned on Instagram, in this custom-made Louis Vuitton dress by creative director Nicholas Ghesquière.
Amanda Seyfried looked stunning and flawless in a Giorgio Armani pop red dress, styled by the Los Angeles-based celebrity stylist and fashion editor Elizabeth Stewart.
British actress Vanessa Kirby definitely slayed the pink carpet in a baby pink satin-like Gucci gown. And you know what? Her sharp but soft matt red lip deserves an Oscar!
Gabriella Sarmiento Wilson, known as HER, looked fabulous in a purple Dundas jumpsuit and Chopard jewelry, inspired by Prince's look at the 1985 Oscar ceremony where he won for his iconic song Purple Rain.