Abayas Worn by Your Favorite Stars in Ramadan 2022 The Fascinating Designs!
Rita khoueiry
20-April-2022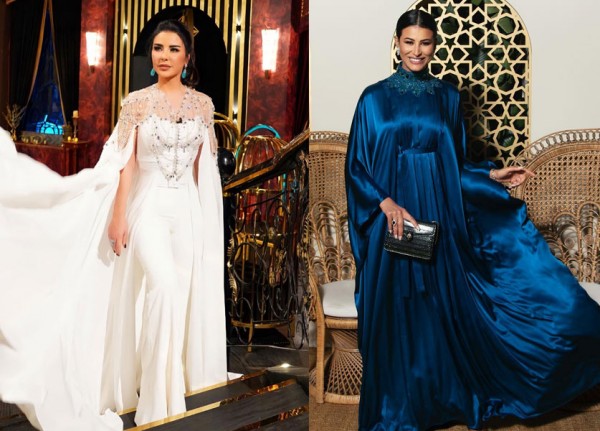 The arrival of the holy month of Ramadan means the arrival of many invitations for iftar. During this month, social events and televised interviews become full of wonderful looks of stars who carefully choose their abaya and kaftan to elevate their look elegantly. These looks reflect abaya trends at that time, and we can say that the trend this year lies in simple and charming looks with modern designs. Here are some beautiful looks worn by stars during this blessed month to get inspired and see what suits you the best!
Maguy Bou Ghosn's Elegant Look
During her latest TV appearance on Dubai TV on the set of Hala Bek, Lebanese actress Maguy Bou Ghosn chose a charming-white look signed by Lebanese designer Antoine Kareh. The starring actress in Lel Maout was wearing an amazing jumpsuit from the Anadeel collection, characterized by an elegant embroidery on its upper part and silver chains. This jumpsuit is also distinguished by its cape style, adding to the look a Ramadan touch. The actress wore it with turquoise jewelry.
Rym Saidi's Eye-Catching Look
Tunisian model Rym Saidi dazzled in a beautiful blue look at the Bvlgari Iftar party, signed by international designer Andrew Gn. This kaftan-inspired dress is made from a shiny satin fabric, featuring a pleated design on the front. It is distinguished by a high neckline and an elegant embroidery. This dress also features wide sleeves and a belt at the waist.
Haifa Wehbe's Charming Look
Lebanese singer Haifa Wehbe looked stunning in a green kaftan from the Anadeel collection by Lebanese designer Antoine Kareh. This kaftan, which is a wonderful Ramadan look, features a long-flowing silhouette with pleats. It is designed with gold embroidery on the collar and chest, with wide sleeves and ruffles on the wrist to elevate the look while keeping it modern.
Karen Wazen's Stunning Look
Fashion influencer Karen Wazen shined with a Ramadan look that caught the attention of her followers. This baby blue kaftan from Taller Marmo's Spring 2022 collection is distinguished by its timeless style. It's designed with a high neckline and fringes on the edges. The influencer coordinated her look with a light blue Dior bag that has a gold chain, and light pink pumps signed by her sister Andrea Wazen.