Swarovski Unveils Astonishing Watch Collection
A Colorful Collection
Rita Khoueiry
26-August-2022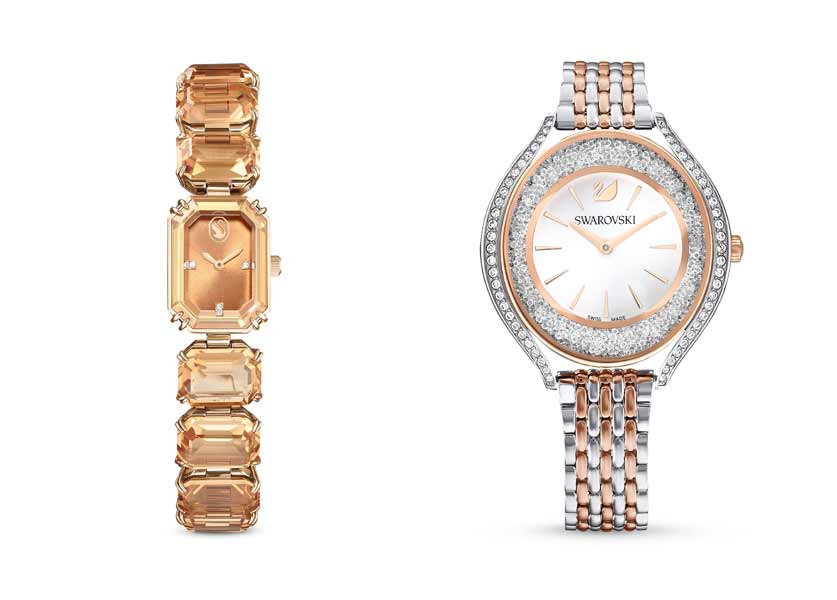 Bringing forward a wondrous new world of crystal craftmanship, Swarovski makes use of the highest quality crystal and gemstones in its jewelry, objects, and home accessories. Alongside its exquisite jewelry pieces, Swarovski is known for its watch families, and for its newest collection, the company presents a wide range of timepieces that embrace joyful glamour, with colorful designs to match any mood.
Inspired by the signature Millenia jewelry family, the collection compromises designs with a bracelet strap with oversized crystals and a minimalist face in color pop shades, new designs for iconic Swarovski watch families, along with chic watches for everyday styling, fashion-forward timepieces to inspire self-expression, and sport watches for performance wear.
Jewelry Watch
The Millenia-inspired jewelry watch features a bracelet strap with oversized crystals and a minimalist octagon-shaped face with crystal index markers
Octea Lux Chrono
The Swiss-made Octea Lux Chrono watch is a bold choice: oversized face, full chronograph detailing, and statement hardware. Colors that will meet everyone's needs; soft lilac, ruby red, and golden hues.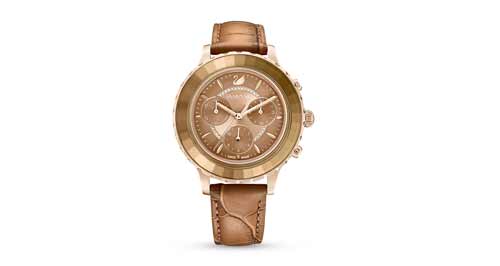 Octea Lux Sport
The Swiss-made Octea Lux Sport watch exists at the intersection of function and style. A stainless steel chain-link bracelet is paired with an oversized face with a unique faceted crystal bezel and crystal index markers.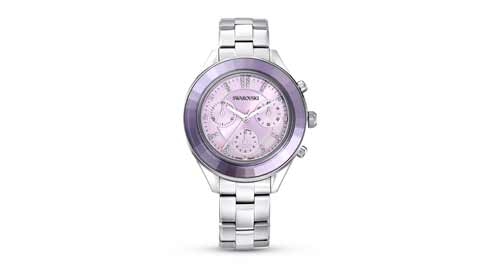 Crystalline Delight
Adorn your wrist with a sky full of stars thanks to the Crystalline Delight watch's case filled with hundreds of Swarovski Crystals. The shimmering face with Swiss-made movement is set on a jewelry-inspired bangle strap in new pastel pink and soft grey colorways.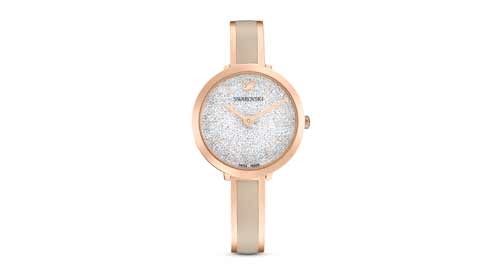 Cosmopolitan
The stripped-back silhouette of the Swiss-made Cosmopolitan watch offers a chic style. Two new colorways: a deep shade of navy blue and another that pairs silver-tone and rose gold-tone metals with a hint of pavé.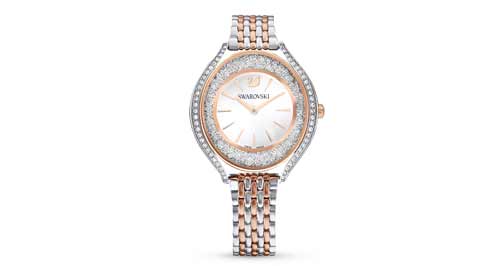 Crystalline Aura
The Swiss-made Crystalline Aura watch is eminently elegant. A slim strap in leather or metal allows the watch face to take center stage, with two crystal surrounds creating a look of high glamour.