Hailey Bieber Reproduces Yves Saint Laurent Floral Dress
A Halloween in Full Glamour
Rose Casado - Madame Figaro
3-November-2022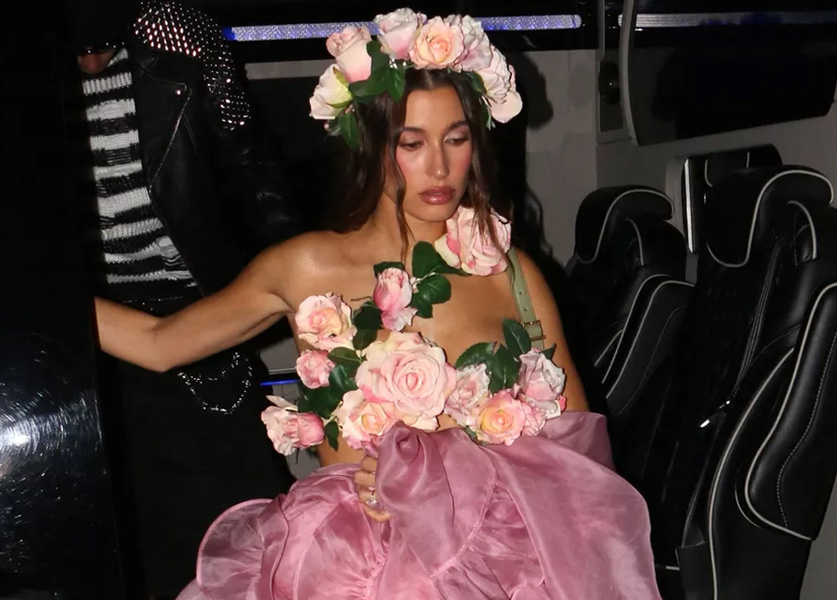 This Halloween, American model and media personality Hailey Bieber opted for an iconic outfit: she reproduced the floral wedding dress designed by Yves Saint Laurent, in which Laëtitia Casta closed the spring/summer 1999 Haute Couture show.
A wedding dress made of roses was the choice of Justin Bieber's wife for Halloween party. An outfit worn 23 years earlier by French supermodel and actress Laëtitia Casta to model during a show for Yves Saint Laurent. The iconic wedding dress was made of roses, and was styled with a veil signed the French luxury house. In 1999, Yves Saint Laurent created this outfit with a plant-based silhouette, which led to the fame of the French model.
Hailey Bieber took over this cascade of flowers as a tribute to this moment of fashion, and to celebrate the luxury label of which she is the muse. Arranged on the head in crown, vegetation came to surround her chest, then her pelvis in the manner of a skirt. A train with ruffles and a pair of pink heels decorated with flowers complete the outfit.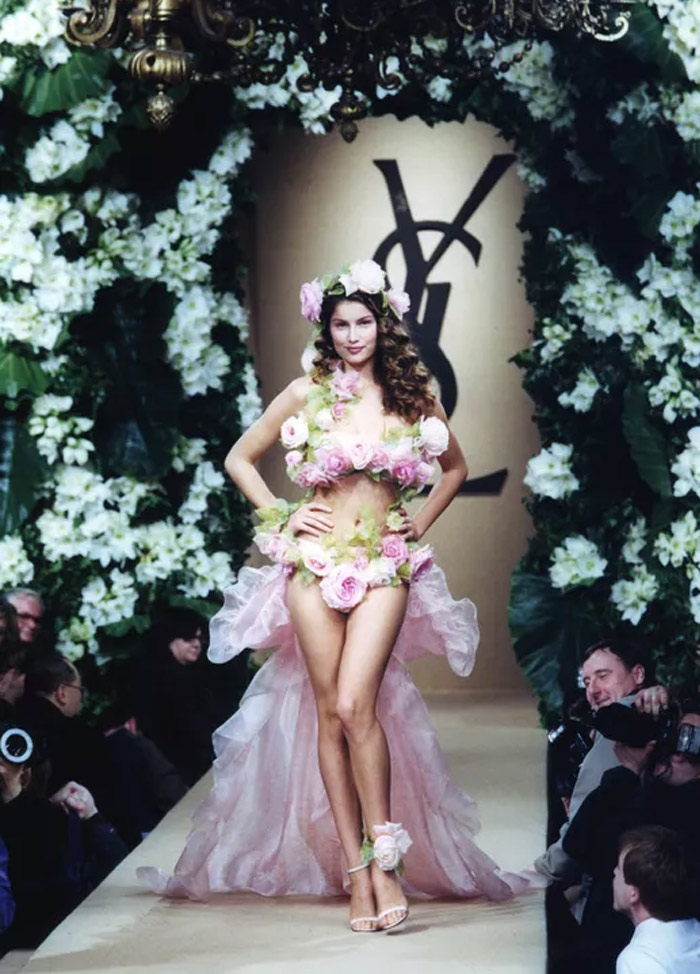 Laëtitia Casta during the Saint Laurent Haute Couture spring-summer 1999 show. (Paris, January 1999)
That was not the first time during which the 25-year-old model has redoubled her costume inventiveness. In 2021, Hailey appeared in a series of signature outfits of another icon: Britney Spears. Pink underwear, and latex leggings, but also quilts and schoolgirl outfit: a clever mix of clips I'm A Slave 4 U (2001) and Baby One More Time (1999) shared at the time on her Instagram account. In her trunk of disguises in recent years, Hailey Bieber also counts Barbie, the pirate, the punk or the witch.