Hedi Slimane Raises Temperature in Los Angeles with Celine Fall/Winter 2023 show
Marion Dupuis - Madame Figaro
11-January-2023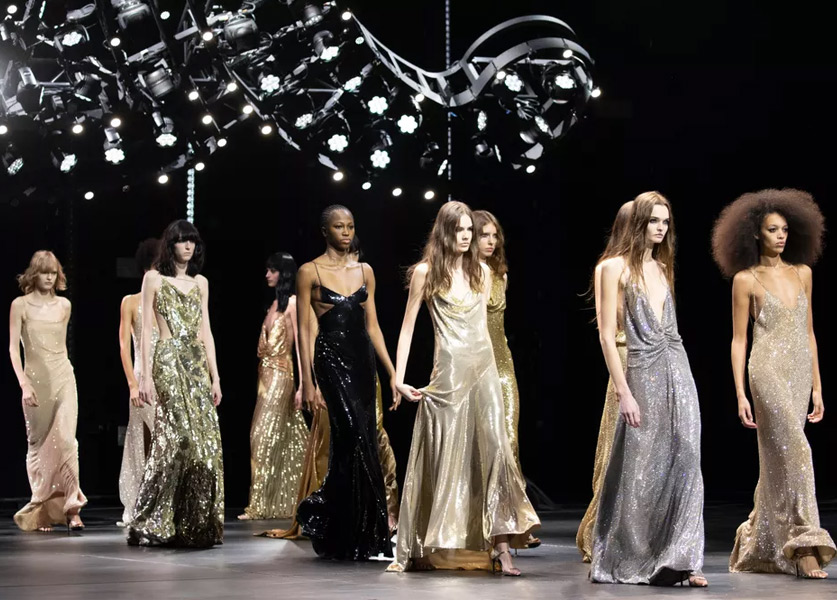 Last Thursday, the house of Celine presented its fall-winter 2023 collection in the iconic Wiltern Theater in the City of Angels. Between rock concerts and Hollywood fashion show, the atmosphere was supercharged.
Celine flew to Los Angeles to unveil its Fall-Winter 2023 women's ready-to-wear collection before anyone else. Barely a month after presenting his spring-summer 2023 season in video format in sunny Saint-Tropez, Hedi Slimane, the label's artistic director, is continuing his new 2000s cycle, that landmark period when, as artistic director of Dior Homme, he documented, dressed and photographed the rise of the new rock scene between London and New York. This event coincides with the November 4 theatrical release in the United States of Meet Me in the Bathroom, based on the book by journalist Lizzy Goodman. This documentary, in which Hedi Slimane collaborated by creating a special poster, evokes the rock renaissance of the early 2000s in New York with bands like The Strokes, Yeah Yeah Yeahs, Moldy Peaches, The Rapture, Interpol.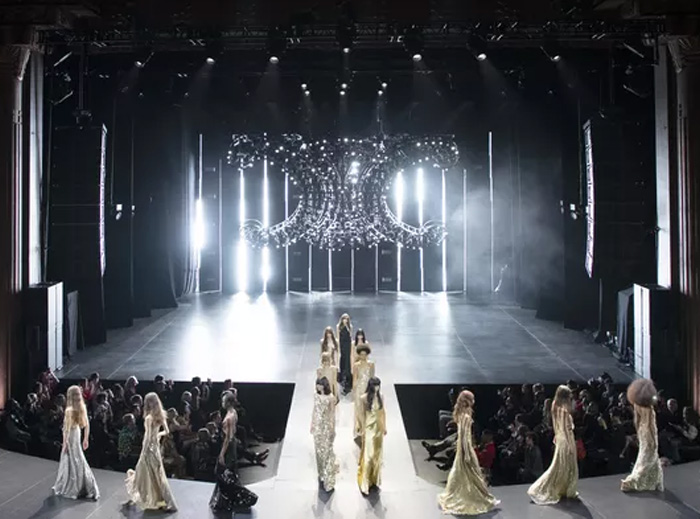 An array of stars
Thursday night in Los Angeles, welcome to the Wiltern Theater. This Art Deco building built in 1931, a former temple of cinema that belonged to Warner Brothers, has become a concert hall of the first rank that has seen, among others, Prince, James Brown, Nina Simone, the Rolling Stones, Patty Smith ... It is here that Hedi Slimane chose to present his Celine collection, in this City of Angels that he is particularly fond of and where he himself settled for a decade, from 2008. Among the hand-picked guests who crowd the theater, rappers Wiz Khalifa, Kid Cudi, Doja Cat, socialite Paris Hilton, Suzanne Lindon, or Matthew Bellamy from the group Muse rub shoulders with Hollywood stars in perfect harmony with the setting, including Dustin Hoffman, Priscilla Presley, Austin Butler (the star of the film Elvis), Courteney Cox, Brie Larson, Emma Roberts or Cindy Crawford, who came to applaud her daughter Kaia Gerber with her family. At the entrance, a "Celine live performances" is announced with Iggy Pop, The Strokes, Interpol and The Kills.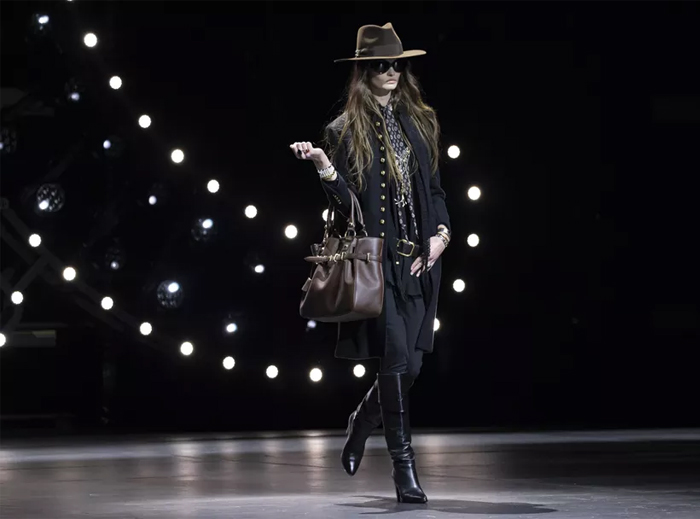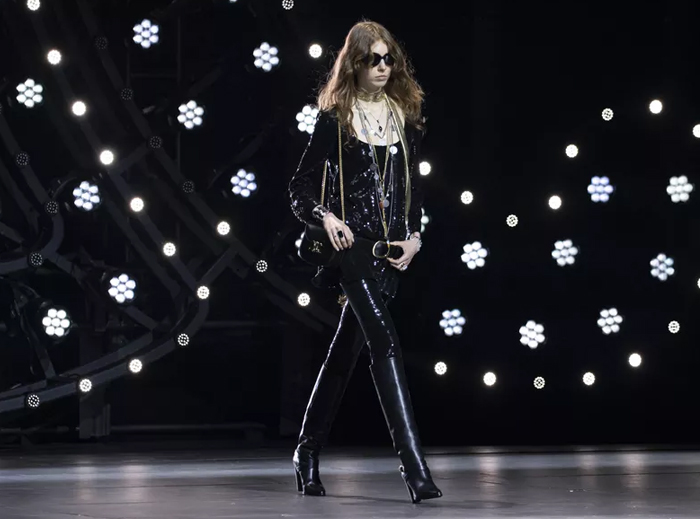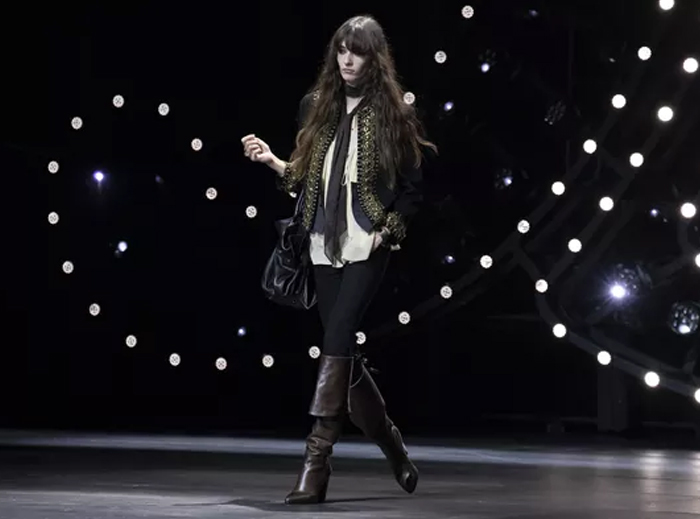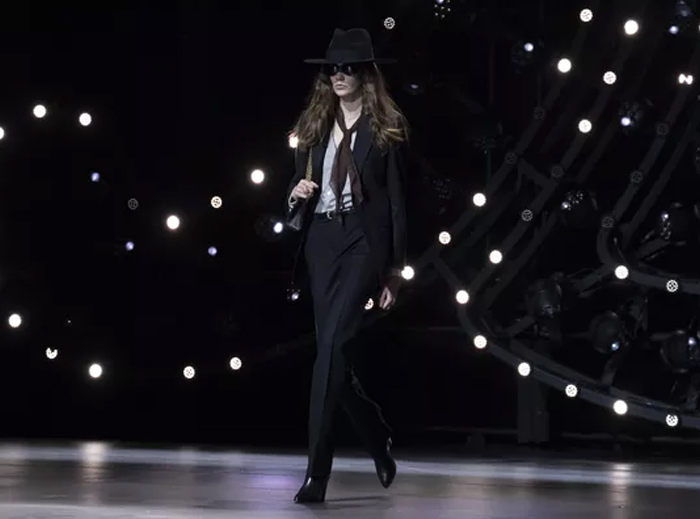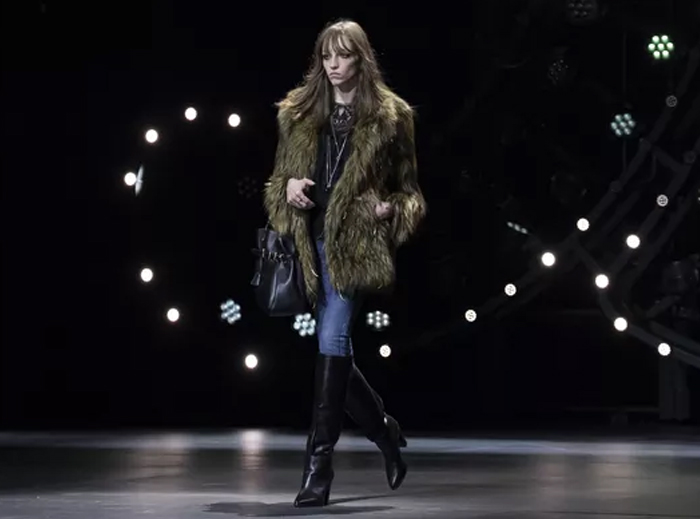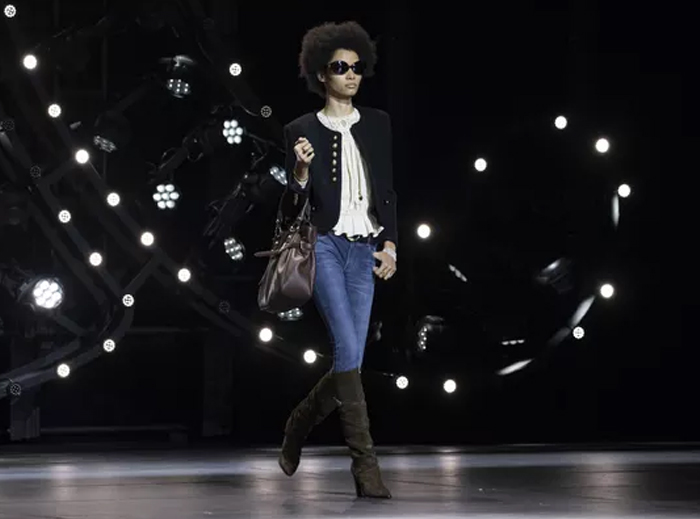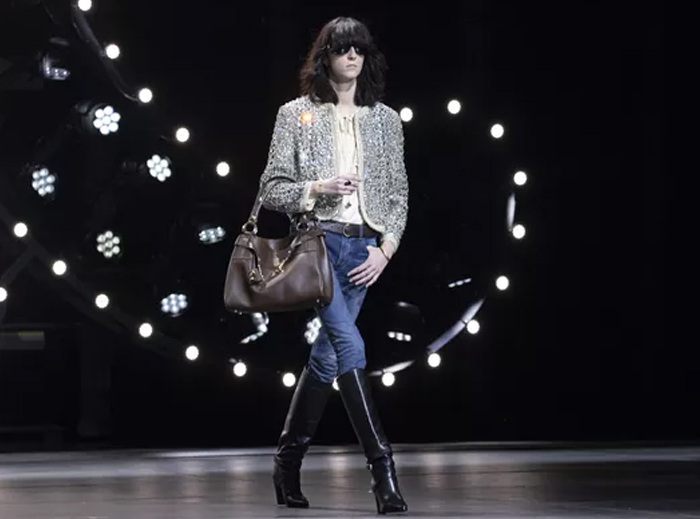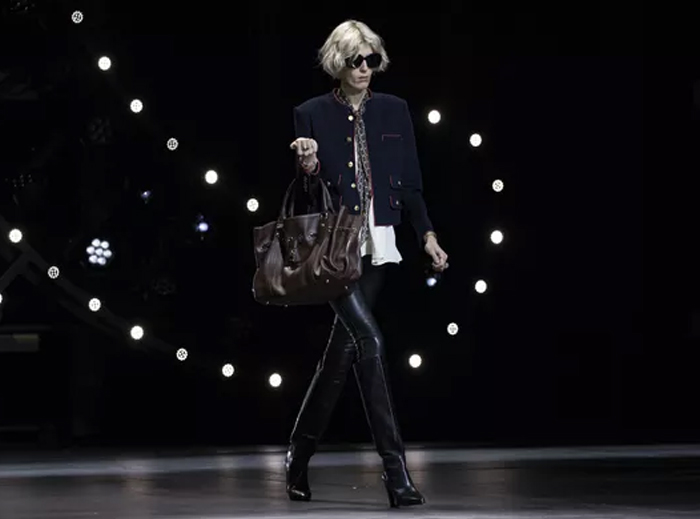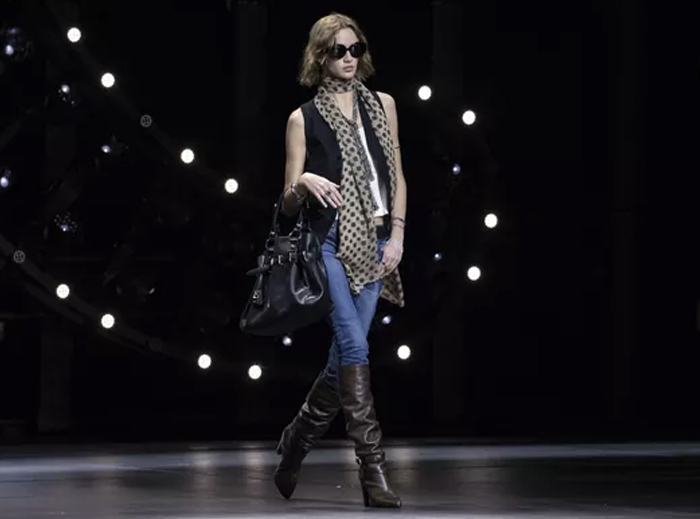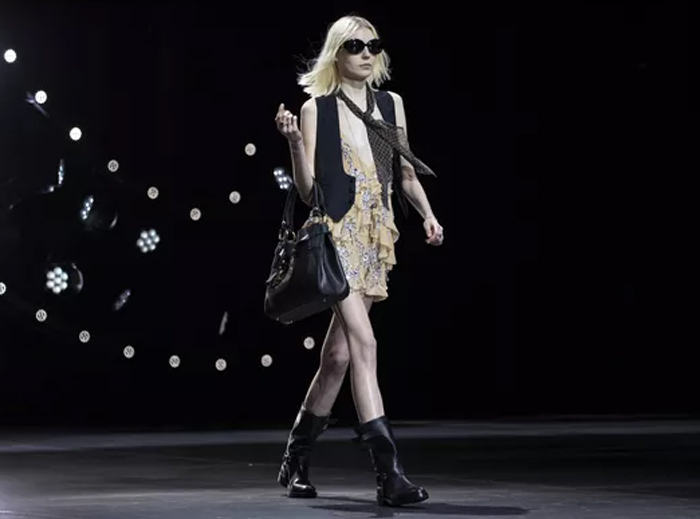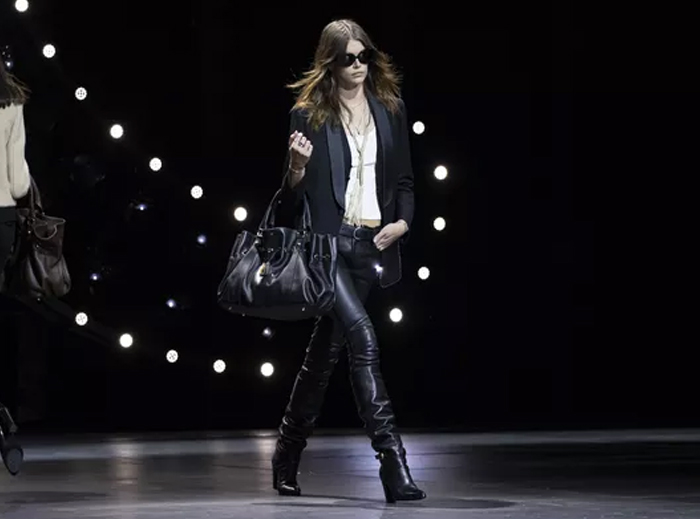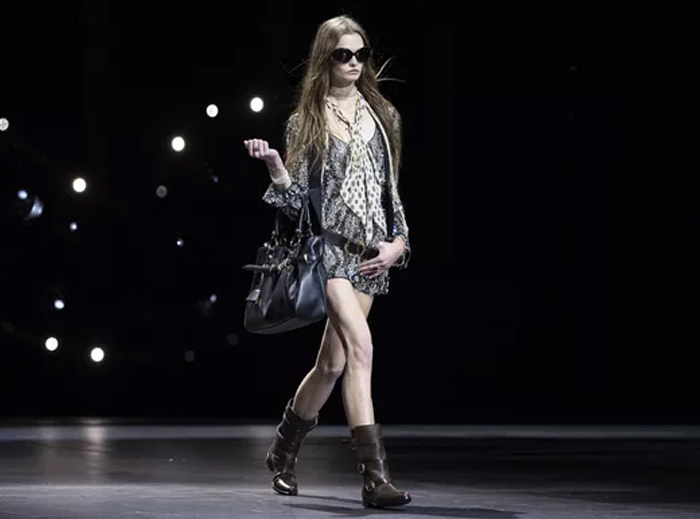 Vibe 2000 and Hollywood glam
The show opened with original music by the White Stripes and the ultra-scenic girls in dark glasses, men's felt, high boots, replayed Hedi Slimane's vibe 2000, in skinny jeans and tight jackets. Between Parisian chic and rock'n'roll attitude, oscillating between masculine look and feminine "sexyness", they parade in sherling jackets, beige trench coats, aristocratic capes, leather jackets, lavaliere silk blouses, men's suits, loose ties and couture mini dresses that reveal their bare legs. Kaia Gerber goes in black leather pants and tuxedo jacket then goes back in a mini dress as sparkling as the lights of Hollywood. The rhinestones and sequins rise in power until the final. Namely a series of sublime long lamé dresses entirely embroidered by hand that close this glam ball in front of a huge rhinestone Celine logo.
Rock stage
The stage then gives way to live concerts by Iggy Pop who, shirtless, plays his classics, followed by The Strokes and the New York band Interpol, with The Kills mixing between each performance. On three floors, the cool kids of L.A. mingle with VIPs and other guests. The atmosphere is as good child as overexcited. Fans of the Strokes go on stage while Leonardo DiCaprio and Tobey Maguire arrive at the party incognito. We are well in Hollywood...