The Fantastic Bestiary of the Chanel Haute Couture Show
Clara Dufour – Madame Figaro
25-January-2023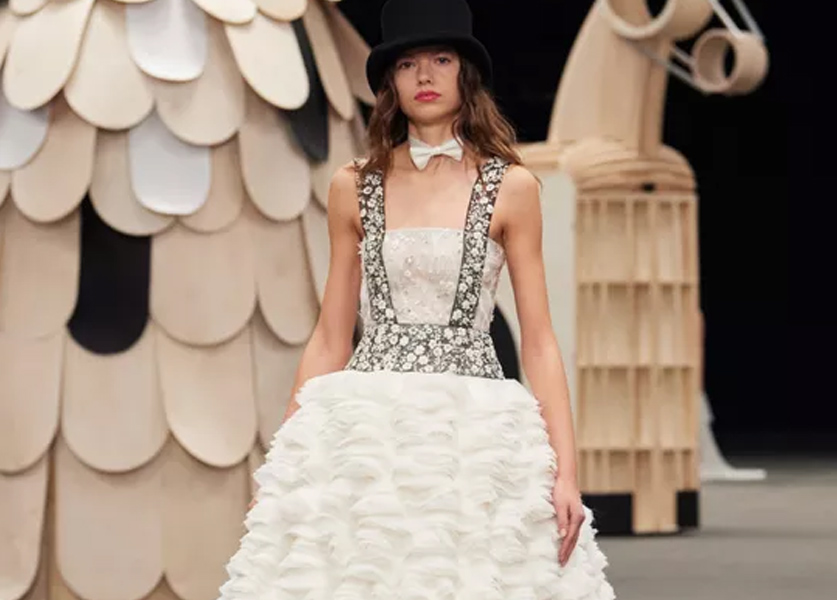 During the Parisian Haute Couture Week, Chanel's artistic director Virginie Viard unveiled the spring/summer 2023 collection in a setting evoking a joyful parade.
This season, the house of Chanel invited its guests to a magical parade for its spring-summer 2023 Haute Couture show. Under the "big top" of the Grand Palais Éphémère, monumental sculptures of animals, made of wood, cardboard or paper, parade in procession like during popular festivals. Visual artist Xavier Veilhan imagined these animated structures as the setting for the show, continuing his creative dialogue with Virginie Viard, the artistic director of Chanel, begun in January 2022.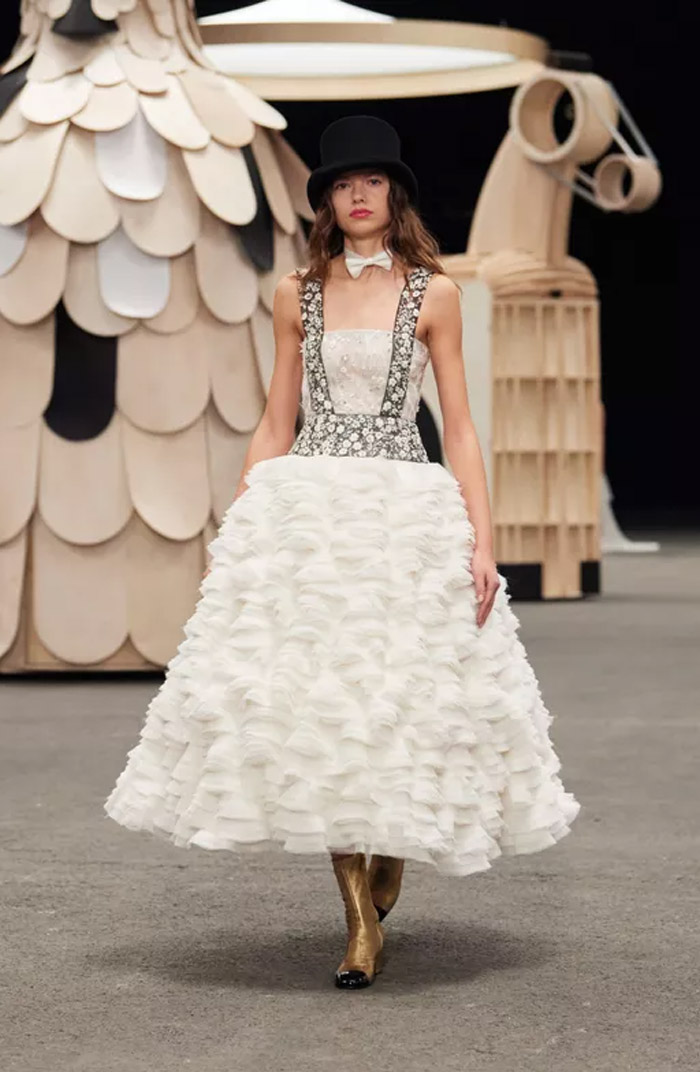 Couture Chimeras
Crocodiles, deer, birds, fish, camels and other lions follow one another on the runway... before revealing, hidden in the structure, the first models of the fashion show. "I like it when the wonderful appears and the course of things is interrupted", Virginie Viard says with amusement. For this collection, the designer drew her inspiration from Gabrielle Chanel's apartment on rue Cambon, which is teeming with objects, sculptures and drawings representing animals.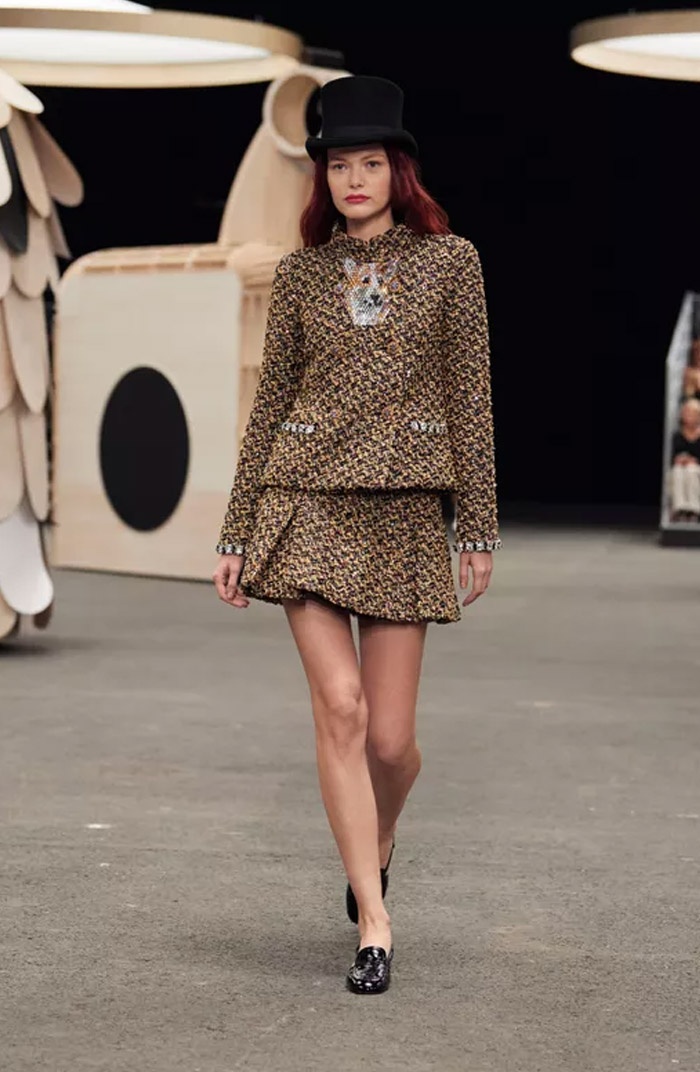 Elegant Madame Loyal
A fantastic bestiary subtly represented on precious embroideries in this collection. Here, lovely little kittens, rabbits, deer or birds are embroidered with stones on the jacket of an immaculate tweed skirt suit. There, a corgi of colored sequins comes to dress a short suit. The Haute Couture show continues with dancer's petticoats in vaporous mille-feuilles or miniskirts worn with sophisticated majorette laced boots. The Chanel women look like Madame Loyal in a top hat and black bow tie over a long dress embroidered with gems and sequins, or in a floral lace jumpsuit.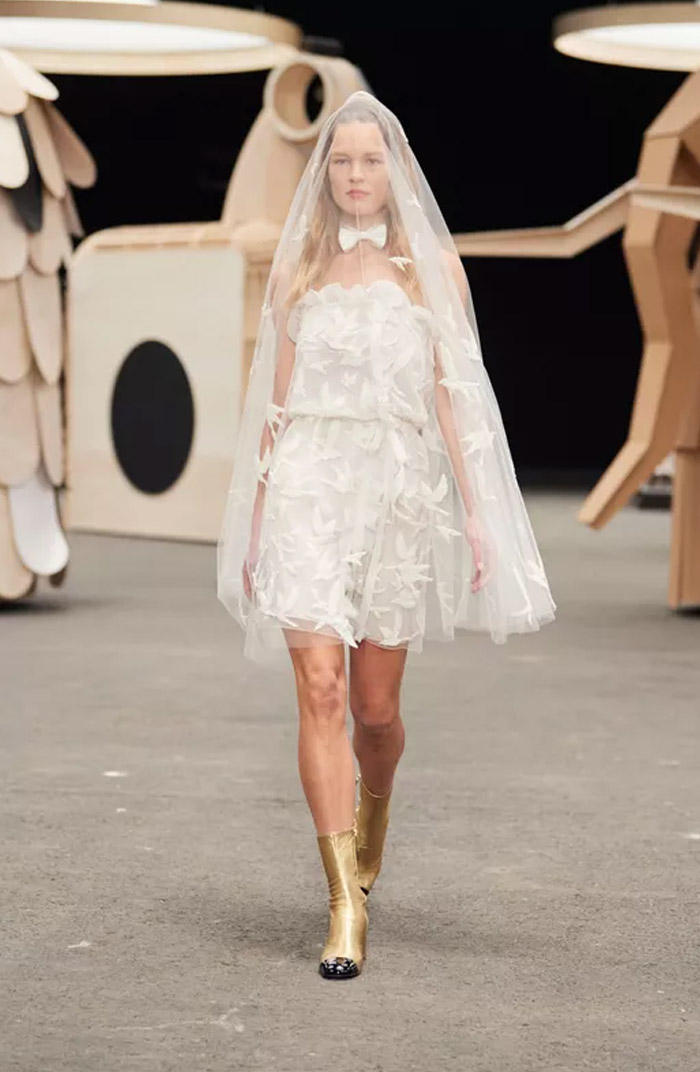 A poetic bride
For the finale, a gigantic cardboard elephant is placed in the center of the runway and reveals, through a hidden door, the supermodel Anna Ewers in a mini wedding dress as delicate and airy as the flight of swallows embroidered on her outfit and her tulle veil. A last passage widely applauded by the celebrities who came to attend the show: Marion Cotillard, Vanessa Paradis, Tilda Swinton, Carole Bouquet, the Korean rapper G-Dragon or Angèle.