Florence Pugh's mini ponytail: the perfect trend to enhance a short haircut
Victoria Hidoussi - Madame Figaro
30-October-2023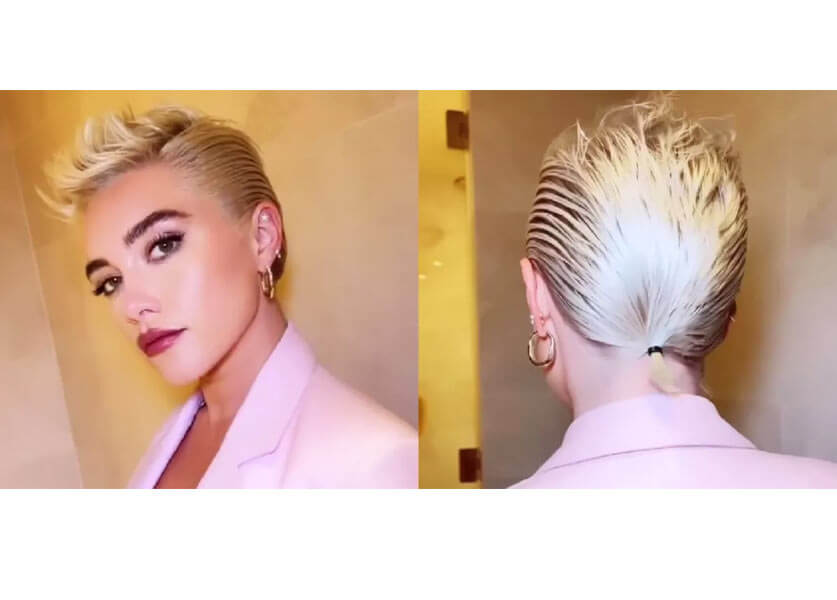 The actress attended the Valentino fashion show adorned with a tiny hairstyle tied behind her head. A subtle hair detail that caught the attention of her Instagram followers.
Who said that one should give up on tied hairstyles when having short hair? Certainly not Florence Pugh. The actress, who shaved her head last May and now sports a pixie cut, is determined to make the most of every bit of regrowth. Proof of this is that she attended the Valentino Spring-Summer 2024 fashion show on Sunday, October 1st in Paris, wearing a low, tiny ponytail tied at the nape of her neck.
The hair detail, only noticeable from the back or the side, didn't escape the attention of internet users, who were even fascinated by it. The look of the Valentino Beauty ambassador gained unanimous praise on social media, as evidenced by the countless compliments she received on Instagram following her post-show publication. Comments such as 'I love the mini ponytail,' 'It's too cute,' 'It's the most adorable thing I've ever seen,' 'This hairstyle is amazing,' 'I'm obsessed with it,' 'It's fabulous,' 'This ponytail stole the show,' 'It's this tie that makes everything,' 'I fell in love with it,' were notably expressed by her fans in the comments under her photos.
Micro trend
It seems that the lead actress of 'Don't Worry Darling' isn't the only short-haired celebrity to have had this idea during Paris Fashion Week. A few days earlier, her colleague Charlize Theron also sported a mini ponytail on her short haircut at the Dior Spring-Summer 2024 fashion show in Paris. Could this be the start of a new micro trend?