Here's How To Style The Iconic Nike Shoes Like Your Favorite Celebs
6 Nike Air Jordan 1 Outfit Ideas
Christina Jaber
7-May-2021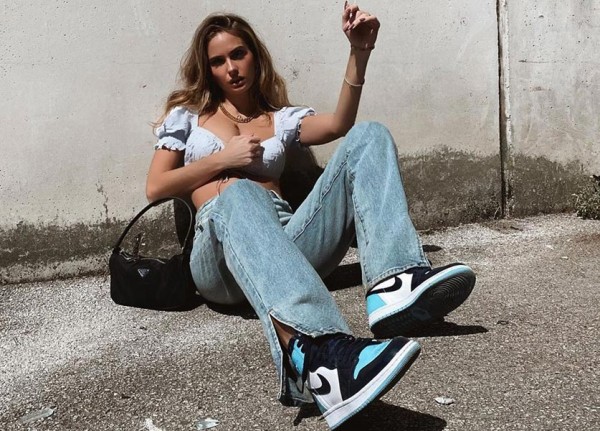 If you're looking for a pair of new sneakers, we're officially putting the trendiest Nike shoes on top of your list.
Have you ever imagined a pair of sneakers that's so trendy and timeless that you can even dream of it sometimes? Well, the Nike's Air Jordan 1 are literally everywhere and my Instagram feeds are proof of that.
Fashion it-girls are styling these iconic high-top kicks with some really trendy and stylish looks. Take a look on our favorite styling of the it-sneakers of the season, but first, here's why we love them so much.
Rihanna
Why do we love the Nike Air Jordan 1 trainers?
Let's start with their comfortable flat lug-sole and move on to the retro vibe they add to our looks, and guess what? The brand has been releasing updated versions of the Nike Air Jordan 1 in fresh new colors. These sneakers date back to the 1980's and they were named after the iconic basketball player Michael Jordan.
We are definitely styling our own sneakers really soon, but first, let's get inspired with the fashion girls' styling.
Jennifer Lopez
Ahead of her performance at Vax Live: The Concert to Reunite the World, J.Lo flaunted both her toned abs and her Nike shoes, the Nike Air Jordan 1 sneakers as she was rehearsing with her dancers. The 51-year-old singer and beauty entrepreneur styled her sneakers with baggy white sweatpants and a Niyama Sol sports bra.
Caro Daur
German fashion blogger and model Caroline Daur went minimal in a wide-leg denim pants and black blouse and black mini Prada shoulder bag. However, the Nike shoes added to the look its cool vibe.
Dana Hourani
Lebanese fashionista and singer Dana Hourani mixes colors in a way no one else dares to. She wore a pair of bright yellow pants with a black tank top and chose her Nike Air Jordan 1 in blue, black and red. Are you ready for some color combination that are bold and beautiful?
Mimia Le Blanc
Moroccan jewelry designer and it-fashion girl Mimia Le Blanc styled her "Lost Angels" set from her collaboration with Amal Guessous, in both black and blue. As for her Nike trainers, she went multicolored in black, blue, red, white and green. Would you do the same for a comfy style?
Justyna Czerniak
If you're willing to cross the lines and style your trainers with a cool and elegant look, then Polish blogger and fashion influencer Justyna Czerniak will teach you how. She styled her cropped blazer and green classy shirt with a pair of baggy white jeans and the Nike Air Jordan 1 trainers in green. A look that's both attractive, casual and definitely inspiring.
Rachel Iwanyszyn
Known as Jaglever on Instagram, with 400 K followers, fashion blogger Rachel Iwanyszyn predicts staying in her Nike Trainers forever (YES! They're that comfortable, and stylish!). She styled them casually with denim pants and a pale green cardigan.