Georges Hobeika Showcases Ready-to-Wear Spring/Summer 2023 Collection
Rita Khoueiry
30-September-2022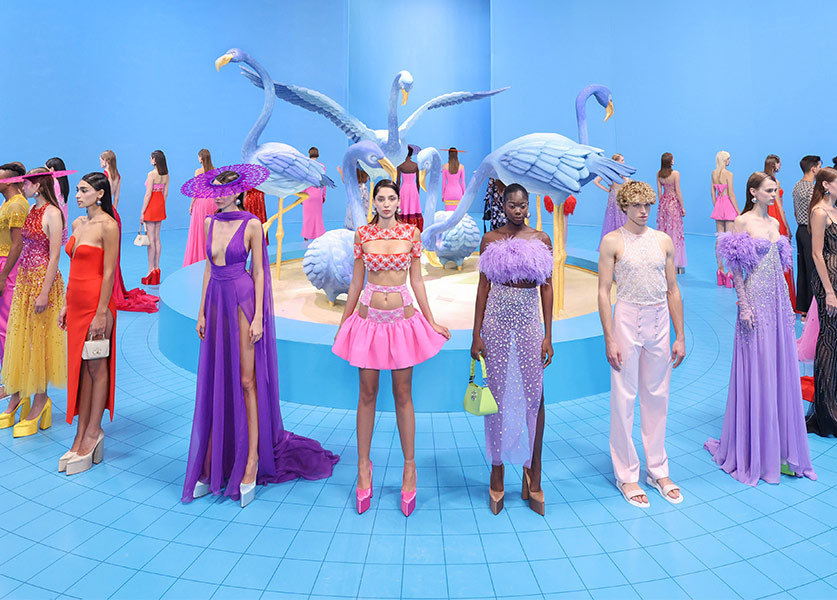 Embodying magic and glam, Lebanese Co-Creative Directors Georges and Jad Hobeika designed the new RTW SS 2023 collection with a look to the beauty, grace and gregarious nature of the flamingo; emancipated young women flocking together to cultivate their own exotic dream world.
A series of bold, modern silhouettes channel myriad eras, couture fabrics and techniques with a backdrop of giant blue fantasy flamingos in the back. Neoclassical draped chiffon column dresses in vibrant shades exude simple elegance, while drop-shaped mirror and sequin embroideries flow down the busts, hips, and hems of gowns, like glistening waterfalls.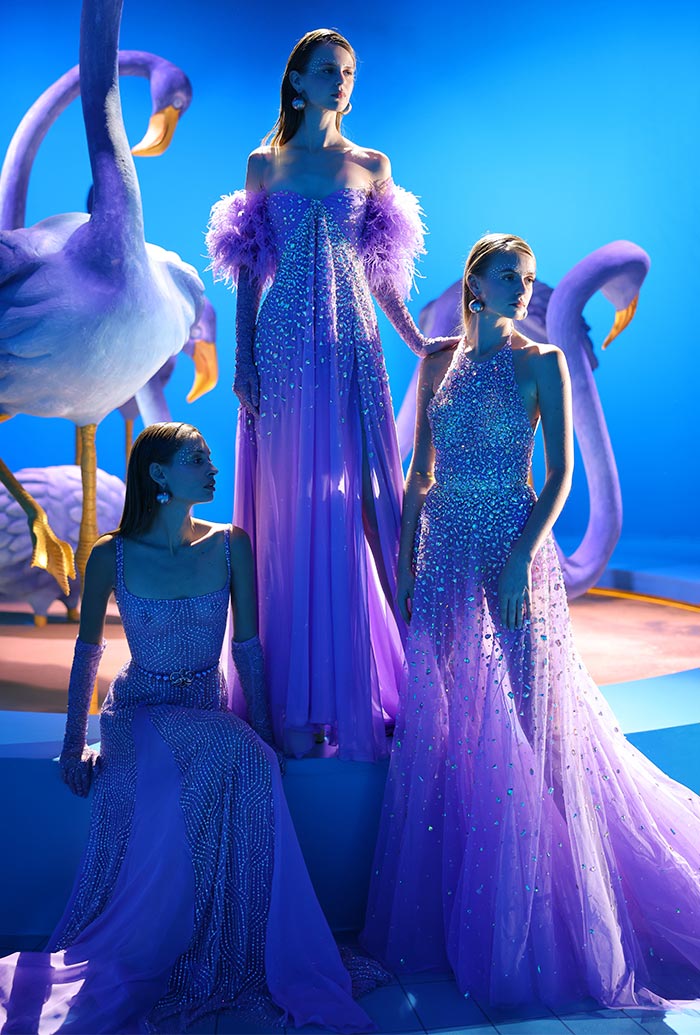 Acid hues are mixed with gold on portrait collar and spaghetti-strap dresses with sparkling pleated hems. Clashing turquoise and aqua blue are used on ultra-graphic pantsuits and a long cape and pant ensemble emblazoned with a flamingo motif. A magical portrait mirroring a liberating mood.
A touch of romance is added to pieces bridging athleisure and couture with gradient pastel rainbow swaths. The dreamy collection compromises also asymmetrical dresses with bold cutouts, black bodices, along with richly beaded swimwear-inspired pieces worn with skirts and capes.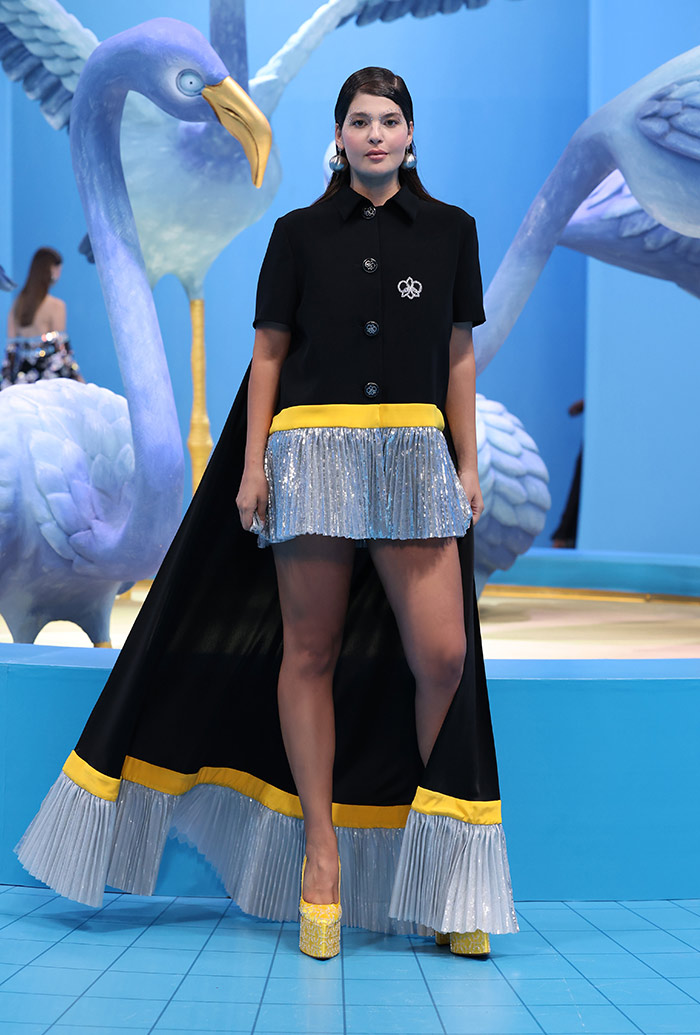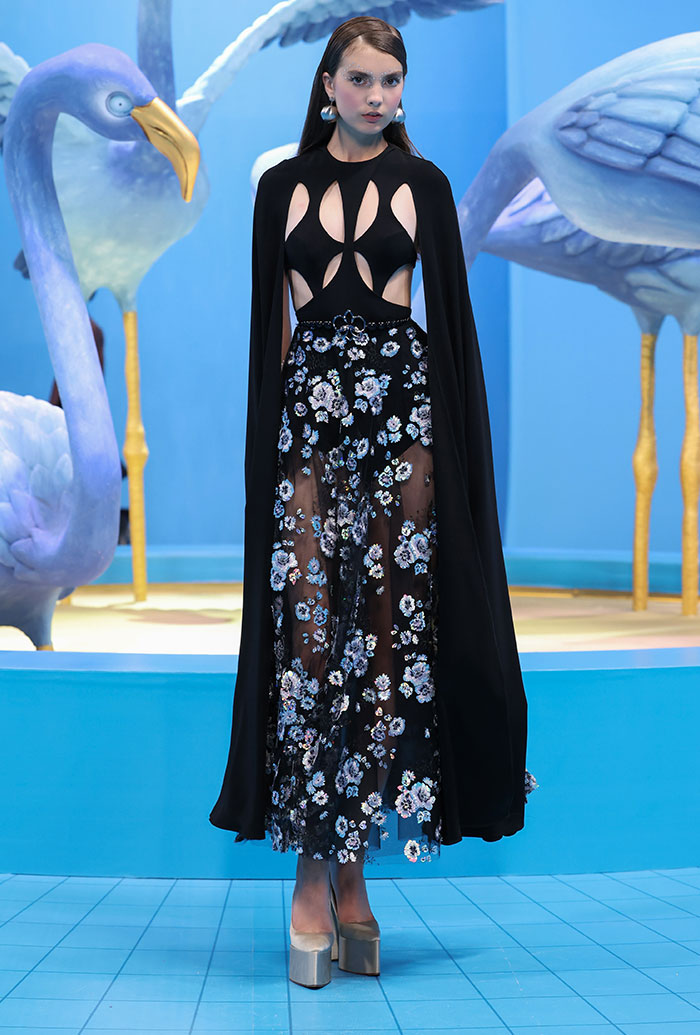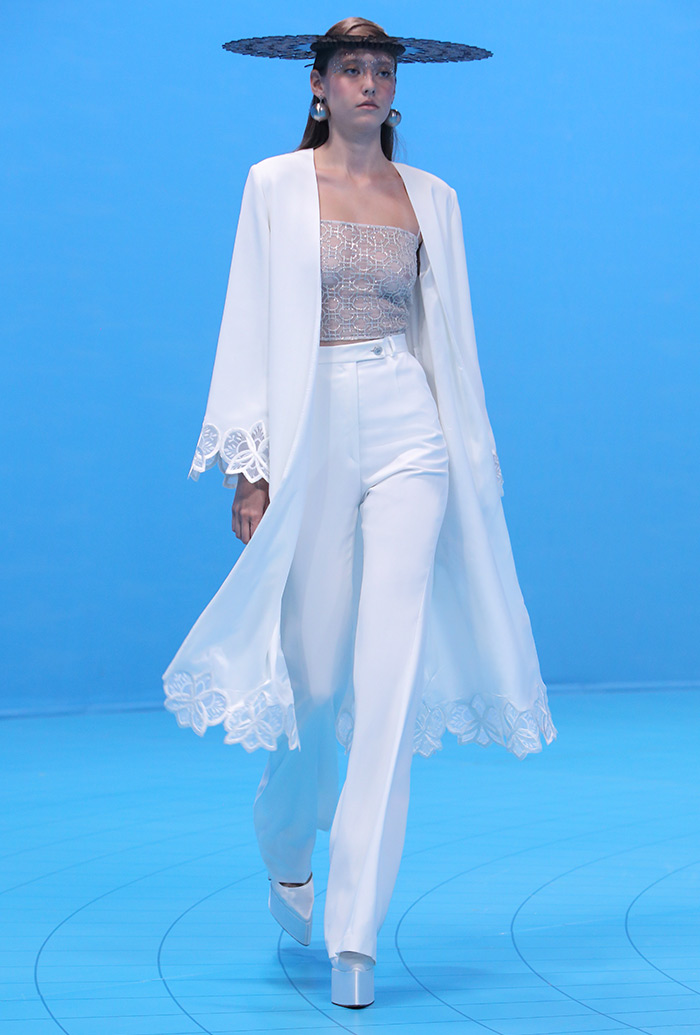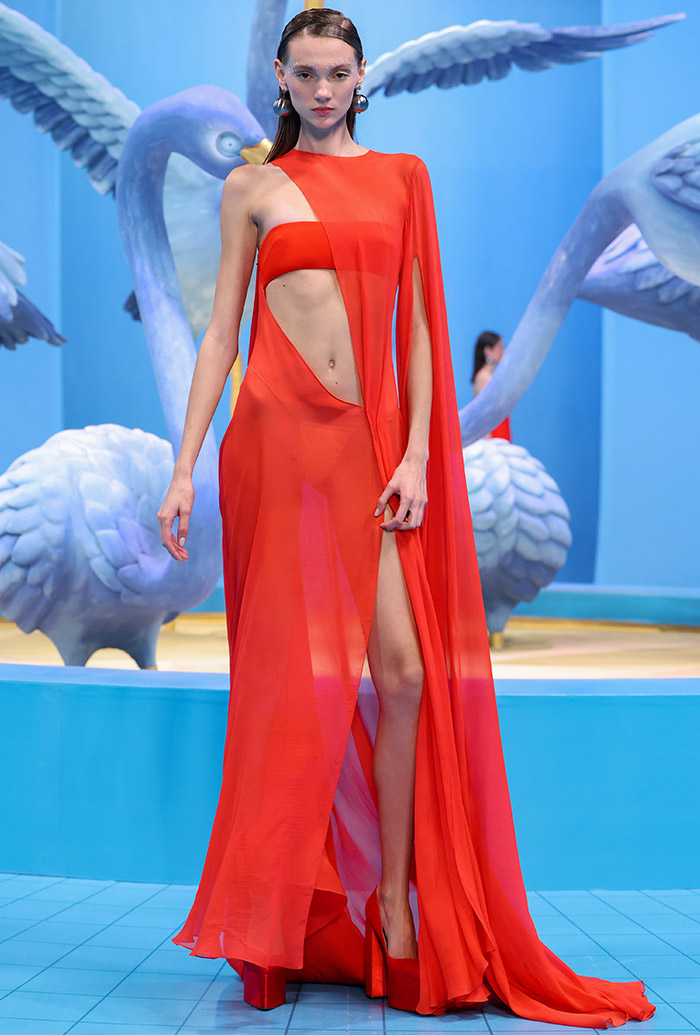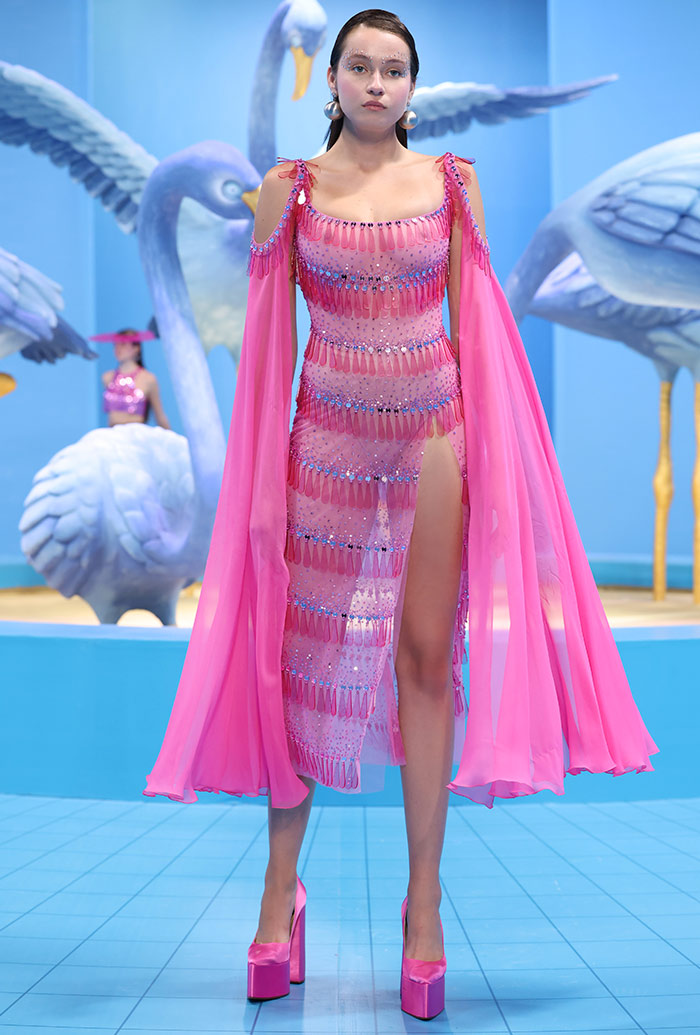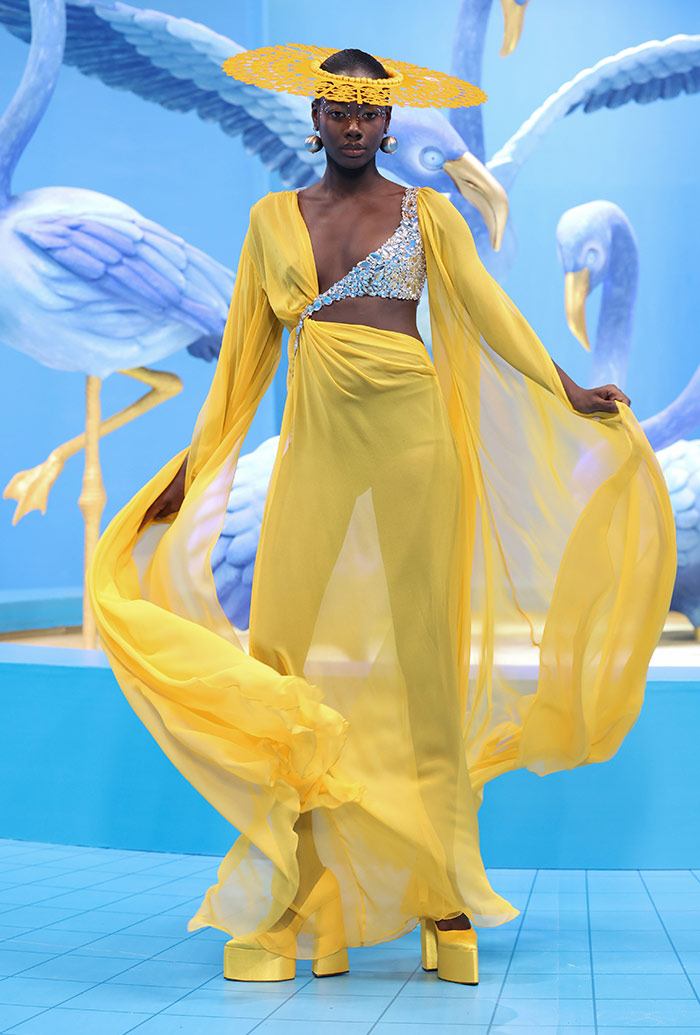 Some men looks are also added to this flamingo collection with a mix of modern and casual attitude; embroidered light-blue jersey tank encrusted with crystal details and rosette flowers paired with brightly colored silk jersey shorts.
Colors and textures reflect summery vibes thanks to a mix of muted skin tones and terracotta invigorated by shots of acid green, turquoise, golden yellow, and all shades of pink. Adding visual impact, layers of tulle embroidered with dichroic glass beads evoke the color-changing effect of a sunset.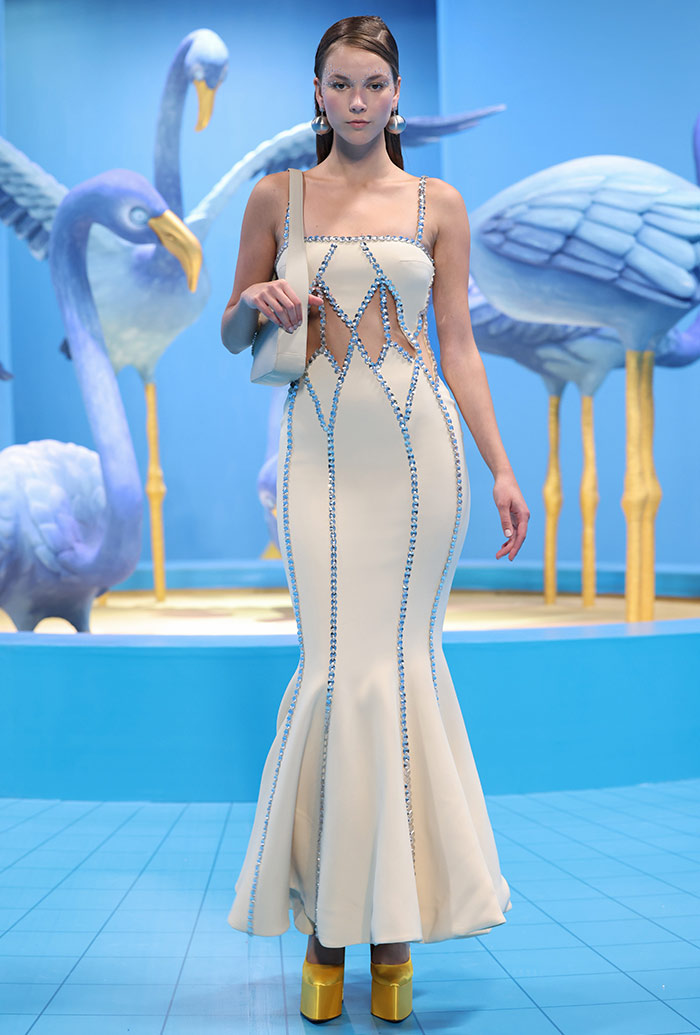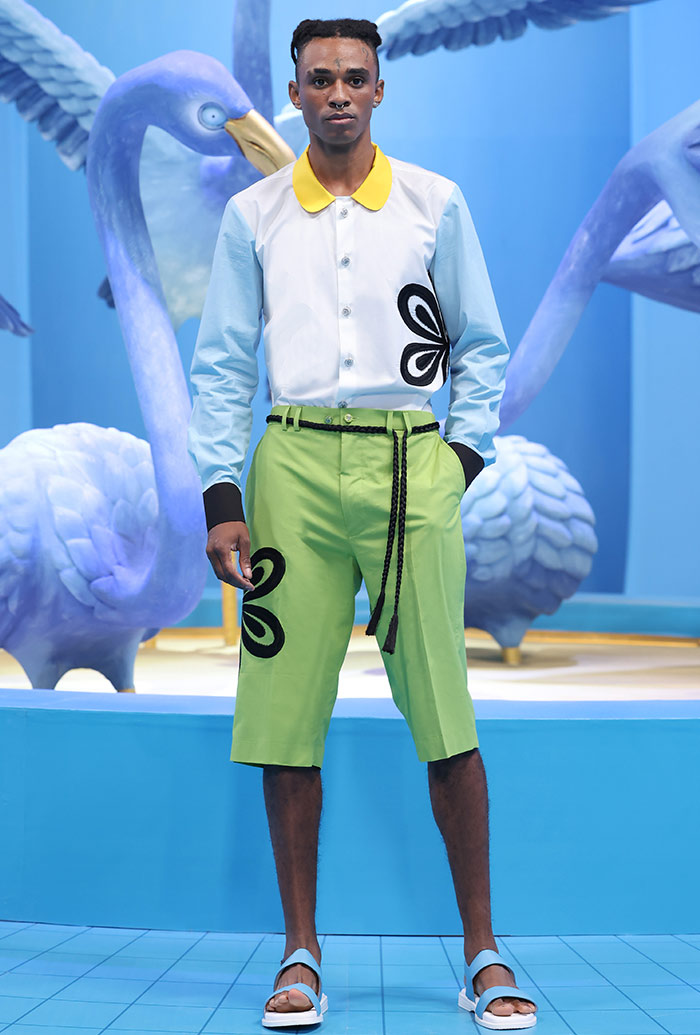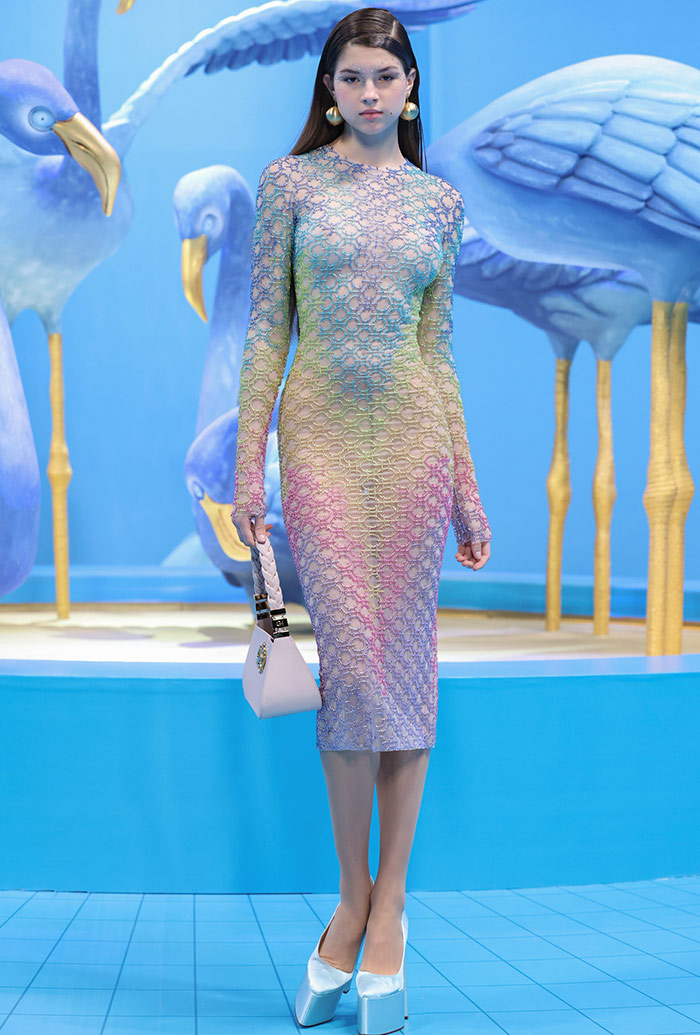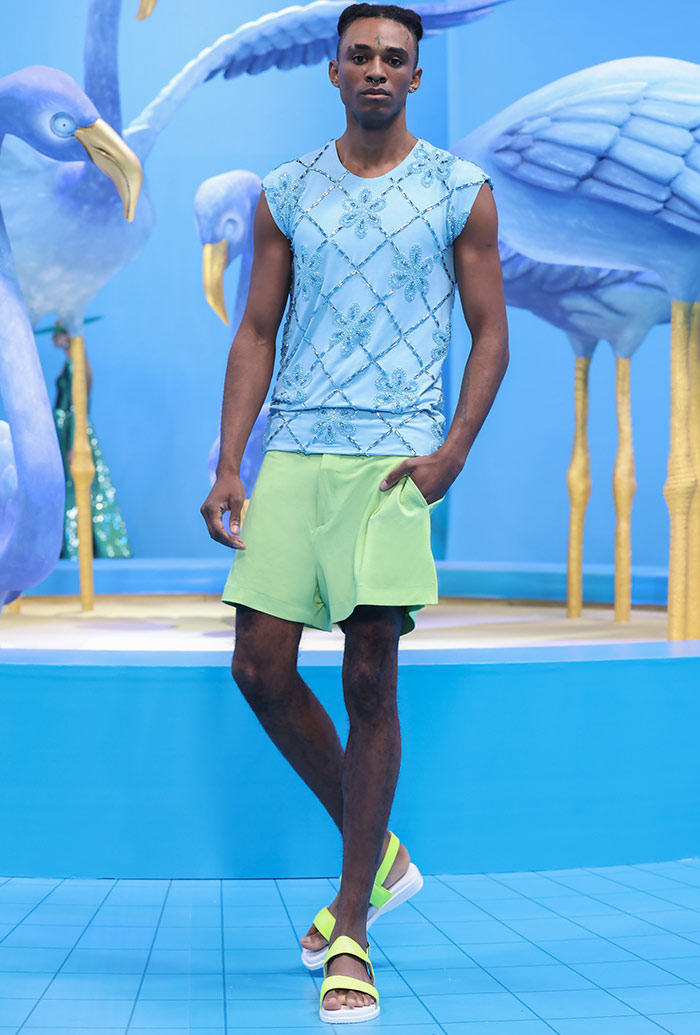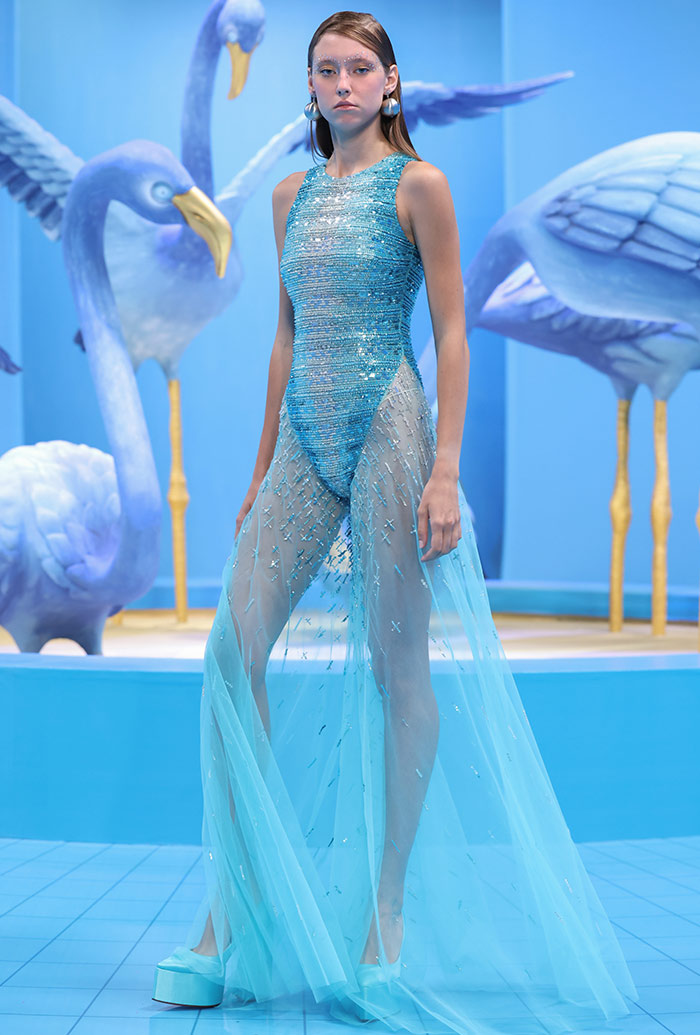 The Georges Hobeika monogram stars in intricate beaded motifs embellishing looks and a range of accessories, from sheer tulle gloves to shoes and socks. Other headlining leitmotifs include the orchid, which adorns everything from couture bra tops to a new baguette-style bag. The sensual bloom also surfaces on belt buckles and metallic sphere pendant earrings along with sculptural disc-shaped visors in graphic laser-cut motifs delicately embellished with lace encrustations and embroideries.
These graphic hats top the silhouettes of the radiant, empowered Georges Hobeika woman perched on her glamourous platform pumps. Despite the mood for escapism, this high-octane wardrobe is anchored in real life.