Rabia Zayyat wore a dress with a purpose
A story of pain designed by Naja Saade
Vanessa Haber
25-August-2020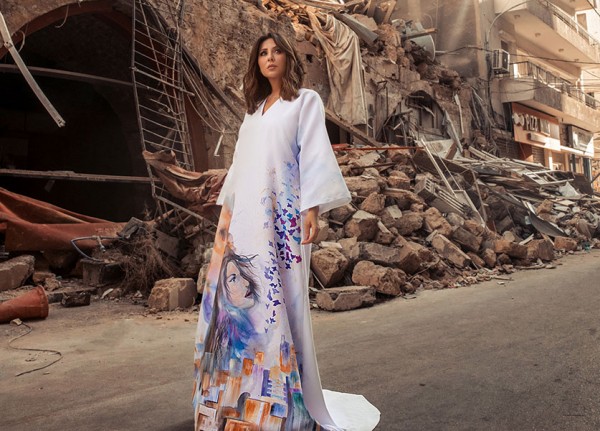 Although, the TV personality Rabia Zayyat was harshly critized over her photoshoot, however, the dress she wore amid Beirut's rubble had a more meaningful purpose.
Ana_Beirut was a story of pain told in a dress by the designer Naja Saade and the visual artist Adriana Hajj, and the goal? Raise an auction on Al Jadeed TV channel to support the victims of Beirut blast, which occurred on August 4th, 2020. The good news is Ana Beirut campaign raised 125 Million LL last Sunday, live on TV.
Naja Saade embodied the Beirut explosion by designing a dress that captured this moment. He collaborated with Adriana Hajj who translated his vision with the strokes of her brush and painted Beirut's face as a woman who bid farewell to her children as they flew away like rising birds.
Al Jadeed launched the initiative "Ana Beirut" in collaboration with Rabia Zayyat through a video clip featuring Rabia wearing the dress designed by Naja. The auction was launched live in the morning show "Sabah Alyawm" hosted by Carine Salameh and it raised 125 Million L.L
All proceeds will go to the NGO "Kelna la baad" to support the campaign "Abwab Beirut" which aim is to restore the damaged houses.
"I didn't hesitate for a second when "Al Jadeed" contacted me to join this humanitarian initiative. Our family in Beirut needs our support and compassion more than ever. I commend Naja Saade for his philanthropy. His designs brought us together on many special and joyful occasions. Today we unite for a noble cause as I wear this eastern dress that mirrors Beirut. The message I deliver in the video clip promoting this auction is as impressive as the love I carry to this city and the pain I feel towards its people. As for the painting, it reflects the hope we all need, to rise from the ashes. I thank "Al Jadeed" TV channel that always unites us for a good cause," Rabia said.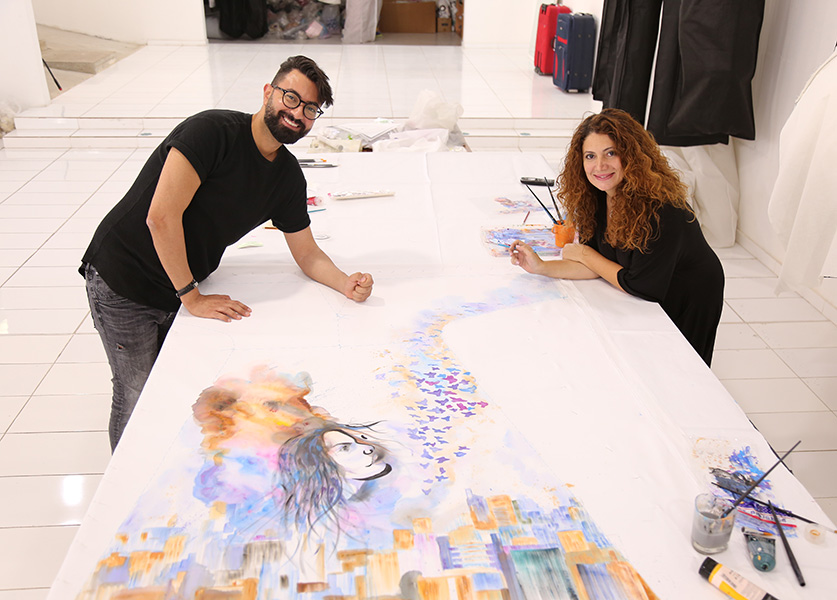 Naja Saade, whose atelier was damaged by the explosion said:
"This was a hard moment for all of us and I'm thankful for the safety of my team. We were all affected by the Beirut tragedy and we should all help, each using his own voice. As an artist, I wanted to deliver a message of hope and resilience so I named my design #Ana_Beirut because Beirut's wound is a wound we all carry."
"This is not my first collaboration with Naja Saade, but it was hard for me to paint this disaster because my visual art usually reflects positivity and optimism" said Adriana Hajj.
"In spite of all the pain Beirut is going through, I portrayed this moment with colors that reflect hope and with a message paying tribute to the victims, so I drew the capital as a resilient woman bidding farewell to her children." She added.
The executive producer Nidal Bkassini said:
"Al Jadeed" TV channel has always launched multiple humanitarian initiatives and campaigns raising the voice and calling people to stand together to overcome hard times."