Trending Bathing Suits Worn by Arab Stars
Rita Khoueiry
11-August-2022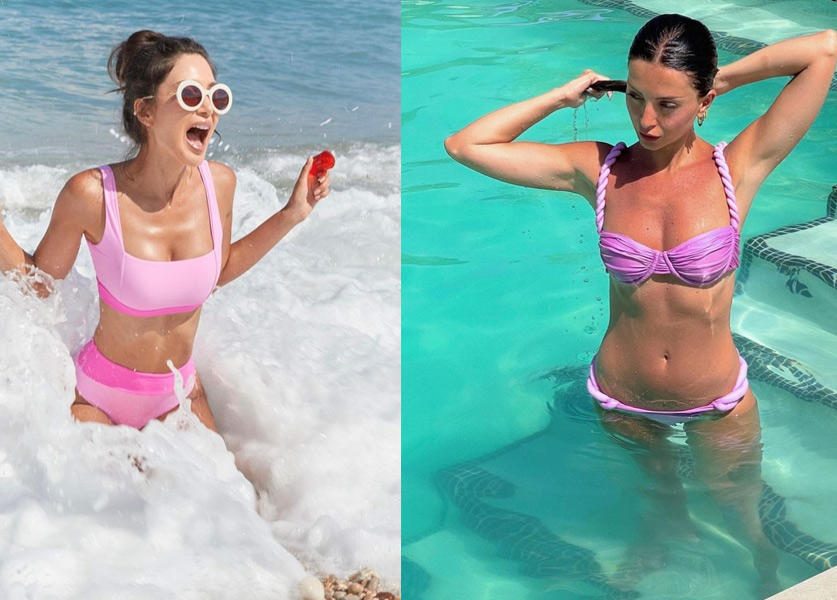 Summer season means hot weather, which call for a well-earned vacation on the beach. So, which bathing suits are trending this season?
Every season has its own trends, and this summer, a wide variety of bathing suits presented itself: prints, colors, cutouts, designs… Creations that will let you fall in love with this time of the year!
Usually, our main source of inspiration concerning the fashion world is the Instagram feeds of celebrities and bloggers. However, Arab famous faces are known for their outstanding style and their love for fashion. Therefore, we decided to gather our favorite appearances of celebrities in bathing suits.
Karen Wazen in a one-piece swimsuit
Lebanese blogger Karen Wazen shared on her Instagram feed pictures of her wearing a one-piece swimsuit during her trip to Spain. This three-color bathing suit will be the best choice for a summer trip with your friends this summer.
The founder of Karen Wazen Eyewear also appeared in a bright yellow bathing suit while she was visiting Lebanon. It could be a good option if you prefer wearing a one-color swimsuit.
Alice Abdel Aziz in outstanding bikinis
Founder of Take Me To Wonder Alice Abdel Aziz is known for her astonishing style, and this summer, she has left us speechless with her different appearances. In her latest Instagram post, Alice was wearing a simple two-piece swimsuit in two shades of pink. The bottom is designed with a high waist, and the top with a wide straps.
The reality star also shared with her followers her appearance during her trip to Ibiza: a white bikini designed with pearls on the triangle-shape top. You can style your look as Alice did if you like a simple yet elegant appearance.
Joelle Mardinian in bold bikinis
Lebanese entrepreneur and TV host Joelle Mardinian is a fashion diva. Her Instagram feed has turned out into a trends catalogue, since she never miss following a trend. Among her summer post, Joelle appeared in a classic navy blue bikini with crossed straps on the neck. This bikini could be your all-time choice if you like to a wear a one-hue swimsuit.
Joelle also appeared in a bold bikini worn upside down; a trend that many celebrities have been following this summer. The top is designed with the leopard print in green and fuchsia hemlines. Dear to wear the same style if you like to show more skin on the beach.
Nour Arida in an elegant bikini
Lebanese model Nour Arida is known for her simple yet impressive style. This summer, she appeared wearing a basic black bikini designed with extra straps around the neck. The perfect choice for an elegant appearance.
Rym Saidi in a printed bikini
In one of her latest post, model and TV presenter Rym Saidi appeared in a white strapless bikini designed with simple green prints. A good combination of colors for this season.
Nathalie Fanj in exceptional bikinis
Lebanese fashion muse Nathalie Fanj always leave us mesmerized with her trending looks. This summer, she has been seen in different outstanding outfits. During her trip to Spain, Nathalie appeared wearing a lilac bikini in which she looked like a mermaid: fine pleats and large braided straps are the perfect combination to make heads turn when on the beach.
Natahalie Fanj also appeared in a black and white bikini created with a gleaming fabric. The straps were replaced with chains designed with sparkly details. A glamorous look perfect for vacations.